Admire more than 30 large-than-life sand sculptures at Sentosa Sandsation 2017 in September.
Occupying 2,400 square metres of beachfront property at Siloso Beach, Sentosa Sandsation 2017, "sandsational" sculptures, some as high as five metres tall, will be piling up at Sentosa's Siloso Beach between 1 to 17 September 2017 across three separate zones.
Singapore-inspired Sand Sculptures
The first zone, Our Sandsational Singapore (Singapore, Ho Say!) will feature 15 sand sculptures inspired by life in Singapore. These sand artworks have been inspired by local colloquialisms such as "Blur like Sotong", "Jiak Zua" and "So Wayang" and provide a whimsical look at everyday Singaporean life.
The Sandsational Singapore sculptures will provide visitors with a multi-sensorial experience through the use of audio to complement the visuals. Visitors will also be able to bring these sculptures to life through augmented reality using the mobile app, MixGo. This app will enable visitors to access behind-the-scenes videos, filter effects and simulated photo frames at the sand art.
Sand Battles
In the next zone, 14 world-class sand masters from 13 countries around the world will battle it out at the Sentosa International Sand Sculpting Championship.
Between 28 and 31 August 2017, the sculptors will be creating works centred around the theme "Imagination". The top three winners will walk away with cash prizes totalling more than $12,000.
Shifting Sand Sculptures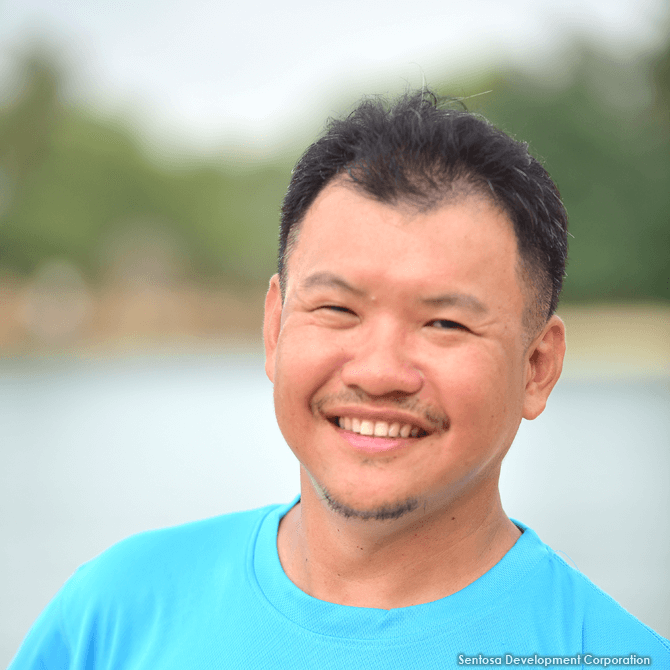 The final zone at the sand festival will serve as a platform for internationally-renown Singapore sand artist, JOOheng Tan and his team of sculptors to create a series of interactive sand art pieces that visitors will be able "step into".
The sand sculptures will be refreshed each week. Those visiting Sentosa from Mondays to Thursdays will be able to catch JOOheng and his team at work while Sentosa Islander members will be able to snap a photo with the interactive sand works from Fridays to Sundays.
On the last weekend of Sentosa Sandsations, 15 to 17 September, JOOheng will be sculpting a vision of future Singapore based on a winning sketch by a local child. The sculpture will cast in sand a vision of life in Singapore in the year 2040.
This showcase at Sentosa will be especially special for JOOheng as it was Sentosa that he held his first solo exhibition in 2010. Elaborating on this, JOOheng said, "Sentosa will forever hold a special place in my heart as this was the place that propelled the start of my sand sculpting career. 20 years on, I feel that it will be really meaningful to be back once again on home ground."
Get in On the Action
Visitors to Sentosa Sandsation 2017 will also be able to participate in a People's Choice Awards by picking their favourite sand sculpture and posting a photo of it with the hash tags #SentosaSandsation and #SandsationalContest and stating the reason for their choice on social media. A lucky voter from the People's Choice Award will be chosen to win a 2 day, 1 night Sentosa staycation package.
Adding to the atmosphere, there will also be a special Merlion Magic Lights show with a neon theme from 1 September till 29 October and beach-themed films at Palawan Green on 2 to 3 and 16 to 17 September.
Ms Lynette Ang, Chief Marketing Officer at Sentosa Development Corporation said, "The local sand sculpting scene can trace its roots to Sentosa Sandsation, which made its debut in 1999. The appeal of sand sculptures has since persisted, evident in the popularity of Sands of Times, which was held to celebrate SG50 and attracted more than 80,000 visitors to Siloso Beach over four days in 2015. We are excited to bring this event back, bigger and better than ever before. By extending the exhibition to 9 pm, guests will have the added visual treat of viewing the sand sculptures amid lighting effects and enjoy the pleasure of a scenic stroll by the beach in the cool evening breeze."
Get more details about Sentosa Sandsation 2017 here.
Sentosa Sandsation 2017 Sand Festival
Date: 1 to 17 September 2017
Time: 10 am to 9 pm
Venue: Siloso Beach, Sentosa
Admission: Free