Planning a visit to Sentosa's beaches? From 17 October 2020, visitors will have to make a booking to enter Tanjong, Palawan and Siloso Beaches during peak times such as weekends and Public Holidays.
This new beach reservation system at Sentosa is being put in place as a safe management measure to reduce the crowds at the beaches and minimise queues and waiting time.
The Sentosa beach reservation system will go on trial for an initial period of three months, after which it will be reviewed and adjusted, if necessary.
Sentosa Beach Reservation – How To Make a Booking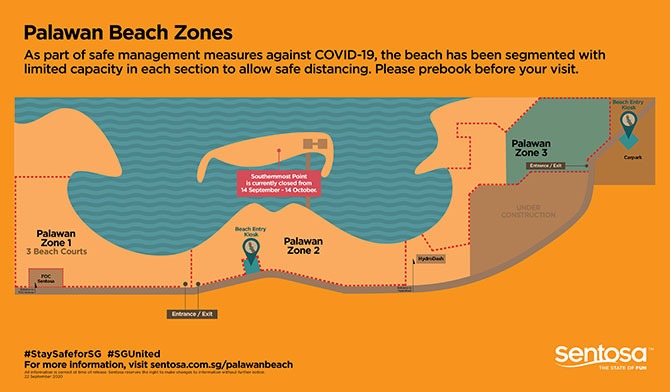 The Tanjong, Palawan and Siloso beaches will be divided into seven zones – two each at Tanjong Beach and Siloso Beach and three at Palawan Beach.
Each zone will have the capacity for 100 to 350 people. The beaches also have safety rings in place which mark out socially distanced areas where groups of five or less can gather.
Beach reservations can be made online up to seven days in advance of the day of visit.
There will be two timeslots available for booking – the morning session runs from 8 am to 1 pm and the afternoon session is from 2 pm to 7 pm.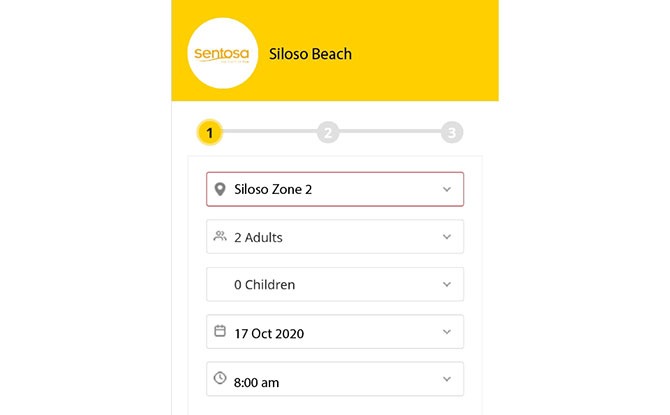 Visitors can choose the beach zone and timeslot online. Each reservation allows for up to five persons to visit.
A confirmation email will be sent out once the reservation has been accepted.
Upon arrival at the beach, visitors should head over the Beach Entry Kiosk for verification of the email. They will be issued with wristbands to allow entry into the chosen beach zone. Visitors may come and go anytime during their chosen timeslot.
The Sentsoa beach reservations website is www.sentosa.com.sg/beachreservations
On weekdays, no reservations are required to enter Sentosa's beaches, subject to capacity limits.
---
Reserve Beach Game Courts
For those who wish to head to Sentosa's beaches to play court-based games such as beach volleyball, Sentosa has also made 15 beach courts at Tanjong, Palawan and Siloso beaches available for booking.
Reservation for these courts can also be done online with a maximum of five players per court with no intermingling.
Those who have a change of plans are reminded to cancel their reservations to allow other visitors to enjoy the beach.