To usher in the holiday season, Santa and his amazing workshop will be out in full force at Fun, Learn & Play This Christmas @ SAFRA Toa Payoh. The festivities kick off with the Christmas Light-up on 30 November and fun activities and stage shows for the entire family on Sunday, 1 December 2013.
One-Stop Learning, Non-Stop Fun
On Saturday, 30 November, those who wish to indulge in some parent-child bonding time can participate in the Dads For Life Fun & Fitness workshops. There will be four exciting workshops to choose from including a Zumba class, Combat Fitness, Kids Baking and a Worm Terrarium making session. Fees for any 2 workshops are $5.35 for SAFRA Junior Members and $10.70 for Junior Guests. Daddies get to participate for free!
Also on 30 November at 3.30 pm, Gymnademics will be conducting a talk, Nurturing a Little Reader, for parents with children below three years old who wish to learn how to cultivate their children's reading habits.
Christmas Light-up For the Family
No Christmas celebration would be complete without a Christmas light-up (from 5 pm) and every kids' favourite, Santa Claus, will be in attendance. They can also look forward to a balloon show. Kids better hope that they have been nice this year!
Movies Under The Stars
The same evening on 30 November, SAFRA members and their families can soak in the atmosphere while enjoying an outdoor film screening by the pool.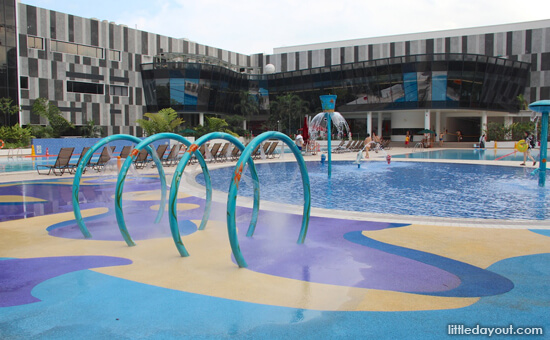 Santa Claus is Coming to Toa Payoh Town!
The non-stop fun continues on Sunday, 1 December with a Magic Show (2.30 pm), Santa Meet-and-greet (3.30 pm) and an amazing Bubble Show (5.30 pm). Parents can enter their children for an exhilarating baby crawling contest and toddler relay. Visit www.gymnademics.com to register for the contests.
SAFRA members will also receive a bag of Christmas treats when they flash their SAFRA Member card on 1 December.
Santa's Workshop
During Fun, Learn & Play This Christmas @ SAFRA Toa Payoh, the Atrium will be transformed into Santa's Workshop allowing children to help Santa in craft activities. Parent-child teams can even take part in an exciting robotics challenge. There will also be plenty of music, games and performances throughout the day, and free candy floss and popcorn to help spread the holiday cheer.
Santa's Workshop will take place from 1 to 8 December. All activities will be complimentary on 1 December. There will be a minimal fee for Santa's Workshop from 2 to 8 December 2013.
Santa's Fair
You can also shop for Christmas gifts this season at SAFRA Toa Payoh. From 9 to 22 December, watch the Atrium transform into a Santa's Fair and be delighted by the array of gift ideas for the young and old. Enjoy performances while you shop and let your kids take part in craft activities.
With so many activities taking place during Fun, Learn & Play This Christmas, SAFRA Toa Payoh is set to offer non-stop fun for the entire family this year-end.
---
Fun, Learn & Play This Christmas @ SAFRA Toa Payoh
Date: 30 November and 1 December 2013
Time: 9.00 am to 9.00 pm
Activities are open to both SAFRA members and the public.
Fees may apply for some activities.
Click here for more information.
Santa's Workshop
Date: 1 to 8 December 2013
Time: 10.00 am to 6.00 pm
Complimentary only on 1 December 2013.
Click here for more information. 
Santa's Fair
Date: 9 December to 22 December 2013
Time: 10.00 am to 6.00 pm
Fees: Free admission for all.