Starting Wednesday, 9 June, the Singapore Art Museum will open the fourth edition of the SAM Mini Mobile Museum. Held in partnership with the National Library Board, the SAM Mini Mobile Museum introduces the different natures of contemporary art through a selection of artworks from SAM's collection. The works are adapted for non-museum spaces and created by Southeast Asian artists.
---
Jeremy Sharma Presents Slander!
The fourth edition of the SAM Mini Mobile Museum will feature Slander! by multidisciplinary artist Jeremy Sharma. The exhibition is based on his research into a range of films shot and produced in Singapore from 1958 to 1963.
Visitors can rediscover the golden era of Singapore and Malayan Cinema through a collection of film footages, digitised images, text, objects and printed matter. For young visitors, this edition features specially designed labels that break down the themes and concepts in the artwork in a way that is more engaging and accessible for children. Children may also create their own artwork-inspired film strip as a take-home activity.
---
Where to see the latest SAM Mini Mobile Museum Exhibition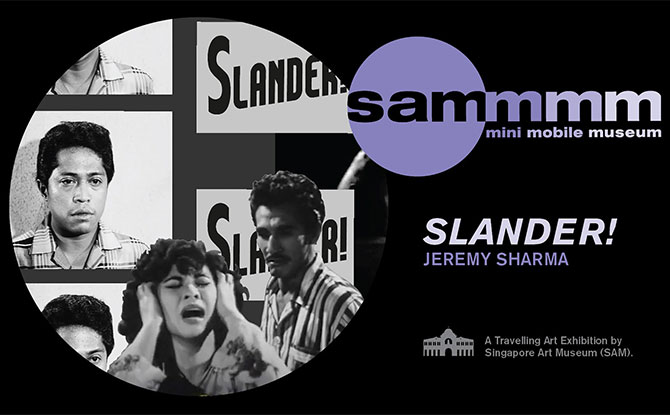 The exhibition will open at Woodlands Regional Library from 9 June to 25 July 2021, and travel to Jurong and Tampines Regional Libraries on 28 July and 15 September 2021 respectively.
Alongside Slander!, SAM will also be organising complementary programmes such as A Date with SAM, an online conversation with the artist and curator; and Kopi, Teh and Contemporary Art, a virtual guided tour specially designed for seniors.
Find out more at the website here.