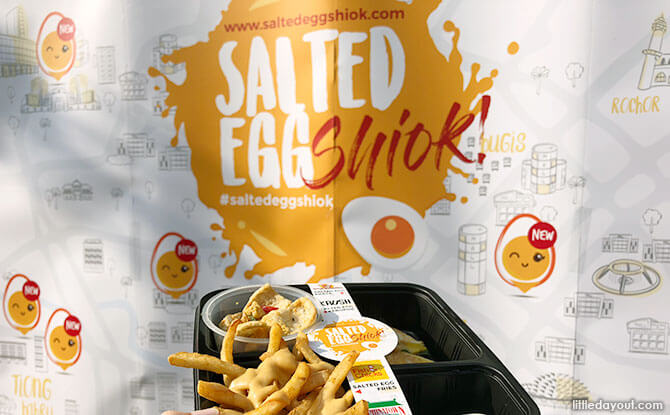 Can't get enough of salted egg? You'll be happy to know that there is a place that you can find all the salted egg dishes to satisfy your salted egg craving to your heart's desires! The Salted Egg Shiok! Online Portal was created in July 2017 and fuelled by the increasing popularity of salted-egg flavoured dishes and snacks in Singapore.
The Salted Egg Shiok! Portal recently had a food truck at the Punggol North Inter–Racial and Religious Harmony Street Parade on the 15thof July and collaborated with four different partners to satiate salted egg lovers. We headed down to try some samples of what you will be able to get for yourself at nearby outlets!
We managed to sample four dishes from local vendors! The dishes were: Salted Egg Prata from Springleaf Prata, the newly launched Salted-Egg Keropok from KRUSH, Salted Egg Tang Yuan from Chinatown Food, and Salted Egg Fries from Fish & Chicks.
---
-- Story continues below --
---
Salted Egg Fries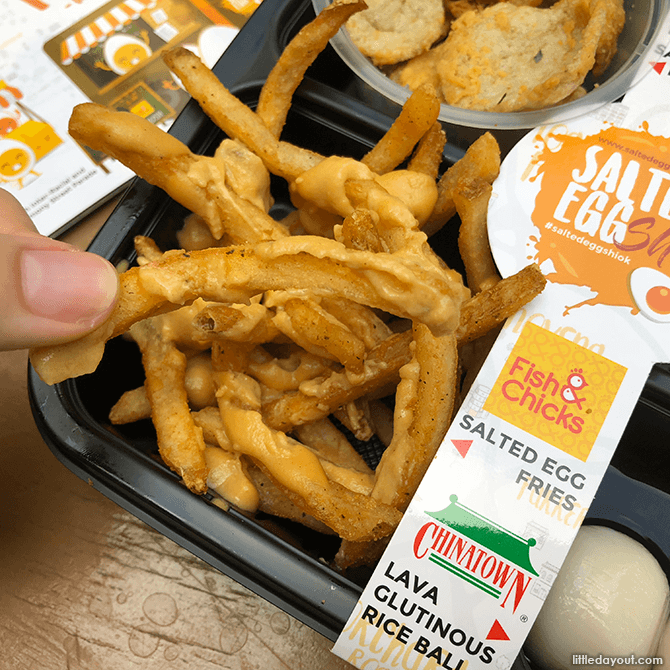 The first dish we tried was the Salted Egg Fries from Fish & Chicks. What started off from a single coffeshop stall has grown in the span of two years to five stalls conveniently located around the island. They specialise in Asian-infused Western food to diners and were one of the notable few to first introduce Salted Egg Fish and Chips.
At first bite into the fries, we liked how there was a good amount of "bite" into the fry, and that it was well seasoned. You can taste the potato and also a hint of Cajun spices! They were pretty generous with their sauce which was smooth and not too salty. Overall, we'd be more than happy to have this on the side of a western meal, any day. These are really good fries – we'll leave it at that.
Get its locations from its website here.
---
Salted-Egg Keropok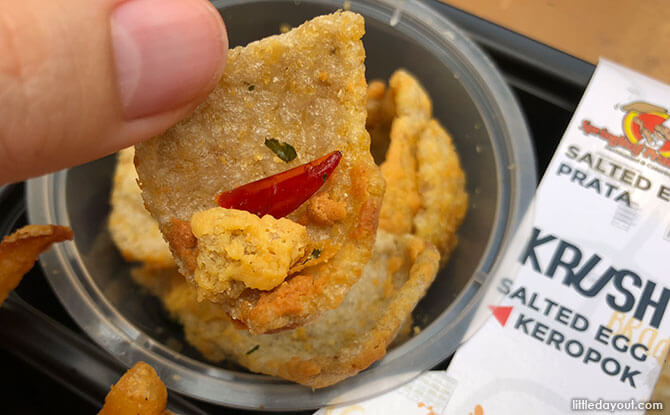 The second dish we tried was the Salted Egg Keropok from KRUSH.
Known for its handmade halal goodies, KRUSH prides itself on sourcing only from fair trade partners who ensure that the products are made with both passion and a good dose of heart.
This snack however was exactly what you would imagine it to be. An honest keropok, with salted egg sauce on top. It was the only sample whose salted egg packed quite a punch of heat as the curry leaves and small chili padi pieces which added an extra dimension to the flavour. You can buy these at their online store and find out more information at www.krush.sg.
---
Salted Egg Prata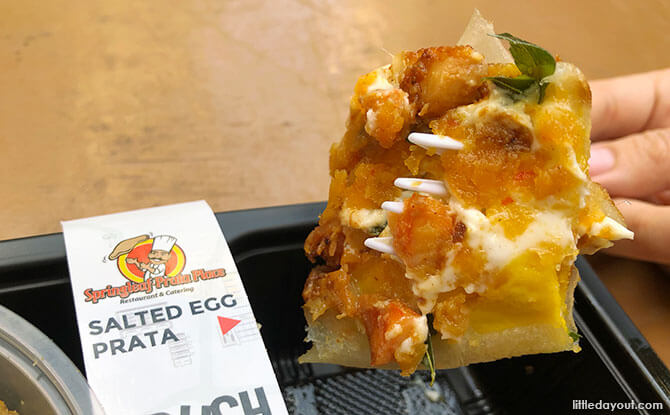 The third dish we tried was the Salted Egg Prata from Springleaf.
Springleaf is well known for their delicious pratas and innovative flavours such as the Ultimate Murtabak (stuffed with meat, portabello mushrooms and cheese), Murtaburger (prate stuffed with patties) and Umami-50 (stuffed with fillings such as chicken luncheon meat, chicken floss and Japanese mayonnaise).
These stuffed pratas are as yummy as they are filling, and we were excited to try the Salted Egg Shrimp version.
We were a little sad that the sample pieces were rather small, but the flavour made up for it! There was a good bite of shrimp in each bite of the prata and the salted egg was found in a paste like filling which was really yummy compared to the usual sauce that may cause the prata to be soggy.
We loved it and it was yummy eating the filling by itself too! We'd have a hard time sharing this yummy dish.
Get its locations from its website here.
---
Salted Egg Glutinous Rice Ball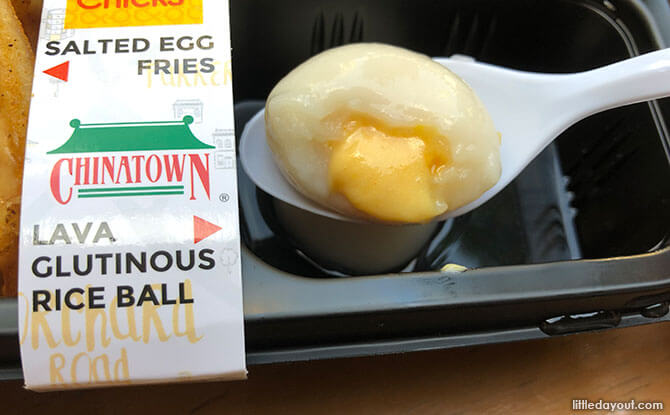 The last dish that we tried was the Salted Egg Glutinous Rice Ball by Chinatown Foods.
We thought they looked a lot more like fish balls than they did rice balls. As we bit into them, there was lava-like burst of the salted egg filling. However, we were expecting a bit more of the "sweet custard" flavour, which would have complimented the chewy and sweet rice ball.
The saltiness of the filling overpowered the sweetness of the rice ball just a tad too much when eaten alone, but if it were to be served in a sweeter syrup, or perhaps over a shave ice dessert of sorts, it may have balanced it out a little more.
Get more information about this product here.
We enjoyed the Prata and Fries the best out of the different samples that we tried, but you should definitely try the rest out for yourselves.
---
Salted Egg Shiok! Portal
The Salted Egg Shiok! Portal is currently running a promotion with over $8,000 worth of prizes to be won. Purchase any salted egg menu items from the outlets listed on the map on the portal, upload onto Instagram with the hashtag #saltedeggshiok, and stand to win a luxury staycation or vouchers each month.
Get more information at www.saltedeggshiok.com