Wondering what to do with the kids during the November school holidays? Banish boredom and dive into festive fun at SAFRA Punggol's Oasis Paradise on Saturday, 24 November 2018.
Taking place from 12 pm to 8 pm, SAFRA Punggol's Oasis Paradise is a free event and everyone is invited to the party.
With a line-up of kid-friendly events and activities, there will fun and entertainment for everyone in the family.
Themed Workshops and Activities for Kids & Adults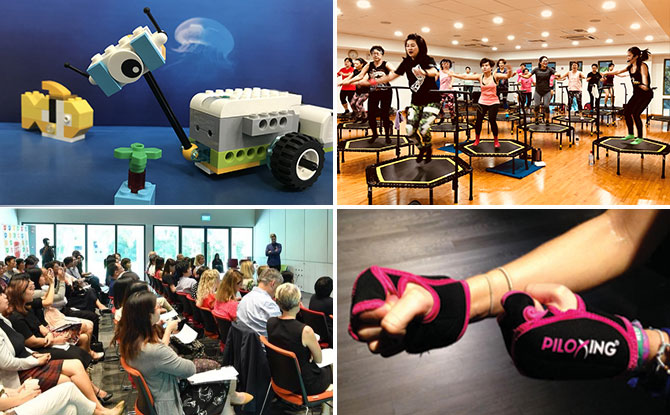 Children will have loads of oasis-themed activities to enjoy. Get into a boat and paddle around an inflatable pool or pick up a rod and go mini-fishing. There will be water-themed workshops where they can learn Aqua Balloon Sculpting and how to make an Aqua Terrarium.
Curious about what is life under the surface of the water like? Join the Underwater Conservation Workshop and discover interesting facts about marine animals and the conservation efforts being taken to protect them.
Arts at the Oasis
No paradise experience would be complete without the finer things in life – the Arts.
At Oasis Paradise, you and your children can explore a walk-in art installation, Colours of Aquamarine by Teo Huey Ling, and appreciate life underwater from a new perspective.
The message of conservation will also come to life during the Stomp Recycle Bin Drumming performance. Watch as everyday objects are turned into percussion instruments, "drumming home" the message of conservation.
Another experience that will spark kids' creative minds is Art in Augmented Reality (AR) – a unique visual drawing session where their artwork will come to life through the magic of AR.
Families can also take part in a festive craft, turning pins and string into a Christmas tree, or participate in snow globe-making workshops to make a globe to bring home.
Theatrical Storytelling and Other Performances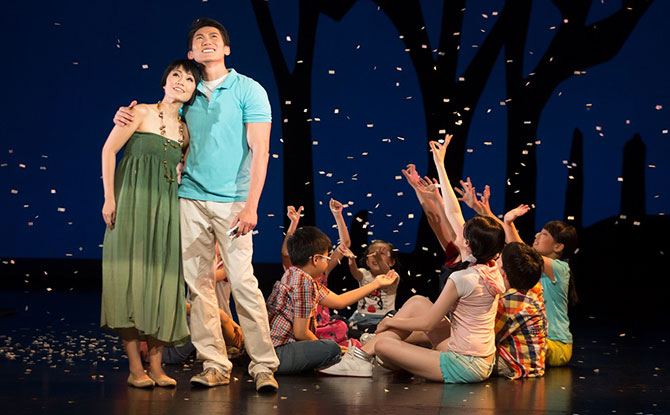 Professional theatre group The Theatre Practice will be at SAFRA Punggol to bring a storytelling performance about a magical oasis to the children. The audience will be able to participate in this performance by contributing ideas to the story while the actors improvise to bring the ideas to life. Don't miss the chance to be a part of this fun-filled show.
Another exciting performance to look out for is the LED juggling act. Watch as juggling pins fly through the air at breakneck speed in this mind-boggling performance.
There also be kids' hip-hop, K-pop and ballet performances on stage throughout the day. Children can also look forward to a screening of Pixar's animated movie Finding Dory.
Be A SAFRA Punggol Kidz-preneur and Stand to Win $100 Gift Card
Want your child to get a taste of running his or her own business during the holidays? You can do so with SAFRA Punggol Kidz-preneur Oasis Paradise Edition.
Brainstorm together with your child to come up with an Oasis Paradise-themed business idea. Then submit a proposal to SAFRA Punggol to run a booth based on this idea at Oasis Paradise. It can be a game stall, a retail booth or even a food & beverage concept (you will need to have your own food handling license to operate the F&B booth) – as long as it fits into the Oasis Paradise theme.
This will be a great holiday project for enterprising kids.
If your child's proposal is selected by SAFRA Punggol, he or she can experience being the boss of a little business during Oasis Paradise. What's more, he or she may also stand to win the title of Best Oasis Paradise Kidz-preneur and a $100 Toys R Us gift card too.
Rental fees of $30 nett for SAFRA members and $40 for Guests apply per booth.
SAFRA Punggol Kidz-preneur is suitable for children aged 5 to 12 years old. Email Elizabeth at lshelizabeth@safra.sg to receive a business proposal application form to get started. Registration closes Monday, 12 November 2018.
Oasis Blue Christmas Festive Light Up
End the day of fun at SAFRA Punggol by joining in a festive light-up celebration at 7pm. Watch as the Oasis Blue Christmas tree sparkles to life with a sea of lights at the Atrium, ushering in the holiday spirit at the same time.
SAFRA Members' Exclusive Gifts
The season of giving gets underway for SAFRA members at SAFRA Punggol's Oasis Paradise.
Simply flash your SAFRA membership card at the redemption counter to redeem a $5 McDonald's voucher.
Stay fit and healthy by flashing your SAFRA membership card to redeem a $10 Bikes@Waterway voucher at the redemption counter. Saddle up and get ready to explore the Punggol Waterway on two wheels with the family.
Also keep a look out for a lucky draw and "sure-win" dip.
An Oasis Paradise of Fun
Remember to mark the date and make your way to SAFRA Punggol with the family on Saturday, 24 November for a day of FREE fun and festivities during the year-end school holiday period.
For more information about Oasis Paradise at SAFRA Punggol, visit www.safra.sg/pgoasis.
SAFRA Punggol's Oasis Paradise
Date: Saturday, 24 November 2018
Time: 12 pm to 8 pm
Where: SAFRA Punggol, Level 3 Atrium & Level 2 Courtyard
Free Admission
Website
This post is brought to you by SAFRA Punggol.
More Stories on Christmas: