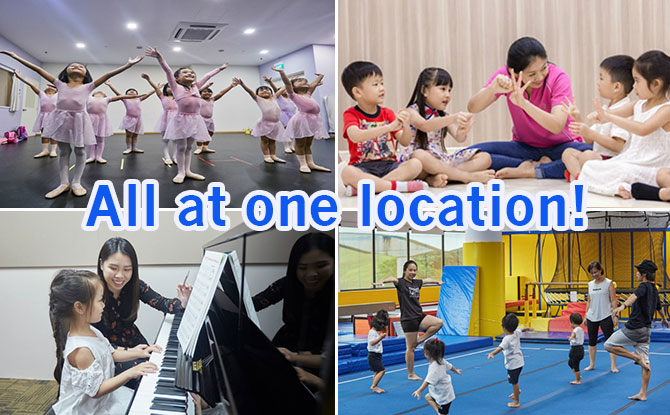 SAFRA Punggol is the ideal destination for families to have fun and unwind. It is not only home to awesome recreational facilities, but also a hub for children enrichment and educational courses.
There's ballet for preschoolers, Chinese enrichment lessons for PSLE prep and art classes for your little Van Gogh. Did you know that there is even a NurtureStars preschool at SAFRA Punggol?
And while the little ones are hard at work learning, Mum and Dad can enjoy some alone time at one of the many F&B establishments located at the club too.
So, if you're looking for the perfect enrichment programme for your little ones, be sure to check out what's on offer at SAFRA Punggol!
Enrichment Centres at SAFRA Punggol
---
ARTARY
ARTARY's award-winning, progressive and structured art training is second to none here in the Lion City. From enrolment to graduation, a holistic art experience is at the heart of everything ARTARY does.
ARTARY's teachers are formally and academically trained in the arts and are specially selected not only for their talent but also for their warm and caring personalities.
Through the use of songs, games, and other creative approaches, they implement the school's Fine Art curriculum which encourages conventional and unorthodox attitudes toward art, helping students achieve the right balance between essential training and individual expression.
If you're looking to bring out the beauty and creativity in your child's thoughts and emotions, ARTARY, the art enrichment centre at SAFRA Punggol, is your best choice.
Get more information here.
---
BazGym Gymnastics School
Founded in 2003 by passionate ex-national gymnasts and gymnastics enthusiasts, BazGym Gymnastics School specialises in classes suitable for preschoolers, primary school students, and even children with special needs.
Fuelled by the desire to instill a love for an active lifestyle in young children, BazGym's programmes are fun and engaging, yet structured and disciplined.
For your active child, sign them up for BazGym's popular Gym Bear programme at SAFRA Punggol where they'll learn to execute forward and backward rolls, while working on strengthening their core muscles.
Get more information here.
---
KUNO Method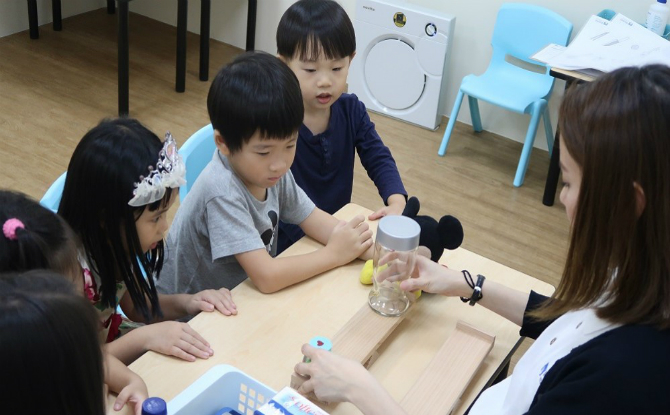 With over 30 years of proven track record, the KUNO Method is a renowned Japanese experiential thinking and interactive brain enrichment programme for children 3 to 6 years old.
Using hands-on activities to stimulate both sides of the brain, the KUNO Method sets out to equip your preschoolers with a strong foundation and critical thinking abilities that will enable them to excel in their studies.
Through a three-stage learning approach, your little ones are encouraged to collaborate, cooperate and communicate with their peers to work through problems creatively and systematically. They then are tasked to independently completing specially-designed worksheets to apply what they've learned.
The KUNO Method at SAFRA Punggol is where preschoolers will develop their intellectual, emotional and social skills essential to the enjoyment and appreciation of life-long learning.
Get more details here.
---
LCentral English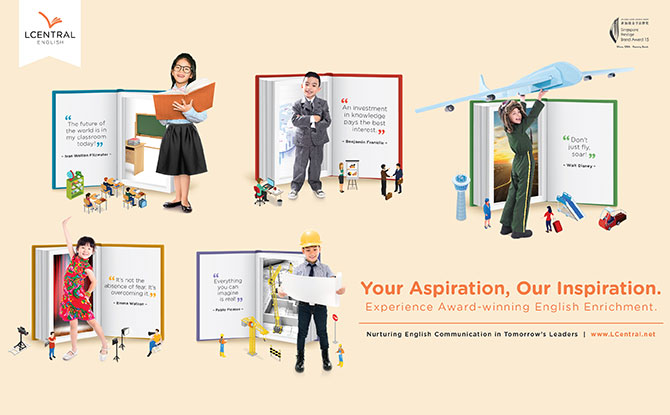 Specialising in all aspects of literacy, LCentral English is a reputable premium English enrichment provider catering to students from Nursery 1 to Primary 6.
Helmed by experienced educators who are supported by a team of qualified English language teachers, your little ones are in great hands at LCentral, renowned for its fun and interactive lessons.
In addition, LCentral believes in the importance of character development, instilling leadership skills and positive habits in young minds, grooming students to be the leaders of the next generation.
If you're after an all-rounded and positive approach to learning the English language, LCentral at SAFRA Punggol is where your child needs to be.
Find out more here.
---
NurtureStars PreSchool
NurtureStars PreSchool offers the NurtureStars' Integrated and Unique Active Learning Curriculum.
The NurtureStars' Integrated Curriculum is made up of elements including JACPA Physical Education Programme taught by native Japanese Gymnastics Instructors which promotes active learning through physical movement. These programmes promote the acquisition of fundamental movements necessary to the development of cognitive and emotional skills.
Being located in SAFRA Punggol means that students have access to facilities such as Splash @ Kidz Amaze and nearby Punggol Waterway Park for outdoor learning. Parents can be rest assured that their children are safe and secure within and around the club at all times.
Learn more about NurtureStars here.
---
Salt & Light Archery Punggol
Experience the sport of archery at Salt & Light Archery Punggol. The indoor and fully air-conditioned centre provides a conducive environment for children to discover if they can be the next Robin Hood.
Archery imparts character-building values such as integrity, focus, determination and teamwork. At Salt & Light Archery Punggol, the fundamentals of the sport are taught by experienced competitive archers who turned coaches.
The most popular programme is a one-hour fully guided Archery Funshoot session. No experience is required to participate in the Funshoot and it covers an introduction to archery for all ages with fantastic games and prizes to be won.
Find out more about Salt & Light Archery Punggol here.
---
Speech Academy Asia
Through the use of Speech Linguistic Patterns – a carefully-designed collection of communication models from esteemed speakers all around the world, Speech Academy Asia hopes to impart highly sought-after leadership and entrepreneurship skills to all their students.
By incorporating engaging games into the curriculum, Speech Academy Asia will teach your children the skills essential to great public speaking.
Not only will students learn the importance of body language, but also the art of using their voice and gestures to enhance any presentation.
Speech Academy Asia will make a confident speaker of your child yet, so find out more about their line-up of weekly and holiday courses today!
Get more information more here.
---
StepUp Learning & Dance
At StepUp Learning & Dance, there are dance and fitness programmes for your young child age 3 and onwards!
StepUp is an award-winning dance educator of children dance classes. From Ballet to Hip Hop and Jazz, StepUp is a leading family-friendly brand for young families living in the heartlands.
At StepUp, accredited exams, competitions, performances and biennial recitals provide a comprehensive dance experience for every student.
StepUp's affordable fees are complimented by various value-added services such as showcases for parents and online E-Learning Portal for every student. These unique service propositions have contributed to StepUp's emergence as a multiple award-winning dance educator.
Find out more information here.
---
Taekwondonomics
Taekwondonomics is a Martial Arts & Fitness School that specialises in Taekwondo. Managed by a team of highly qualified and dedicated coaches, Taekwondonomics offers specialised training classes for children as young as 3 years old.
Through Taekwondo, children learn about leadership, grow in self-confidence and developing their fitness and dexterity at the same time.
Taekwondonomics' Super Junior Programme for 3 to 5 year olds.
Older children, 6 to 14 years old, will enjoy the Kids Taekwondo Programme which focuses their mental strength, concentration and self-discipline as they develop their Taekwondo techniques.
Find out more about how your child can develop physically, mentally and social at Taekwondonomics SAFRA Punggol here.
---
Tien Hsia Language School
Established in 1989, Tien Hsia Language School offers Chinese enrichment classes for children ages 3 to 12 years old.
The enrichment centre is conveniently located at SAFRA Punggol to cater to the young families living in the area. Tien Hsia has a consistent track record of students scoring above the national average for PSLE – with over 90% of these students scoring A* or A.
Tien Hsia regularly updates their MOE-aligned curriculum to ensure that your children are examination-ready, while their fun and effective methods see students returning week after week for enjoyable Chinese language lessons.
Get more information here.
---
Yamaha Music
Yamaha Music is home to a wide array of courses designed to instill a life-long love for music in children as young as 2 years old.
At Yamaha, it is never too early to start. Its courses for children are fun filled and enriching. Armed with a unique curriculum that has been rigorously researched and developed in Japan, Yamaha's courses for children ages 2 to 5.5 years old will develop a child's fundamental musical ability through aural training and cultivate their musical expression and creativity. Through a combination of imagination and exploration, your child will learn to embrace music spontaneously.
Popular music courses such as Yamaha Junior Course and Piano Course are in high demand, so enrol your child today for the best in right brain development.
Keen to find out more? Visit Yamaha SAFRA Punggol for information on our Yamaha Junior Course (4 to 5 years old) and Piano Course (6 years old and above).
Learn more about Yamaha at SAFRA Punggol here.
So, head down to SAFRA Punggol and visit the various enrichment services to learn more about what they offer. At the same time, pack your swim gear and head to Splash @ Kidz Amaze or rent a two-wheeler from Bikes at Waterway to explore the park.