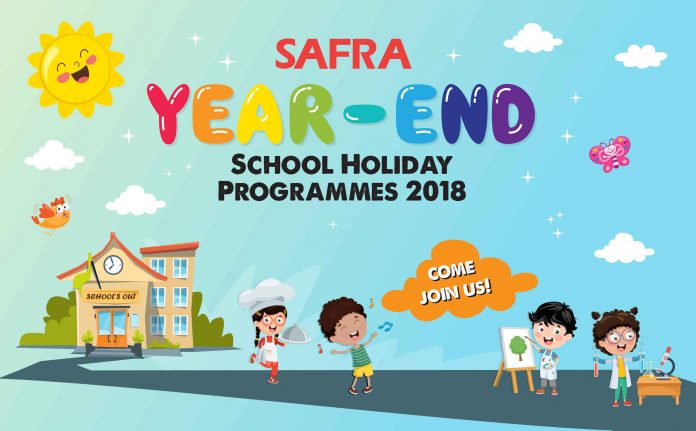 Get into the holiday mood with festive light-ups at SAFRA Clubs around Singapore and school holiday programmes that will keep kids enriched and active during the year-end 2018.
---
Festive Fun with SAFRA Club Light-Ups and Activities
On Saturday, 24 November, pop down to a nearby SAFRA Club to enjoy fun activities with the family. SAFRA Jurong, SAFRA Tampines, SAFRA Toa Payoh, SAFRA Punggol and SAFRA Yishun will be holding festive light-ups with performances, craft workshops and yummy snacks for all.
SAFRA Jurong
At SAFRA Jurong, you can look forward to a magic show, piñata games and fringe activities such as Christmas ornament crafts and snack booths. The launch of the light-up will also be accompanied by snow time too!
SAFRA Tampines
SAFRA Tampines's Dazzling Christmas will feature game stalls, LED stage performances and more. The Playground at SAFRA Tampines will also be launched on 24 November. This will feature three different zones – a Families for Life Zone, Play Zone and Arts & Craft Corner. SAFRA Members can also join a festive, open-top bus tour of Orchard Road in mid-December.
---
-- Story continues below --
SAFRA Toa Payoh
Wander through an Enchanting Christmas Candy Forest and meet the Gruffalo at SAFRA Toa Payoh's 24 November Festive Light-up. Family-friendly activities include a dance performance by Fold Crinkle Roll and Fantasy Bubble Shows. Plus, Santa will be there too!
SAFRA Punggol
It will be a day of family fun from 12 pm to 8 pm at SAFRA Punggol's Oasis Paradise. Be enthralled with the Colors of Aquamarine art installation and take part in pin-and-string-art and snow globe-making craft workshops. Other activities include a parent-child coding workshop and paddle boating in an inflatable pool. There will also be entertaining stage performances like an LED juggling act! Don't miss a chance to support enterprising young kidz-preneurs as they ply their wares and join in the Oasis Blue Festive Light Up from 7 pm onwards.
SAFRA Yishun
A Starry Night-themed light-up takes place SAFRA Yishun on 24 November. Not only will there be fried ice cream and churros stations, but there will be a star mason jar and Christmas tree workshops too. Children 12 years and under can come dressed in their best star-themed outfit for a chance to win a prize in a Best Dressed Contest!
SAFRA Mount Faber
From 24 November to 29 December, SAFRA Mount Faber will be holding different activities every Saturday including a Limbo Rock face-off with Santa and free flow of Rainbow Iceballs at the Swimming Pool.
Join a Festive Pool Party on Friday, 14 December to enjoy craft activities, outdoor movie screening and an evening buffet! Registration is required for the SAFRA Mount Faber Festive Pool Party. Sign up here.
---
Dedicate-A-Light-Bulb & Light Bulb Craft Workshops
Add a glow to the holiday season with these Light Bulb Craft Workshops taking place around the SAFRA Clubs during the holidays.
Turn a Light Bulb into a Winter Wonderland
Where: SAFRA Jurong, 1 & 2 Dec, 3 pm to 5 pm
Light Bulb Terrarium
Where:
SAFRA Tampines, 24 Nov, 5 pm to 6 pm
SAFRA Mount Faber, 8 Dec, 11 am to 1 pm
SAFRA Yishun, 16 Dec, 10 am to 12 pm
Light Bulb Christmas Ornaments
Where: SAFRA Toa Payoh, 24 Nov, 4 pm to 8 pm
Light Bulb Clay Ornaments
Where: SAFRA Punggol, 1 & 2 Dec, 5 pm to 8 pm (registration required)
Furthermore, from 17 to 30 November, you can dedicate a light bulb to someone special and have it displayed as part of the SAFRA Clubs' holiday decorations. A Light Bulb Christmas Ornament can be redeemed for free with any transaction at SAFRA Clubs, while stocks last.
SAFRA Members who take a photo of their light bulb and message card and upload it to Instagram with hash tag #safralightup will stand to win a Sony PlayStation 4 Pro worth $599!
---
School Holiday Workshops at SAFRA Clubs
There are many other holiday workshops taking place at SAFRA Clubs during the year end period too.
SAFRA Toa Payoh
SAFRA Toa Payoh will be holding Kidz Science workshops for children aged 5 to 12 years old from 24 November to 22 December. Children can participate in fun topical workshops on Heat Transfer, Gravity, Food DNA and much, much more.
Kids can also sign up for SAFRA Toa Payoh's Junior Dance League Holiday Programme (1 Dec). There will be exercises such as the Agility Ladder to train a child's footwork and agility and an Obstacle Course that will teach them about overcoming their fears. This programme is suitable for children aged 7 to 12 years old.
Get more information on SAFRA Toa Payoh's holiday programmes here.
SAFRA Yishun
Kids can also look forward to plenty of fun at SAFRA Yishun with Macaroon Baking (4 Dec), Cranberry Cheese Bread Baking (5 Dec) and Bath-time Scents (11 Dec) workshops. Creative ones can join a Kids Art Jam (12 Dec) or make their own Plush Toy (18 Dec). There will also be a LEGO Robotics Workshop (19 Dec) too.
The workshops are suitable for various ages, from as young as 3 up to 13 years old.
Get more information and register for on SAFRA Yishun's school holiday workshops here.
SAFRA Tampines
Together with Families for Life, SAFRA Tampines will be holding fun workshops and family-bonding activities in December. Participate in a Snow Globe Making Workshop (1 Dec), create a USB powered light box (15 Dec), design and stencil your own keepsake box (22 Dec) and decorate an ostrich egg using the decoupaging craft method (29 Dec). Families can also play together at the Fitness Playout Family Edition (5 Dec) where there will be hilarious fitness games to bond over.
More information on SAFRA Tampines' Families for Life Workshops can be found here.
---
SAFRA Year-end School Holiday Programmes 2018
Learn more about the various activities and workshops taking place at SAFRA Clubs during the year-end school holiday 2018 below:
SAFRA Jurong's Festive Season Programmes
SAFRA Mount Faber's Festive Season Programmes
SAFRA Toa Payoh's Festive Season Programmes & Holiday Workshops
SAFRA Tampines' Festive Season Programmes & Families for Life Workshops
SAFRA Punggol's Festive Season Programmes
SAFRA Yishun's Festive Season Programmes & Holiday Workshops
This feature is brought to you by SAFRA.
More Stories on Christmas: