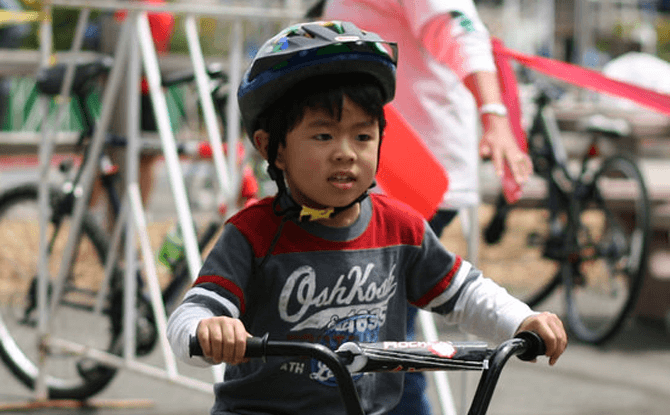 Cycling is a popular activity in Singapore. Not only are there wonderful parks and convenient park connectors all around, in addition, the introduction of bike sharing schemes makes it easier than ever to enjoy cycling as an outdoor activity.
This also means it is more important than ever that kids pick up the correct cycling habits from a young age. This is exactly what the Safe Cycle Programme at The Kidz Academy 2017 aims to do.
Pick Up Good Cycling Habits in a Fun and Interactive Way
The Safe Cycle Programme is a fun and educational programme for kids between the ages of six to 12 years.
At the programme, children will learn how to make use of public roads and park connectors safely while cycling. They will also be taught the proper use of bike safety equipment.
All this will be done in a fun, hands-on and interactive manner.
Kids will go through four stations at the Safe Cycle Programme.
These stations include a safe cycling video presentation, a lesson on cycling hand signals around a mini road circuit and two cycling practice courses. The first cycling course is an S-curve station for children to learn how to control their bicycles on bends while the second is a straight line station where they learn will learn to cycle straight.
Trained road marshals will be present to supervise the children and reinforce the skills taught.
At the end of their stint at the Safe Cycle Programme at The Kidz Academy 2017, children will receive a badge and certificate!
How to Take Part in Safe Cycle Programme
The Safe Cycle Programme at The Kidz Academy 2017 is organised by events management company, Firefly Connections. It is supported by the Safe Cycling Task Force.
Formed in 2005, the Safe Cycling Task Force is made up of members of the public who have been working to make Singapore a safer place for cyclists and other road users.
The Safe Cycle Programme will only be held at The Kidz Academy 2017 from 9 to 11 June 2017. The one-hour long programme costs $10.00 per child.
As a bonus, Firefly Connections will be giving away a Volvo's Giant XtC Jr 20 kids bike worth $390 to a lucky programme participant.
To let your child pick up safe cycling skills, register a spot for him or her online.
Safe Cycle Programme at The Kidz Academy 2017 
Venue: Suntec Singapore Convention & Exhibition Centre, Hall 404 – 406
Dates: 9 to 11 June 2017
Duration: Approximately one hour
Timeslots:
Friday, 9 June 2017: 11 am to 12 pm, 12.30 pm to 1.30 pm, 2 pm to 3 pm, 3.30 pm to 4.30 pm, 5 pm to 6 pm
Saturday, 10 June 2017: 11 am to 12 pm, 12.30 pm to 1.30 pm, 2 pm to 3 pm, 3.30 pm to 4.30 pm, 5 pm to 6 pm
Sunday, 11 June 2017: 11 am to 12 pm, 12.30 pm to 1.30 pm, 2 pm to 3 pm, 3.30 pm to 4.30 pm, 5 pm to 6 pm
Register at the links below:
Friday and Saturday registrations – safecycle.peatix.com
Sunday registrations – safecyclesunday.peatix.com
Top Photo credit: Richard Masoner / Cyclelicious via Visual Hunt / CC BY-SA