As the Republic of Singapore Air Force celebrates its Golden Jubilee in 2018, it is making its rounds to five heartland locations around Singapore. After a March showcase in Sembawang, RSAF50@Heartlands will be heading to Punggol on 14 and 15 April 2018.
Military Dogs Showcase
A unique demonstration will be staged at each heartland locations and in the case of the RSAF50@Heartlands celebrations at Punggol, the spotlight will be turned on to Military Working Dogs.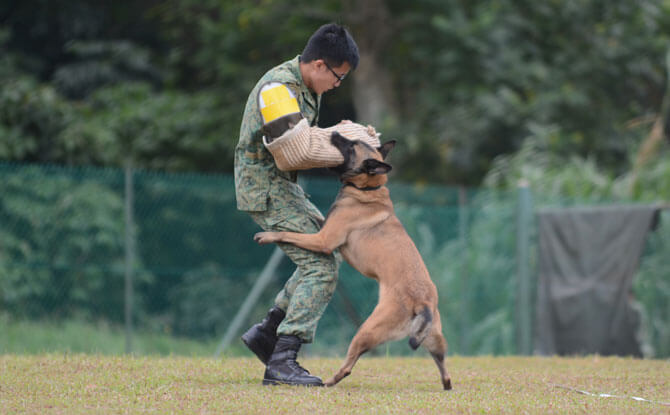 At the RSAF50@Heartlands in Punggol, Military Working Dogs will be staging demonstrations of their canine prowess on both event days.
Expect to find out how the military dogs work together with security troopers to stop trespassers, detect hidden explosive substances and contribute towards the security of the Republic of Singapore Air Force bases.
Other Highlights at RSAF50@Heartlands
In addition to the Military Working Dogs demonstrations, visitor to the RSAF50@Heartlands in Punggol can also look forward to the opportunity to try out aircraft and ground defence simulators.
There will be static displays of various Republic of Singapore Air Force assets such as the Surface-to-Air Python, DERby and RBS70 weapon systems. Interactive displays, such as the Enhanced Island Air Defence display, will allow visitors to learn more about the RSAF's operations and capabilities.
Other highlights visitors to the RSAF50@Heartlands at Punggol can look forward to include a photo booth where visitors can have their photo taken while wearing an Republic of Singapore Air Force uniform. Visitors can also take a picture against an animated background and submit it to the RSAF50 Mural, a montage which will eventually comprise of 50,000 photos.
Admission to the RSAF50@Heartlands in Punggol is free.
RSAF50@Heartlands in Punggol
Date: 14 April to 15 April 2018
Time: 10 am to 9 pm, Military Working Dogs Demonstration at 11.30 am and 1 pm
Venue: Punggol Town Square, 85 Punggol Central, Singapore 828726
Free Admission