A staple of the Chinese New Year celebrations in Singapore since the late 1980s, River Hongbao 2021 will be back for seven days from 10 to 16 February 2021 in a hybrid format with both onsite and virtual elements. Plus, it is going to be in a new location for 2021!
We give you a rundown of what to expect at River Hongbao 2021.
---
What to Expect and Need to Know About River Hongbao 2021
New Venue: Gardens by the Bay
A departure from the past, River Hongbao 2021 will not be held at the Marina Bay Floating Platform. Instead, it is moving over to Gardens by the Bay. It will be laid out from Supertree Grove to The Meadows.
Pre-booking of Slots Required
As part of Safe Management Measures at River Hongbao 2021, visitors will need to book a visiting timeslot online at the River Hongbao website in order to visit the festival grounds.
There are both day and night time slots available. Daytime slots last for 90 minutes in duration; night time slots last for 120 minutes in duration. Each slot will be able to accommodate a maximum of 2,000 visitors. There are multiple slots per day.
The online booking system at the River Hongbao website will be open for registration from 11 am, 3 February. Each person can book for up to 4 persons, including him or herself.
Here the booking release dates and times:
| | |
| --- | --- |
| Entry Date | Booking Release Date |
| 10 and 11 February | 3 February, 11 am |
| 12 and 13 February | 4 February, 11 am |
| 14, 15 and 16 February | 5 February, 11 am |
---
On the Day Itself: Arrival Times
Successful applicants will receive a confirmation email with a QR code. The email will need to be presented for entry on the day of the visit. Upon check-in, visitors will be issued with colour-coded wristbands.
Visitors will have to enter via a specific entrance, in order to avoid overcrowding. The entry points will open 30 minutes before the start of the time slot and close 30 minutes after the start of the timeslot.
---
What to See: 24 Giant Lanterns at the Outdoor Gardens
A highlight of each year's River Hongbao is the various giant lantern sets that go on display. This year, there will be 24 of these giant lanterns spread out around the festival grounds at Gardens by the Bay's outdoor gardens. These include a blooming peacock, a pair of butterflies, the 12 animal zodiacs, and the God of Fortune, which will be found under the Supertrees.
---
Make a Contribution: Wishing Well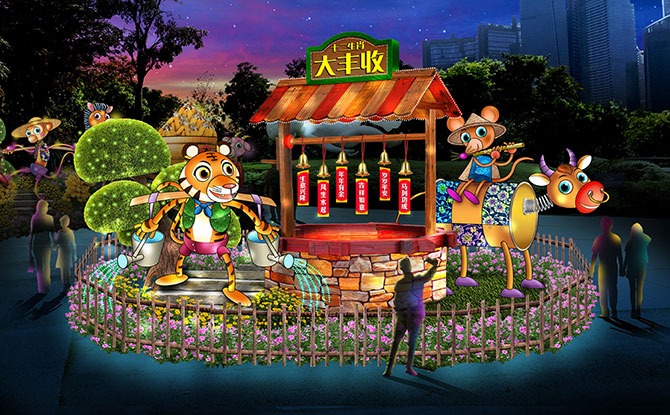 Next to the Ox Zodiac, there will be a wishing well where you can make a wish for the new year. This year, all proceeds collected from the wishing well will go to the Care for the Elderly Foundation (Singapore), a Home Care service provider for the frail, vulnerable and immobile elderly. You can also choose to donate via PayNow.
---
River Hongbao Exhibition: Lion Dance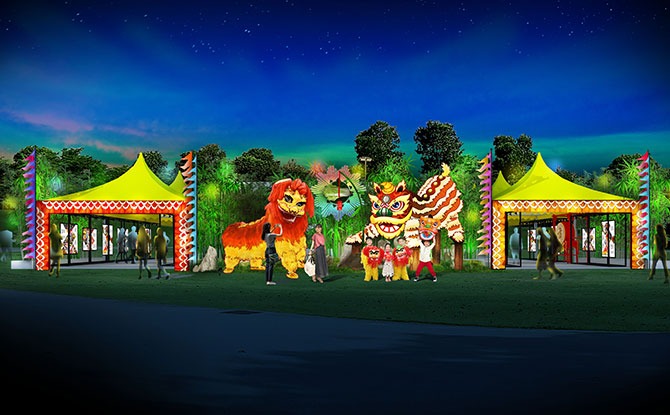 This year's River Hongbao 2021 Exhibition will highlight the lion dance tradition. It will feature lion dance artefacts which date back to the 1950s. In a departure from the past, there will be no student-led guided tours at the exhibition. Instead, there will be pre-recorded videos done by the students which visitors can access by scanning a QR code onsite.
---
What to Do at RHB 2021: Nightly Screenings of Pre-recorded Performances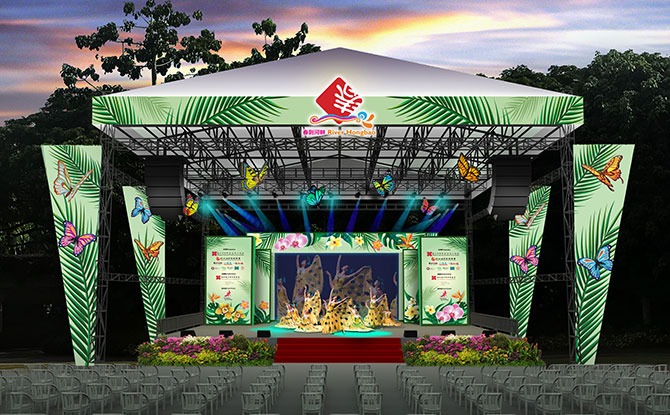 There will be no main stage live performances this year. Instead, there will be screenings of pre-recorded performances in the evenings at the Main Stage. These will be based on different themes each night.
---
No Fireworks & Amusement Park This Year
As part of measures to keep the crowd safe, there will be no onsite fireworks or amusement park at this year's River Hongbao.
---
Visit RHB Online from Home
As there are limited slots available for visitors who may wish to visit River Hongbao 2021 onsite this year, the organisers will moving different elements online for people to enjoy from home. This includes the Lion Dance exhibition, lantern displays and pre-recorded performances.
There will also be a TikTok contest and virtual games on the River Hongbao website.
For more details about River Hongbao 2021, visit its website here.