The Singapore Repertory Theatre's Little Company brings back to the Singapore stage its English musical comedy retelling of the Three Little Pigs and the big bad wolf…and their mummy!
Last staged in 2012 (in English) and 2013 (in Chinese), what makes this well-travelled production so popular? Well, the injection of fresh perspectives into the predictable plot as well as the vibrant and colourful staging!
Three Little Pigs Have an Adventure
The three not-so-little pigs, Char (Andrew Lua), Siu (Ethel Yap) and Bao (Benedict Hew), come of age and leave the safe haven of their pigsty and Mother Pig (Candice de Rozario). It is their first time away from home and they have to pick up new skills as they set about building new lives for themselves.
---
-- Story continues below --
The three little pigs were raised singlehandedly by Mother Pig ever since Wolf gobbled up their poor father. Each pig has their own personality. Cha is the one with muscles, there is environmentally-friendly Siu, and Bao, the brains of the trio. Children can pick their favourites from among the three with "hair on their chinny-chin-chin."
Their encounters with the Big Bad Wolf (Ivan Chan) teach them to work together to overcome obstacles, defeat the huffing-and-puffing villain and, ultimately, the importance of family.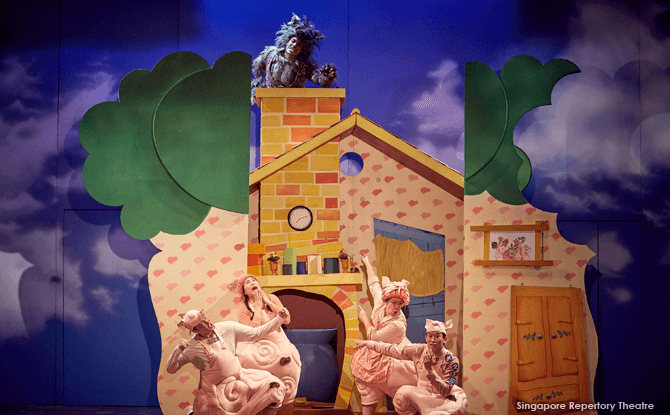 SRT's Three Little Pigs Review
The nimble cast of five were light on their feet, singing and dancing to George Stiles' jaunty tunes coupled with Anthony Drewe's witty lyrics. Songs like "1-2-3 Little Pigs" had children bouncing and parents nodding along to the beat in appreciation.
Audience participation was encouraged by the conniving but comical Wolf who pranced and pouted to his soft rock musical theme. The energetic ensemble drew further laughs with the occasional local flavour thrown in. Look out for a historical Singapore icon huffing and puffing under the weight of bricks for sale!
Clever sets and props add to the explosion of colour on stage. The show also charms with its fresh message, conveyed through an age-old tale.
As a bonus, the programme booklet comes with a centrefold pullout of the three little pigs that kids can take home and colour.
The 50-minute show is short, sweet and funny, and will appeal to both young and old-but-young-at-heart theatregoers. SRT's The Little Company's Three Little Pigs is tunefully enjoyable children's entertainment with a heartwarming touch. Catch it with the family as it is all heart!
This production runs at KC Arts Centre (20 Merbau Road) from 4 August until 16 September 2016 and is recommended for ages three and above, especially if you love Char Siu Bao!
The Three Little Pigs tickets are available from SISTIC.