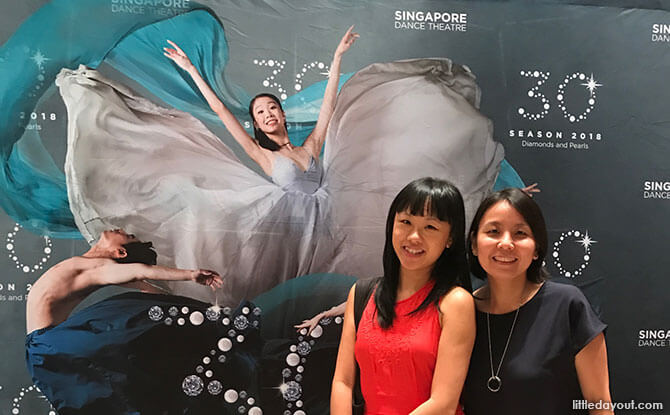 Indeed, the Singapore Dance Theatre's 30th Anniversary Gala was a truly remarkable evening to celebrate three decades of development and artistry of the company.
SDT was founded in 1988 by Goh Soo Khim and Anthony Then. The company has since developed into Singapore's premier professional dance company comprising of 32 dancers. The company's repertoire ranges from classical to contemporary ballet.
Through an excellent repertoire representing the heart of SDT, the audience were swept away by the powerful synergy of dancer's technicality as well as the well-thought-out choreography of four dance pieces:
Double Contrasts
An elegant classical item between two groups of dancers (one in white and the other in black) in stark contrast, accurately reflecting the music of two solo pianists. Besides being a technically challenging piece, it is fast-paced (typical of all Goh Choo-San's ballets) and possess a nostalgic element- it has been performed on a consistent basis from its premiere till now.
Configurations pas de deux
An impressive 'pas de deux' (meaning, a dance for two) that pays tribute to durable values of Goh Choo-San's choreography, namely the portrayal of personalities and relationships.
Linea Adora
Linea Adora is a world premiere work by Timothy Harbour, that translates from Latin as 'the adoration of lines'. It celebrates both the individual shapes the dancers make, as well as a whole in this stunning ensemble. Indeed as Timothy Harbour puts it, "…aspects of dynamism, musicality and cohesion are all evident…"
SYNC
Short for 'syncronisation', 'syncopation' and 'to be in sync', this dance was originally created for the Washington Ballet and successfully performed by 14 companies in Europe, USA and Australia. The music is a good balance of quick percussive and lyrical poetic. Adding a particularly interesting element to the dance piece was the large metal truss towards the back of the stage, providing a unique 'high tech' ambiance simultaneously bringing the choreography to a whole new level.
Congratulations SDT and happy 30th anniversary! We look forward to many more decades of national building, in adding value to the vibrant arts scene of Singapore.