A new dining experience is opening at Changi Airport, Singapore Airlines' Restaurant A380 @ Changi. For two days in October 2020, visitors will be able to book a dining experience onboard one of SIA's Airbus A380.
---
Dining at the Airport: Restaurant A380 @ Changi
For the Restaurant A380 @ Changi experience, diners will be ushered onto the large, double-decker aircraft for lunch.
The wide-body plane will be docked at one of Changi Airport's gates and visitors will board via the aerobridge.
---
-- Story continues below --
Since the Restaurant A380 @ Changi dining experience takes place within the airport's restricted area, diners will receive special passes to enter the airport.
For the meal choices, diners will be able to select from SIA's international cuisine and a special Peranakan menu prepared by Singaporean chef Shermay Lee.
Since food tastes different at 30,000 feet compared to at ground level, we are wondering if the meal will be adjusted for taste to account for the difference.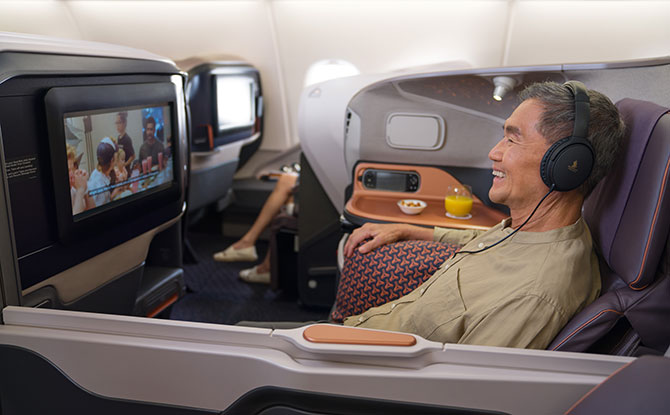 And, in case you are wondering, the plane's entertainment system will be turned on so that diners can watch a movie while they dine.
Diners will also be able to enjoy a heritage showcase of Singapore Airlines' cabin crew uniforms. Those who turn up in traditional heritage clothes like the sarong kebaya or batik shirt will also receive a gift.
There will also be limited spaces available for a short pre-dining tour of the A380 on a first-come-first served basis. This will include usually-off-limits areas in the plane.
---
Booking Restaurant A380 @ Changi
Those who wish to make a booking to dine at the Restaurant A380 @ Changi can do so from 12 October 2020 on Singapore Airlines' KrisShop website.
Prices for the different cabin classes are as follows: $50 fro Economy, $90 for Premium Economy, $300 for Business and $600 for Suites. These can also be redeemed using KrisFlyer Miles.
The dates for the dining experience are Saturday, 24 October and Sunday, 25 October 2020.
---
SIA at Home
The Restaurant A380 @ Changi is part of a range of experiences which SIA is providing to reach out to its customers.
Other experiences include Book-the-Chef where a private chef will deliver and serve meals to customers' homes.
---
Visit SIA's Training Facilities
For plane enthusiasts, as well as families and children, SIA will be opening up its training facilities for two weekends during the November school holidays. At the SIA Training Centre, visitors can have a look at the airline's latest cabin products and flight simulators.
The tours will be free but there will be additional fee-based experiences available too.
One experience which is not on the cards is the fight-to-nowhere. SIA has dropped the idea after considering financial implications and the environmental impact.
We look forward to the various experiences, especially the chance to visit SIA's training facilities during the November school holidays 2020.