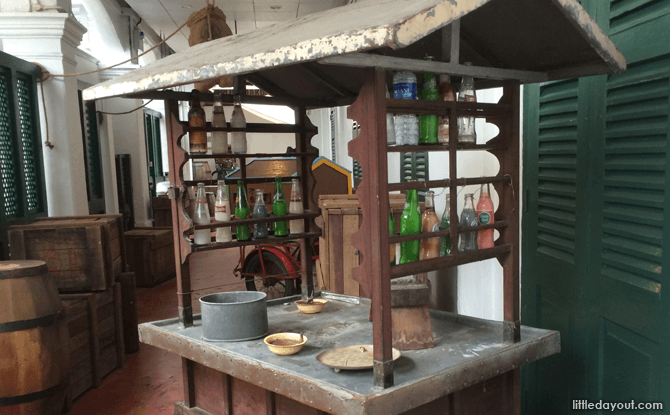 Images of Singapore, located at the top of Sentosa's Imbiah Lookout, will be re-launched in December 2014 as Images of Singapore LIVE.
The current attraction tells the Singapore story through a series of life-sized dioramas that take visitors back in time starting from when Singapore was a fishing village.
The revamped Images of Singapore LIVE will continue to tell the Nation's story from its early days till the 21st Century. It will incorporate state-of-the-art audio visual technology and lighting, to create an almost theatre-like experience for guests with 'wow' factors that include 3D projections of characters.
Visitors will be taken through seven new highly immersive zones that weave together the story of Singapore. They will have the chance to meet the everyday people and pioneers of Singapore across a period of nearly 200 years. These include a storytelling fisherman in a Malay fishing village circa 1819, a streetwise lamp lighter in Commercial Square 1893, and a theatre manager of the Jubilee Theatre at Raffles Hotel, during an air raid in 1941.
The experience will culminate in a voyage aboard The Spirit of Singapore – a stunningly illuminated fantastical boat ride celebrating everything that is Singapore. This can be combined with a ticket to the new sister attraction Madame Tussauds Singapore which will be housed in the same building at Images of Singapore LIVE.
The Images of Singapore LIVE attraction will be operated by Merlin Entertainments plc, who is also responsible for Madame Tussauds Singapore. Madame Tussauds Singapore is set to open on 25 October 2014.
"We are thrilled that we are able to use our Merlin magic to enhance the popular Images of Singapore attraction, ahead of Singapore's biggest national celebration to date – SG50. This will be a very special time for Singapore and we are happy to play our part in re-launching Images of Singapore LIVE into an exciting, contemporary, world-class attraction which can be enjoyed by both local Singaporeans and international visitors of all ages," said Lily Lim, General Manager of Images of Singapore LIVE and Madame Tussauds Singapore.