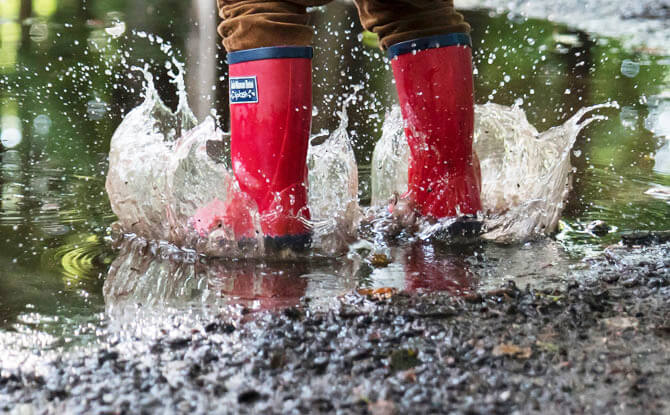 The joke goes that Singapore has three seasons –  dry season, rainy season and shopping season. So, what happens when you get hit by the second and third seasons at the same time? You get to go shopping for rainy day gear in Singapore, of course!
Cute raincoats, waterproof boots and colourful umbrellas for your little tot. If you are looking for rainy day gear, here's a look at what is available and where to get them. Get ready for your next rainy day out!
Gear Up For Wet Weather in Singapore: Raincoats, Rain Boots & Umbrellas
---
Skip Hop Zoo Raincoat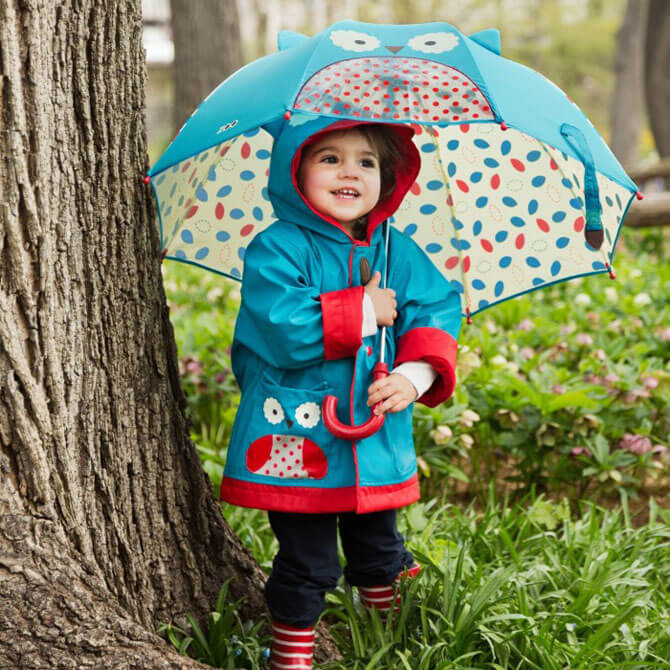 Price: $71.10
From: Agape Babies
Keep your little ones dry in a Skip Hop Zoo Raincoat. This cute animal-themed raincoat comes in three designs, a brown monkey design, a pink ladybird design and an owl design. Great for animal-loving kids.
---
Transparent Raincoat with Sequins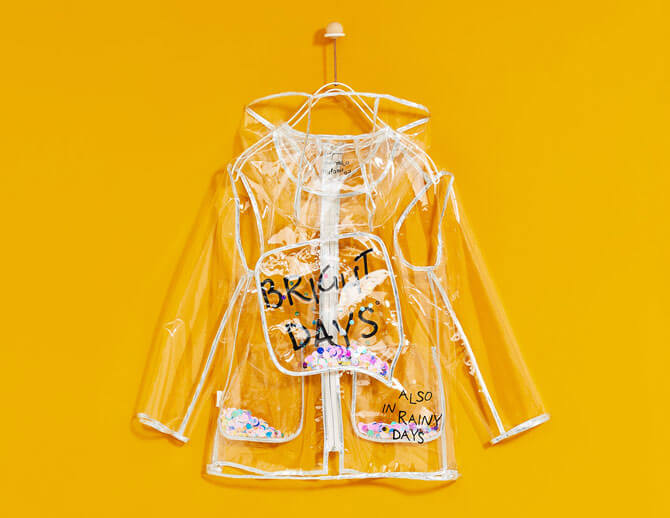 Price: $49.90
From: Zara
This trendy transparent raincoat from Zara has a hood along with front pockets decorated with colourful sequins on the inside. Stay dry and stylish with this rainy day accessory.
---
Water Repellent OGC Sneakers for Kids
Price: $39.00
From: MUJI
Don't you just hate it when shoes get soaked through and the feet get wet? These sneakers for kids from MUJI are water repellent so that they can step out into the rain without the need to worry if their feet will get soaked. These water-repellent sneakers come in two colours. It even comes in baby sizes.
---
Umbrella with Window and Name Tag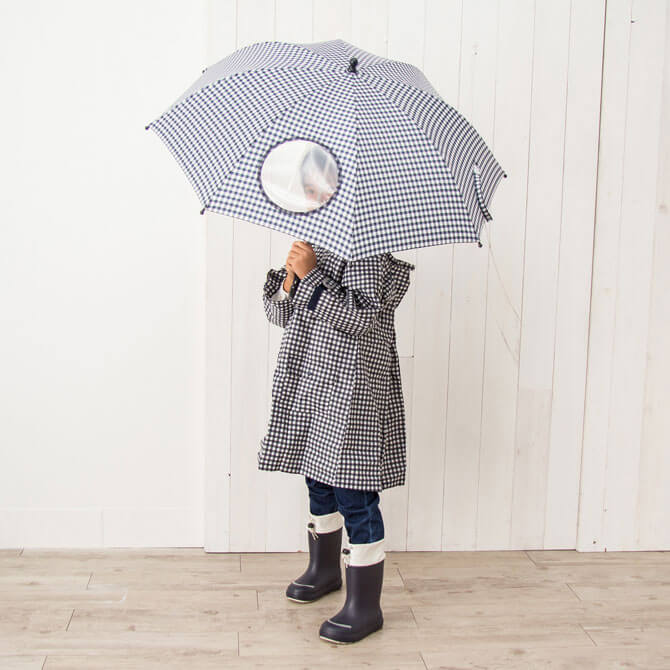 Price: $39.00
From: MUJI
Any kid would love to stare out of the window on this umbrella when it is raining. The brolly is made from polyester and has a name tag spot on the handle so that kids can identify their own.
---
Melissa & Doug Umbrella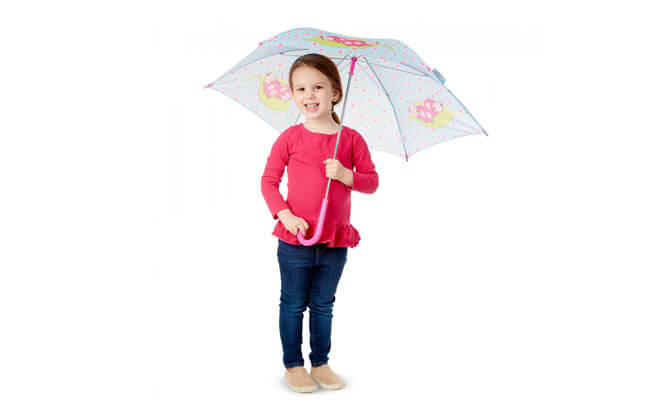 Price: from $17.90
From: Motherswork  / Amazon 
Sporting a cute ladybird design, this kid-sized umbrella from Melissa & Doug is a stylish, wet weather accessory.
---
Skip Hop Zoo Umbrella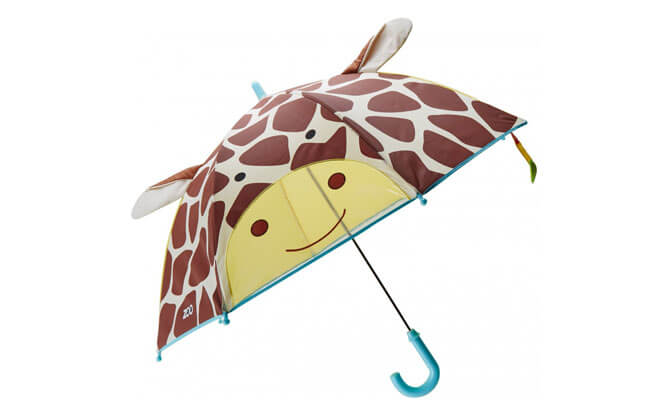 Price: $29.00
From: Motherswork
Available in a variety of animal designs including a monkey, owl, dog, giraffe and butterfly, the Skip Hop Zoo Umbrella has a little window for kids to peak out from on rainy days in Singapore.
---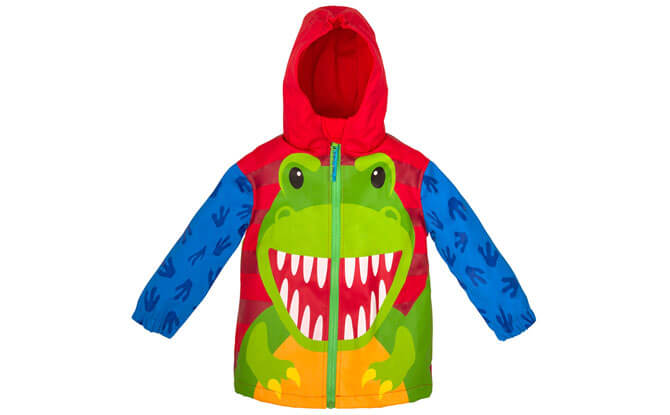 Price: from $56.90
From: The Little Shop / Amazon
Dino-crazy kids will love this brightly coloured dino-themed raincoat. It has a polyurethane outer covering and lightweight cotton lining. Other cute designs in the Stephen Joseph range of raincoats include unicorns, pirates, butterflies and sharks.
---
Stephen Joseph Horse Rainboots for Girls
Price: $33.90
From: The Little Shop
Once the rain comes down, kids will jump on the chance to head out into the rain with these pretty rainboots made from 100% rubber. These come in a variety of designs to match with the rest of the line of Stephen Joseph raincoats and umbrellas.
---
Hike 100 Waterproof Hiking Jacket
Price: $19.90
From: Decathlon
For older kids, you are looking for a waterproof jacket that with an emphasis on function rather than design, Decathlon Singapore stocks a variety of waterproof jackets in it hiking department. Prices for Decathlon's waterproof jackets start from $9.90.
This story contains affiliate links. This means we earn a small fee if you purchase something through a link from our website. There is no additional cost to you. This helps to support Little Day Out and keeps us going.