The PSLE is now done and dusted for the year, and our soon-to-be teenage students can finally relax a little! As teachers nationwide get down to marking the thousands of PSLE scripts, the P6s get some time off – and parents everywhere are wondering "Where to now?!" Other school kids also get a few days off (errm…to prep for the upcoming exams?) as the teachers hunker down to do some marking. If you are looking are some activities – and freebies! – to look forward to during the PSLE marking days 2018, we've got some specials for you here!
PSLE Marking Days 2018 Activities
---
Forest Adventure PSLE Special 2018: Go on a Free Adventure
A treetop obstacle course located at Bedok Reservoir Park, Forest Adventure welcomes kids, tweens and teens to have a taste of challenging rope obstacle courses and thrilling zip lines. A day at Forest Adventure is a wonderful way for everyone to experience the great outdoors in a novel manner, and is sure to get the adrenaline pumping!
Forest Adventure is extending a special invitation to all 2006 babies to tackle one of the courses for FREE from 16 to 19 October 2018 with any full-priced ticket purchased. What better way to celebrate the end of the PSLE than by taking to the trees!
Graduate with a sense of achievement after completing the Grand Course or tackle the Junior Course and have a blast. You'll have to do it to believe it! Hop on over here to make a booking today.
---
-- Story continues below --
---
Believer Music Adventure Camp – Exposure to a Variety of Instruments, Including Drums!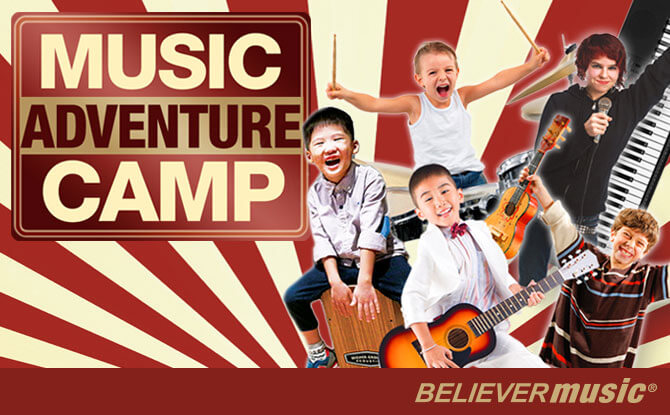 Many studies have shown the extensive benefits of music education in children, from positive social interaction to improved cognitive function. Enter Believer Music, the leading music centre in Singapore with state-of-the-art studios islandwide. As advocates of music education for young and old, they have impacted thousands through the power of music.
This year – during the PSLE 2018 Marking Days from 15 to 18 October – Believer Music has specially designed day workshops for students ages 8 to 16 to learn to play FOUR instruments each. Conducted over two days, the Believer Music Adventure Camp is one-of-a-kind, with unparalleled content and delivery.
The Believer Music Adventure Camp workshops will cater to two different age groups: the 8 to 11 year olds will experience the cajon, ukelele, keyboard, and also receive vocal training; while the 12 to 16 year olds will learn the drums, guitar, keyboard, in addition to vocal lessons. A musical journey like none other, sign your child up for the Believer Music Adventure Camp today! He'll have lots to share with his friends when he returns to school the week after – like the ability to play a new instrument.
To learn more about the workshops and to register for the 8 to 11 year olds, go here, or for the 12 to 16 year olds, here.
---
Wildlife Reserves Singapore
October is not only the month when the PSLE ends but when Children's Day takes place! In celebration of children, Wildlife Reserves Singapore (WRS) is inviting them to enter Jurong Bird Park, River Safari, and Singapore Zoo for free – with every full price adult ticket purchased – from 1 to 31 October – which of course includes the PSLE Marking Days 2018!
As if complimentary entry isn't an awesome enough treat, here are some extras to make the day out to the parks even better! On their visit, children can learn about becoming an eco-ranger, and take on the "Fight the Deadliest Monster Trail" at River Safari or Jurong Bird Park. As they make their way through the trail, children will be educated on the threat of plastic waste to wildlife, and they can pledge to do their part to combat plastic pollution.  Upon completion, they stand to receive a delightful "Little Otter, Litter Trouble" book.
Also, keep an eye out for the parks' favourite wildlife mascots and score Instagram-worthy shots with them when you're visiting the parks! For more information on ticketing and showtimes, go here.
---
da:ns festival 2018: Everybody da:ns now
The da:ns festival party corner is back!
If your children are always having mini dance parties in the comfort of the living room, it's time to introduce them to the Esplanade Festival Corner, one of Singapore's most insta-worthy spaces, where installation art meets dance party! Grab a couple of their little friends, step into the Festival Corner, choose a song, and let the beat take over. We promise you and your children will have such a blast, you'll be back for more every other night. This takes place from 11 to 21 Oct 2018, 6 pm to 11 pm on weekdays and 4 pm to 11 pm on weekends at Esplanade – Theatres on the Bay – which overlap with the PSLE Marking Days 2018. More details here.
---
FREE Beef La Mian for P6 Students at Xiao Er Niu Da, JEM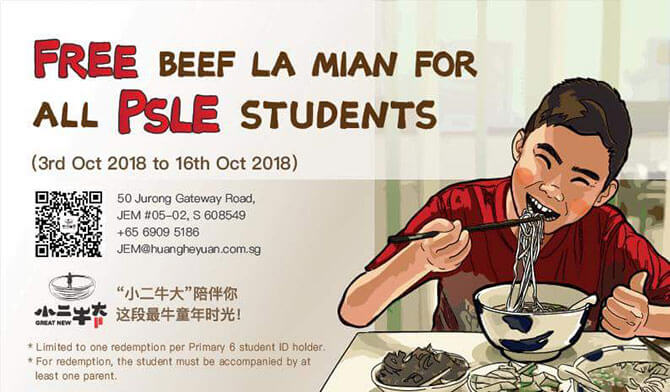 If your child can't get enough of beef noodles, here's a mouthwatering treat just for her! From 3 to 16 October 2018, Xiao Er Niu Da at JEM is giving each local Primary 6 student (with a valid student ID) a complimentary bowl of their signature beef noodles! Talk about a tasty treat!
Mums, Dads, Grandmas, and Grandpas – take your hardworking 12 year olds to JEM today for a piping hot bowl of beef noodles. Nothing is more comforting than a bowl of soup…
Get more details here.
This feature is brought to you by Forest Adventure and Believer Music.