Prudential Marina Bay Carnival is coming to town and it is an event not to be missed!
From 15 December 2017 till 1 April 2018, the Prudential Marina Bay Carnival turns the Promontory and Bayfront Event Space into a gigantic fairground. With more than 40 rides and games that include thrilling rollercoasters and kid-friendly attractions, there is plenty of fun for all ages at the carnival.
With such unprecedented fun by the bay, you probably don't need more reasons to make a date to visit the Prudential Marina Bay Carnival. But in case you do, here are six reasons why you can't miss the mega Prudential Marina Bay Carnival.
1. Rides to Satisfy Thrill Seekers
Fancy going on a ride 35-metres up in the air with a 360-degree view? Or how about being spun around at a top speed of 96 km/h?
If you love adrenaline-fueled rides, you are sure to love the rides, many brought in from countries such as the UK, Germany and Italy, at the Prudential Marina Bay Carnival.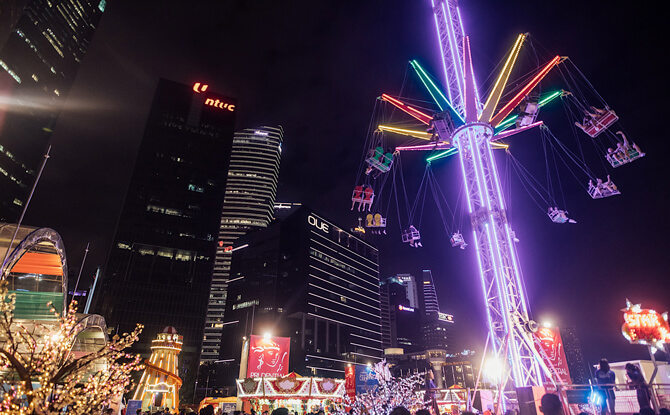 Among the highlights is the Star Flyer, a thrilling tower ride that provides riders with magnificent views of the Singapore skyline while experiencing the sensation of flying.
The Mach 5 is a UK ride that caters to the most intrepid thrill seekers. It comprises gondolas at separate end of a rotating arm that spins rapidly in clockwise and counter-clockwise directions. Taking riders up to 55 metres off the ground, it is the tallest ride at the Carnival.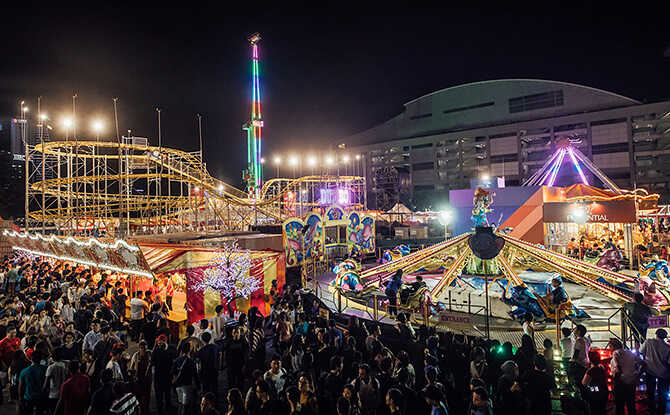 Want more? Climb aboard the Euro Coaster a rollercoaster ride from Italy that rises and dips along the rails and includes an inverting loop. It is the Carnival's largest ride and occupies 700 square metres.
2. Fun Family-Friendly Attractions
Families can look forward to classic attractions too with most of the Prudential Marina Bay Carnival's kid-friendly rides located at the Promontory.
Family-friendly rides and attractions include the Jungle River. Riders get into a hollowed-out log and float along gently meandering curves before a big splashing surprise!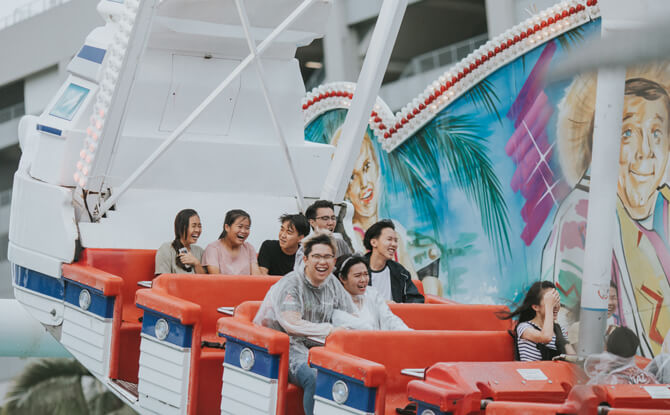 Itching for more nautical-themed fun? Commandeer the Das Fun Schiff pirate ship from Germany and you will soon be on a big swinging voyage.
Kids can also get a taste of thrills on the Shark Coaster, a rollercoaster designed just for little ones. They can also go bumpity-bump on the Dodgems, bounce around an Inflatable Park, row Paddle Boats and enjoy much, much more.
3. Games Galore… With Over 1 Million Prizes to Be Won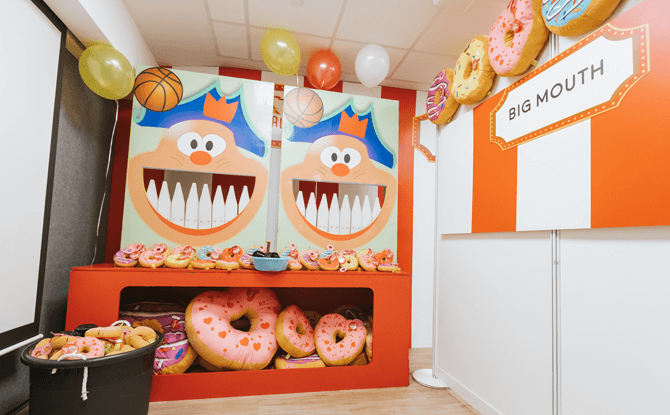 Carnivals are about more than just the rides – they are about games and prizes too!
And, the Prudential Marina Bay Carnival has an overwhelming number of carnival games to choose from!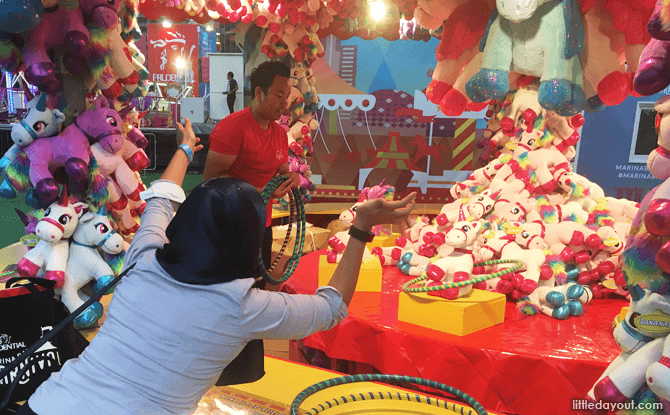 There are more than 30 carnival game stalls at Prudential Marina Bay Carnival. These cater to both children and adults. Up for grabs are prizes that include over 1 million licensed plush toys from Marvel, Pixar, Dreamworks and more.
4. Mouth-watering Carnival Bites
A big part of the carnival experience is sampling the food on offer. The Prudential Marina Bay Carnival is no exception in this department either.
Around the fairground, keep a look out for mouth-watering carnival bites like crispy curly fries, fresh popcorn and crunchy churros.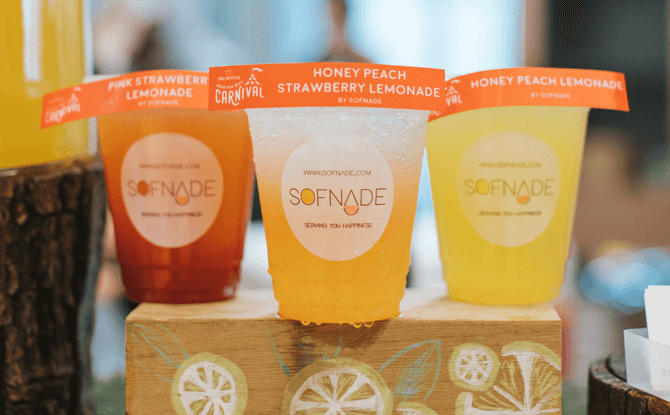 Providing a Singapore-inspired twist to carnival food, there will be stalls offering indulgent Cendol Soft Serve ice cream and Chilli Crab Bao. There will be more than 20 carefully curated vendors to choose from at the Carnival each week. You can also expect the sweet sounds of carollers in the evenings during the year-end festive season.
5. Entertaining Performances
Adding to the Prudential Marina Bay Carnival's festive atmosphere will be performances by homegrown artistes and musicians such as Kexin Tay, TheLionCityBoy and Jasmine Sokko.
Other groups entertaining the crowds include youth bands, DJs and even ventriloquist acts. The sweet sound of carollers will also be bringing festive cheer to the Carnival in December 2017.
Between the rides, the games, the food and the acts, you can expect to spend plenty of time at the carnival by the bay.
6. It's Free To Soak In The Atmosphere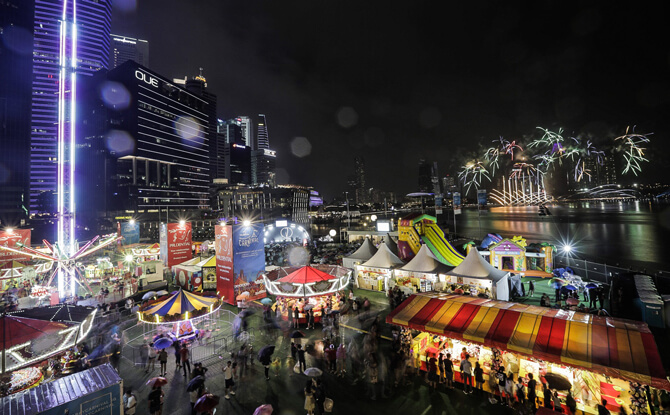 Admission to the Prudential Marina Bay Carnival fairgrounds is free.
To enjoy the rides and games, you will need to purchase a stored value card. These can be purchased from the box office at the Carnival grounds.
There is a Carnival Pack available. This costs $45 and consists of:
Priority queue entry for admission for two
1 Token Card (with $35 credit)
1 set of Special Food Bundle coupons (worth $20).
There are also a limited number of "cut queue tags" available every day. This Express Queue option provides priority entry to the games and rides. Book your tokens here.
The Prudential Marina Bay Carnival
Dates: 15 December 2017 to 1 April 2018
Address: 10 Bayfront Ave, Singapore 018956 and 11 Marina Boulevard, Singapore 018940
Opening Hours:
4 pm to 11 pm, daily except on Christmas Eve and New Year's Eve, 3 pm to 2 am.
Last entry at 10 pm, except on Christmas Eve and New Year's Eve at 12 am.
Website: marinabaycarnival.sg
#marinabaycarnival
This post is brought to you by Prudential Marina Bay Carnival.