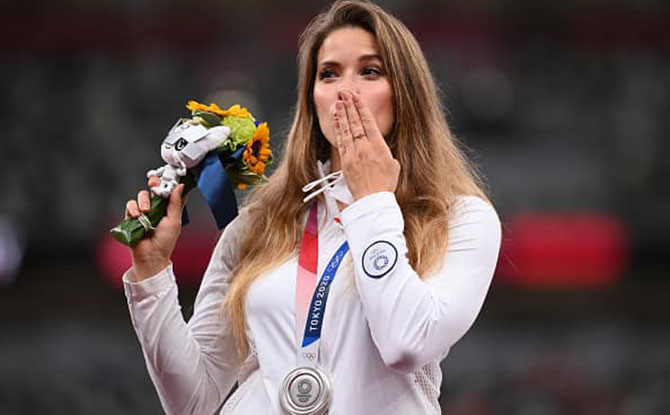 With the Toyko 2020 Games just over, Olympian Maria Andrejczyk has auctioned off her Silver Medal – but for a great cause.
The Polish javelin thrower who placed second during Tokyo Games decided to auction off her silver medal to help pay for a toddler's heart operation.
---
Auctioning off the Silver Olympic Medal
On 11 August 2021, she posted on her Facebook page that she was going to auction the medal to raise funds for an 8-month-old boy, Miłoszek Małysa, who is in need of surgery because of serious heart defect. The money would allow him to have an operation at Stanford Medical Center in the United States.
---
-- Story continues below --
According to reports, Andrejczyk said, "The true value of a medal always remains in the heart. A medal is only an object, but it can be of great value to others. This silver can save lives, instead of collecting dust in a closet. That is why I decided to auction it to help sick children."
Maria, 25, is herself a bone cancer survivor.
On 16 August, Andrejczyk, shared that a winning bid of $125,000 has been offered by Polish convenience store chain Żabka to pay for the needed operation.
In a twist, Żabka has said that they will let Andrejczyk keep the silver medal as they wished to show their support for her noble actions.
---
Hoping the Boy Has a Successful Surgery
We do hope that this in time to the little boy will be able to fly to the US to successfully get the operation he needs to survive.
And thank you to Maria Andrejczyk for showing what a true champion is.