Have your eyes been fixed on the Olympics lately? Watching the thrills of the victories, disappointments of the losses and the rising of the underdogs is a wonderful family bonding experience. The Olympics are also a teaching opportunity for parents in so many ways – the multi-sport event celebrates solidarity in the midst of diversity, overcoming differences, friendship, teamwork and continual striving of our personal best.
Here are some precious lessons children can learn from the Olympics.
---
Lessons from the Olympics
1. Practice, Perseverance and Never Giving Up
The Olympics are a great way to talk about the growth mindset.
Many of the athletes who qualify for the Olympics (and even those who didn't) take great lengths to get to the world arena. Their Olympic dreams were fulfilled by a lot of sacrifice, much of it is unseen behind that brief moment of competition. They practised and practised and practised. They definitely persevered even when the going gets rough, tough and personal injuries hinder their progress. And they never give up.
Take for instance Philippines first ever Gold medallist – weight-lifter Hidilyn Diaz. She was not from a privileged background and trained hard against all odds to compete. Her first Olympics was 13 years ago, where she placed second to last, but broke Philippines' record set at the Southeast Asian Games. Thirteen years later, her continual attempts to keep getting better earned her the first Gold medal for her country.
Hidilyn had also spend a year and a half training in exile in Malaysia because of COVID-19 restrictions. Apart from having no gyms to train at, not equipment, she built her own with jugs of water and bamboo sticks. Her ingenuity and pursuit of excellence, far away from the family during a difficult season built much tenacity in her – and the reward of being the best at the Olympics.
---
2. The Beauty of Sportsmanship
Does winning a medal come at a cost of everything else? Olympians and other athletes have shown immense integrity and generosity at the competition.
At the Tokyo Olympics 2020, two athletes have chosen to share the Gold medal at the High Jump competition instead of going to a tie-breaker. Gianmarco Tamberi of Italy and Muta Essa Barshim of Qatar both completed the jump of 2.37 metres but could not attempt the 2.39 metres after three attempts each. The moment they agreed to share the spot for first place was a beautiful example of sportsmanship.
Sports is not about outdoing one another.
Olympian Abel Mutai from Kenya was only a few metres from the finishing line at a 2012 race held in Spain. He mistakenly pulled up thinking he had crossed the finishing line. Spanish runner Ivan Fernandez Anaya was right behind him, slowed his pace, tried to tell Abel to finish his race but he could not understand him. Ivan then pushed him towards the first place to cross the finishing line. It was an honest display of sportsmanship that was worth much more than a medal.
Winning medals should not come at a cost of human virtues.
---
3. Be Gracious to People Who Fail
We all learnt of Joseph Schooling's bid to defend his Olympic Gold medal in the 100m Butterfly race. While he did not succeed, it did not make him any less of an Olympian, or in the eyes of most – the man who won Singapore's first Olympic Gold medal.
The pressure on elite athletes is immense with training extremely rigorous and probably what most are unable to go through. Competitions come down to seconds and milliseconds especially in races. It might be disappointing to many that we are unable to win another medal at the Olympics. However, it is also a reminder to the rest of us to be gracious to those who fail. Let us be supportive in our words and actions and take failure as part of the journey to a better version of ourselves.
Several legends bowed out of the Olympics either due to injury, mental health issues or failure to perform. We remember that they are only human, and their bid at the Olympics has inspired many others to head to the international games one day. Likewise, in Singapore, we know that parents who have chosen to support their child in competitive sports, have many sacrifices to make. It is not an easy path, neither does it guarantee success.
Perhaps your child is an aspiring athlete. It will be a tumultuous journey full of ups and downs. Let us encourage them, just as we would want to encourage our sportsmen, to continue persevering, trying and working towards excellence.
---
4. Know Our Limits and Know When to Step Away
Possibly the most talked about athlete in Tokyo 2020 Olympics was Simone Biles. As an extremely talented and highly decorated gymnast, Simone chose not to compete in the all-round, floor and vault events to prioritise her mental and physical health. It was lauded as an extremely courageous move for some, while many criticised her for failing to win for her country and being a quitter.
This is an opportunity for parents to talk about prioritising health over other accolades and perhaps check ourselves in the mirror. Do we value our children for their accomplishments? What is our children's worth? At the end of the day, what truly matters? Do we love our children unconditionally?
Many might be familiar with USA gymnast Kerri Strug who looked past her injury, let adrenaline take over and perform her routine on the vault perfectly. The injury caused her to retire at 18 years old, another example of a top gymnast pushed to breaking point. No medal is worth the risk of a real danger to mental and physical health, and life. It is also timely to put our focus on people, not medals.
---
5. Getting Up and Trying Again
One of the biggest takeaways from the Olympics was seeing how fellow beings rise after falling again and again. It doesn't make them superhumans, but their indomitable spirit motivates us to do the same.
The example of an athlete who fell, but came first in her heats, to the Japanese duo who beat the reigning champions, and the Refugee Olympic Team overcoming so much adversity to train and compete at the Olympic games – these are all inspirational life stories worth highlighting.
---
6. Celebrating Each Person in the Midst of the Diversity
The Olympic Games is a global sports festival celebrated by people all over the world. It is one of the few events that unite us albeit for a brief moment. The spirit of Olympism, advocated by "Father of Olympics" Baron de Coubertin to be an elevation of mind and soul, overcoming differences between nationalities, cultures while embracing friendship, solidarity and fair play.
It's one of the few events we can introduce to our children – different countries and their contingent proudly bearing the flag of their nation. We can talk about how diverse the human race is; we can admire the different costumes, flags and cultures as they march past. We can also talk about how the Olympics came to be, and how the torch relay was ran all over the world.
The beauty of the Olympic Games is not in the medal tally but the number of nations the quadrennial event brings together.
---
Let's Celebrate the Olympic Spirit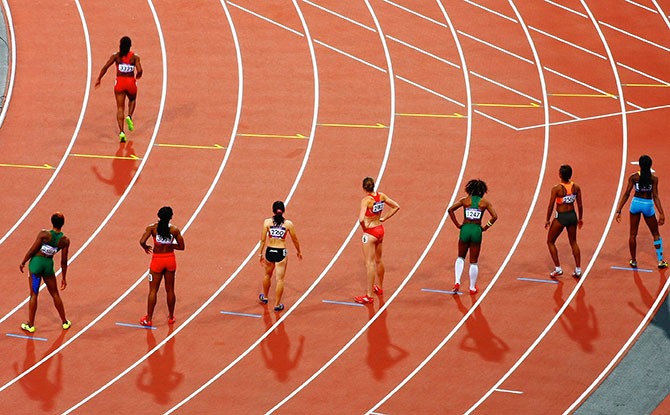 The Olympics remind us that while winning is a goal, the more important part of life is not the triumph but the struggle. As the athletes strive to do better, we should do likewise – to run our own race and be better versions of ourselves every day.