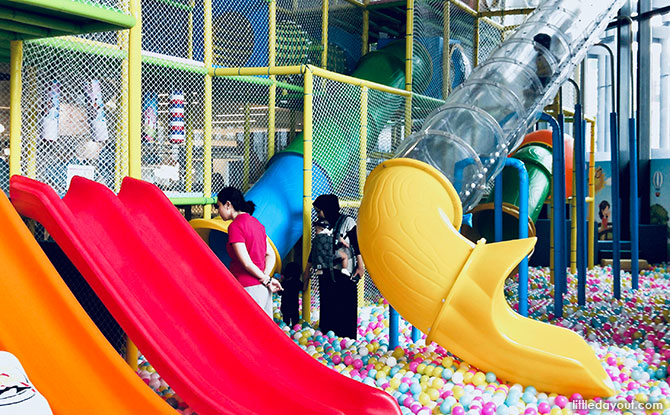 We visited PLAYtopia, the indoor playground at Tampines Regional Library to get the low down on whether you need to play silently at this Our Tampines Hub playground or whether it is safe to let our a loud yell without the librarians coming after you! 
When I think about visiting the library, I think books and silence. Goodness knows I'm always reminding my almost two year old to be quiet in a library because, baby! This isn't a place for play, so please, walk! Not run!
Yea, well – the idea that a library is not a playground is still beyond her, unfortunately.
But trust Tampines Regional Library at Our Tampines Hub to prove to us otherwise – who says a library has to be stuffy and un-fun?
Playground in a Library
So, for the first time ever in Singapore, a library is now home to an indoor playground! If it used to be challenging getting your children to visit a library, you're not going to need to ask twice now.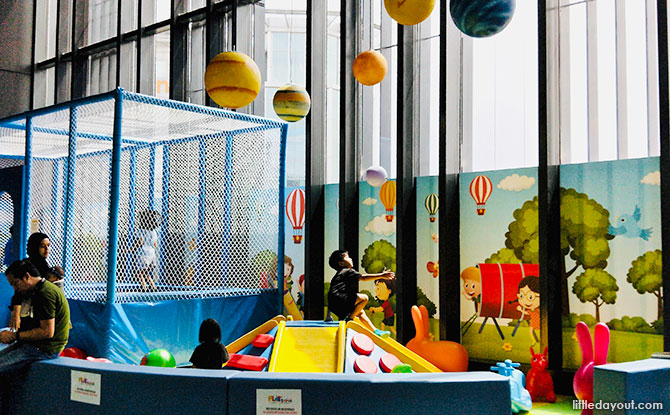 PLAYtopia, located on the second level of Tampines Regional Library, is bright, cheery, and a breath of fresh air. Lined up against a length of windows, the playground is flooded with natural light which almost makes you feel as if you're outdoors.
PLAYtopia features a two-storey high climbing frame, complete with slides, slides, and more slides!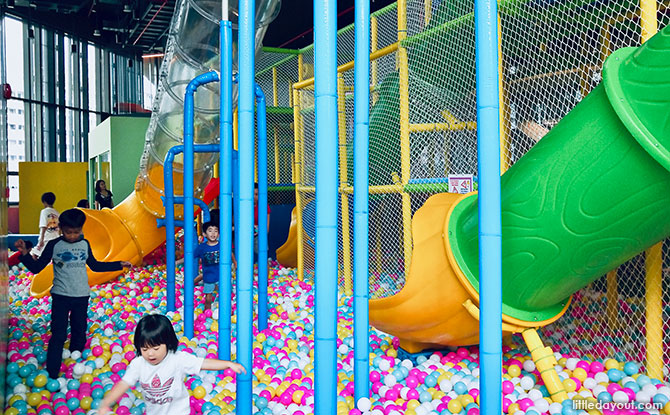 The main play area is also teeming with balls. As if the children wouldn't be able to get enough of these yellow, pink, white, and blue plastic balls, there's a mini ball pit off to the back for maximum plastic ball enjoyment.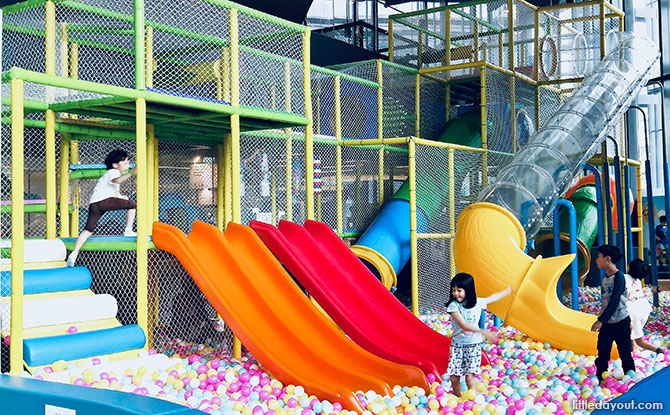 The star attraction of the main play area has to be the two-storey high see-through tunnel slide. Truth be told, I was slightly disappointed that I didn't get to experience the slide for myself; it's hard to be adventurous with a timid two year old in tow.
From what I saw, the older children had a blast barrelling down this awesome slide! I watched as they'd fly out the slide, and scramble back up the climbing frame for yet another round.
See-through tunnel slide envy is real, my friends.
PLAYtopia features a few other shorter and smaller slides, suitable for the younger children. Gentle reminder, though – as the main play area isn't sprawling, watch that the little ones don't get in the way of the excitable older children, and stay well away from the foot of the slides.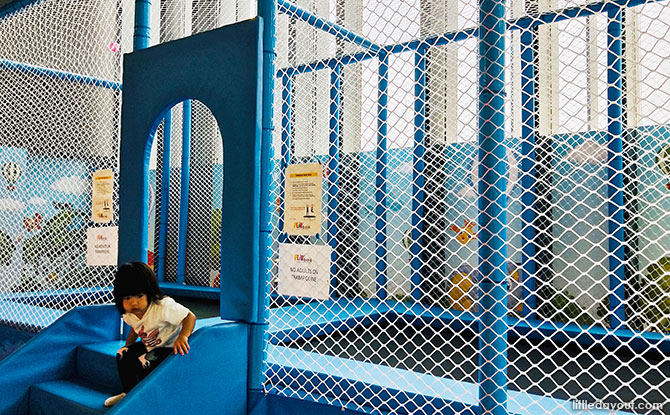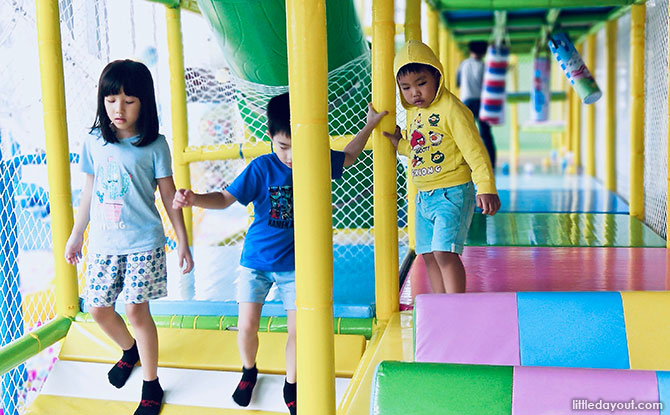 The main climbing frame in PLAYtopia isn't too tricky or packed with obstacles, so it's safe enough for parents of younger children to supervise from afar. There are two trampolines within the main play space which was where many parents were hanging around as they waited for their wards.
PLAYtopia did just open on Saturday 24 November 2018, but it would be great to see a waiting area set up for us parents!
Toddler Play Area
Toddlers have the pleasure of play in the separate toddler play area that is fully padded, has a few rocking horses, and a toddler-friendly foam climbing wall and slide plaything. However, as access to the bigger children isn't restricted, mummies and daddies will have to keep a close eye on the littles.
Birthday Party Venue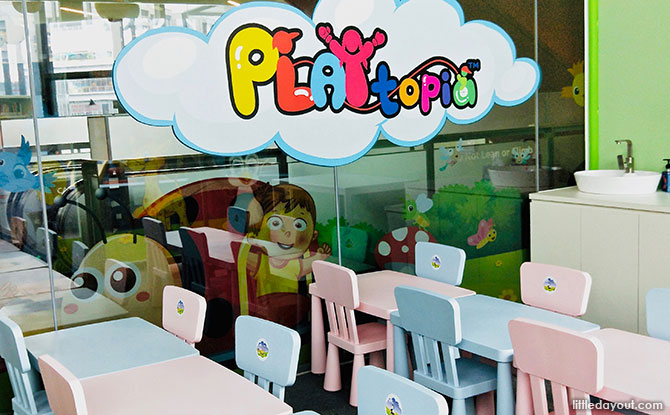 PLAYtopia has a small function room that would be perfect for birthday parties up to about 15 children. Birthday package options start from just $20 per child which is great value, if you ask me!
A neat play space, PLAYtopia is certainly worth a visit, especially if you live within close proximity of Our Tampines Hub. In celebration of their launch, PLAYtopia has lined up a host of activities from 8 to 14 December, including storytelling sessions by Bill Calhoun, Meet-and-Greets with their mascot, Chippy Chick, and balloon sculpting!
PLAYtopia Indoor Playground, Tampines Regional Library, Our Tampines Hub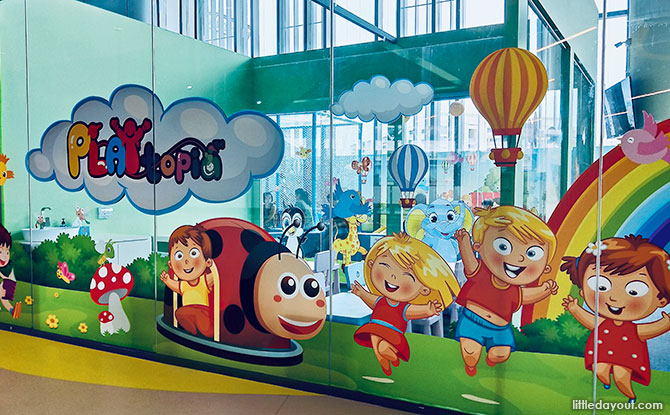 For more information on PLAYtopia's opening hours and admission fees, go here.