School's almost out and there's a brand new Playtime at Toybox experience at Singapore Zoo and River Wonders during the June Holidays. We had the opportunity to try it out and here are some tips on maximising your Toybox Passport Experience.
---
Playtime At Toybox Passport Experience at Singapore Zoo and River Wonders
1. Two Parks, 12 activities
Playtime at Toybox is being held at two parks – Singapore Zoo and River Wonders. There are 12 activities to try out and if you complete four stamps at each park, you can redeem a mini magnet. The activities are designed based on game and toy brands like Monopoly, NERF, My Little Pony and Playdoh.
Parents might want to complete the activities in two parks in one day, but we recommend this only if your family does not mind missing out on time to check out the animal exhibits. Otherwise, if you complete one park a day, the pace could be more comfortable for preschoolers.
---
2. Purchase Toybox Passport before Starting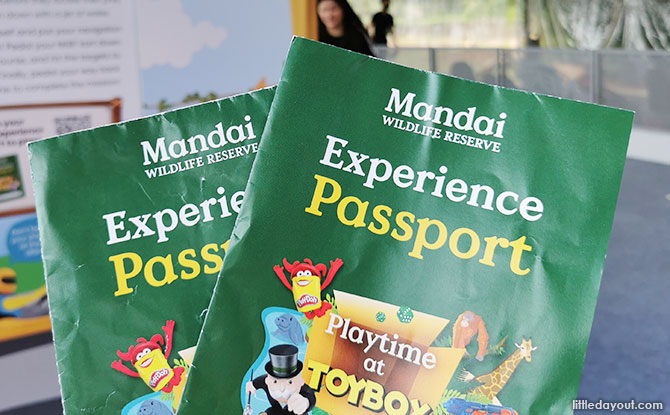 To participate in the Playtime at Toybox activities, you will first need to purchase the Toybox Experience Passport which costs $15. It comes with a keychain which can be used to display magnets as you collect them.
Friends of Wildlife members will be able to purchase the Toybox Experience Passport at $12.
Enjoy the Local Residents' Exclusive when you purchase Toybox Playtime bundle at $52 which includes admission to both Singapore Zoo and River Wonders.
---
3. Be Prepared to Play!
As with every visit to Singapore Zoo or River Wonders, do wear shoes that allow you to run, jump and bounce because that will be required at the Playtime at Toybox activities!
The weather has been scorching hot as well, so bring along your water bottle and hat too.
---
4. Timings for Playtime at Toybox
Do note that the time to join in the activities is from 10 am to 5.30 pm, 28 May to 26 June 2022.
To maximise your day, you could arrive at the park before 10 am to view your favourite animals before starting on the activities at 10 am.
It takes between one to two hours to complete the activities at each park. This also depends on whether you are on foot or planning to take the tram during your visit. We highly recommend taking the tram at Singapore Zoo to complete the missions quickly if you value speed!
---
5. Singapore Zoo's Playtime at Toybox Activities
We got our children to plan their route based on the map given in the Toybox Experience Passport. This was the perfect lesson to learn to lead the way and determine which activities to complete first.
Since the NERF challenges was the biggest draw, we took a tram to Pavilion By The Lake first. This was probably the most popular station, so do expect queues. There are two to complete – NERF Archerfish Accuracy Challenge and NERF Archerfish Race.
Try and aim like an archerfish and use your NERF blasters to shoot through holes on a wall. This may look easy but it is a test of marksmanship!
Next, pedal your way on a NERF-Kart and aim your blaster to knock off the targets! The faster and most accurate shooter wins the race.
We also got to throw a giant dice on an upsized Monopoly board and answer a question about animals at the Singapore Zoo. Following which, we proceeded to the tiger exhibit; leap like a tiger to earn a stamp. There are three other property cards in the zoo to get stamps upon completion of the activity.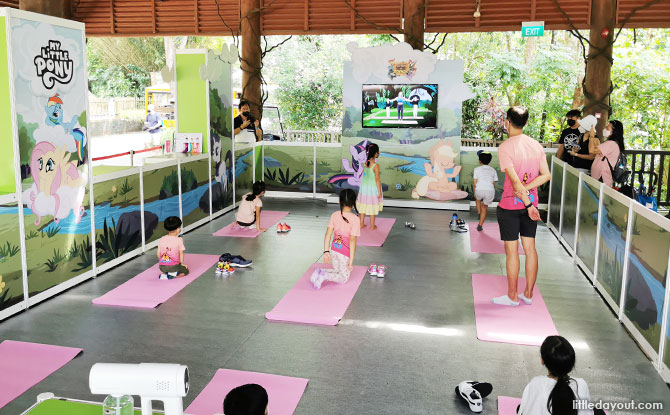 Fans of My Little Pony will get to try a yoga session to redeem a stamp and locks of My Little Pony inspired hair extensions. During the weekends, you can even meet the real deal – Falabellas at Rainforest Kidzworld between 2 to 2.30 pm daily.
We got a chance to pose with Mr Monopoly. He will be at Rainforest Kidzworld on Saturday mornings between 10.30 am to 10.50 am, and 11.30 am to 11.50 am. Over at River Wonders, he will also be making an appearance at the Boat Plaza between 12.30 pm to 12.50 pm, and 1.30 pm to 1.50 pm on Saturdays.
---
6. River Wonders' Playtime at Toybox Activities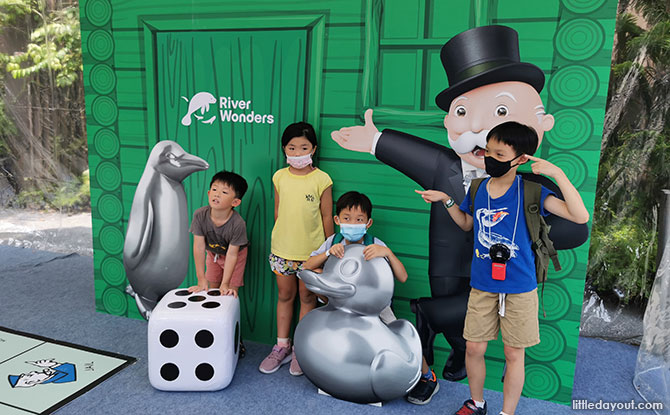 Since River Wonders is sheltered for the most part, we recommend heading to this park when it is the warmest!
First, get your stamps at Ganges River upon learning about the Indian Gharial and Archerfish exhibit. Earn some more stamps by taking a photo with the Chinese giant salamander, then dance like a stingray before visiting the Giant Pandas at their exhibit.
You will find the Monopoly course as you exit the Giant Panda exhibit where you can roll a dice and answer a question on River Wonders' wildlife.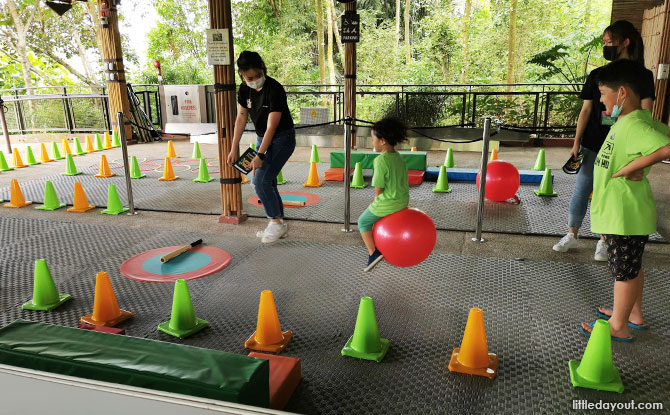 Head to the Play-Doh obstacle course and try the really fun course suitable for children ages 5 and above.
Then get your hands busy by creating a river animal friend for Le Le at Play-Doh Jungle Gym.
---
7. Head to the Redemption Counters on Completion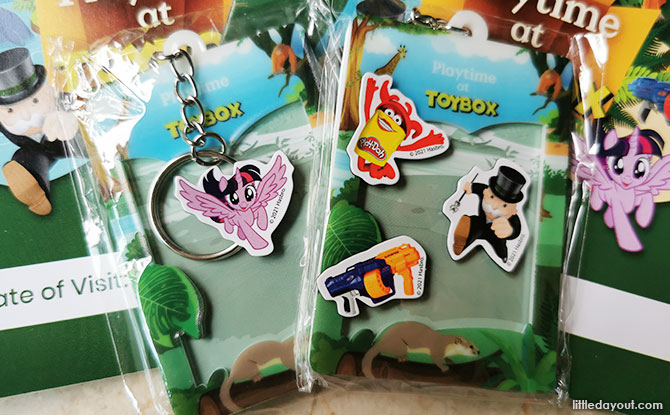 Upon completion of the activities and getting four stamps on your passport, head to the redemption booth to collect your magnets!
There is one to redeem at each park. You can choose between My Little Pony or NERF at Singapore Zoo, Mr Monopoly or Play-Doh at River Wonders.
---
Our Experience at Playtime at Toybox
There was little time to waste as our task-oriented children were game to collect the stamps. This leaves us little time to wander leisurely in the parks. All of them had great fun at Playtime @ Toybox, displaying their keychains as mini medals at the end of the mission.
To make it more educational, we suggest that parents can direct children to learn about each animal that the activity draws attention to so they would learn about the unique characteristics of the animals post-activity.
The free-and-easy activities are a different way to experience the parks, and getting four stamps was actually straightforward and a walk in the park (literally).
Add a different dimension of fun at Singapore Zoo and River Wonders with missions to complete and a chance to play with toys. Find out more about ticket sales and Playtime @ Toybox here.