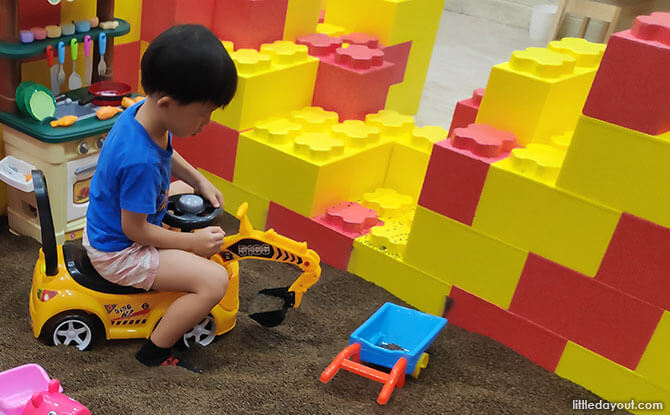 A new indoor playground, Playland@Dawson, has just sprouted in Dawson Place, right above Fairprice supermarket. Playland was started because like-minded parents felt the area lacked an indoor playground for their active kids.
We spoke to Eddy, a fellow parent, on what inspired him to start Playland@Dawson.
---
Little Day Out: What led you to start Playland@Dawson?
Eddy: We have been residents of Dawson for the past four years. Being parents of young children, we experience their boundless energy daily. There are plenty of excellent outdoor playground in the neighbourhood, however we do understand that sometimes parents do want a place to sit and chill while the kids burn off their energy indoors before nap time.
Instead of having to choose between letting the children stare at a 10-inch screen or chasing after their tails at the playground on a lazy weekend, Playland@Dawson offers slide, mini ball pit, cassia seed pool, pretend play, simple art and crafts while allowing parents to sit down and have their kids in sight.
It can get quite daunting to be stuck with multiple energetic children in the house, especially during the rainy season or when the main caregiver is away for some well-deserved downtime. Young children cooped up in the house, with no outlet for their high energy level is a sure recipe for meltdowns and frayed tempers. Playland is well-connected to all the neighhouring flats via sheltered walkways, providing a failsafe avenue for both parents and children alike regardless of weather.
---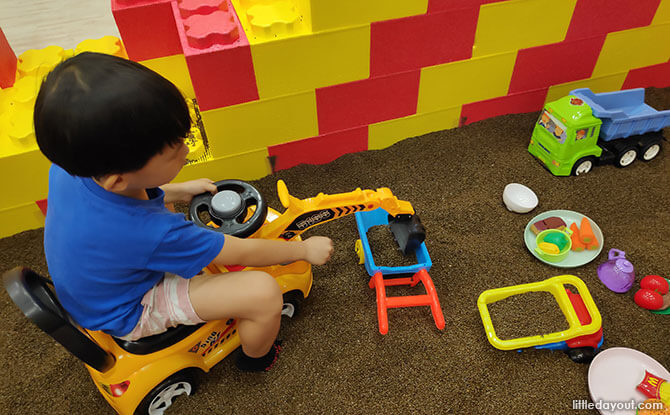 Cassia seed is a natural material that has been used as a TCM for hundreds of years. It is non-toxic and also known for its beneficial properties to aid eyes conditions and to improve sleep quality by removing heat and soothing the nerve. The grains are small and smooth flowing, giving a nice pattering sound when poured.
Together with the different shovels, spoons, pots and pans, it provides the perfect sensory play environment. It also does not stick to skin, making clean-up a breeze.
The Jungle Gym slide is one of our highlights. Constructed with solid wood, ending into the ball pool, it goes extremely fast while still keeping safety as a priority. Both the ball pit and the cassia seed pool are made of lightweight foam blocks which offers excellent impact absorption.
Some kids also enjoy making their own structures with these giant "LEGO" blocks. The floors and walls are fully padded so that there is one less little thing for anxious parents to keep tabs on.
---
How do you see "play" at Playland@Dawson?
We strive to unleash the natural creativity of the children and simply let kids being kids. Away from the electronic gadgets and engaged in sensory play, I'm surprised by the kids' creativity every single day. It is also very heart-warming to see parents engaging their children in play, enjoying each other's company.
---
Little Day Out's Playland@Dawson Review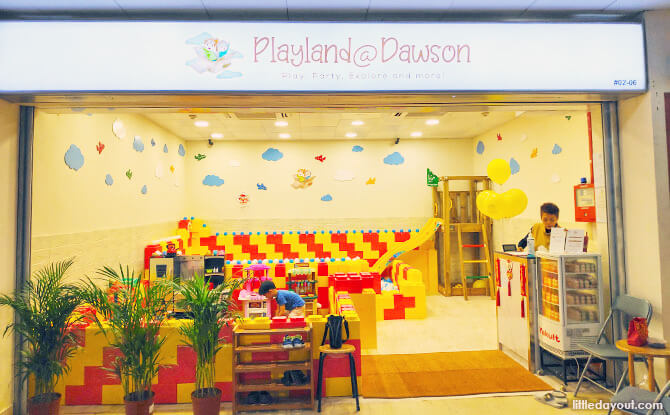 Big things come in small packages. Though the playground is small, it sure packs a punch! We visited Playland@Dawson with our five year old and he thoroughly enjoyed the play in the space, much to my surprise.
Playland consists of a cassia seed pit, ball pit with slide and a corner for art and craft. We spent most of our time in the cassia seed pit, unknowingly getting a therapeutic cassia seed "foot bath".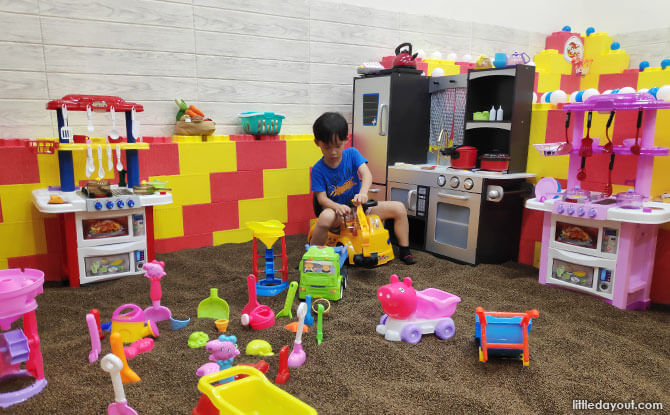 As it was a weekday, we had the playground to ourselves. There was still plenty of room for 7 to 8 more children. First my cheeky son started to dismantle the giant "LEGO" bricks which were supposed to be the wall structures to the cassia seed playpit, much to the dismay of the staff.
He had fun building a higher wall. If there were more bricks, they would have been used to build even fancier structures.
Then, most of the time was spent in the cassia seed playpit. Apart from the usual scoop and pour activities, there is a ride-on excavator to dig as well as many sand toys to tinker with. We loved the sensation of the cassia seeds as compared to sand is a lot less messy.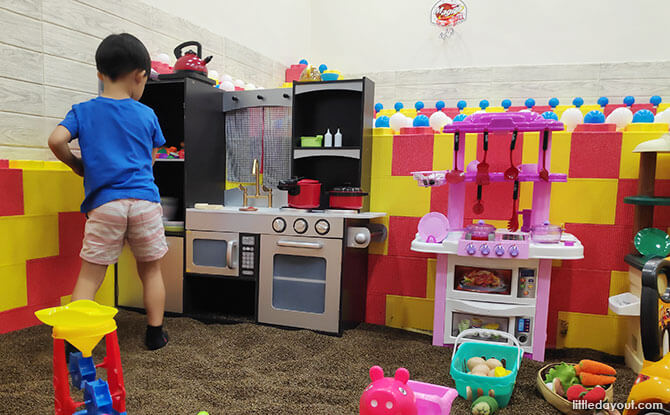 There are also three toy kitchens for lots of play-pretend. Coupled with the use of cassia seeds, there are lots of dishes to create.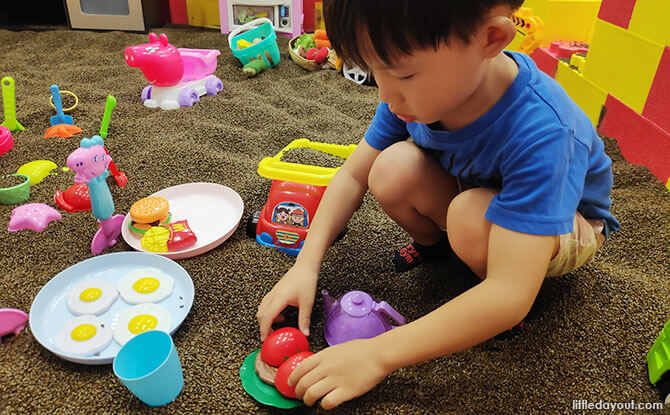 I enjoyed the "feast" my private chef whipped up for me with both pretend food and cassia seeds. The toy kitchens are well-equipped and provided much room for imaginative play. This is especially important in a child's formative years of cognitive development and developing a sense of understanding of the world around them.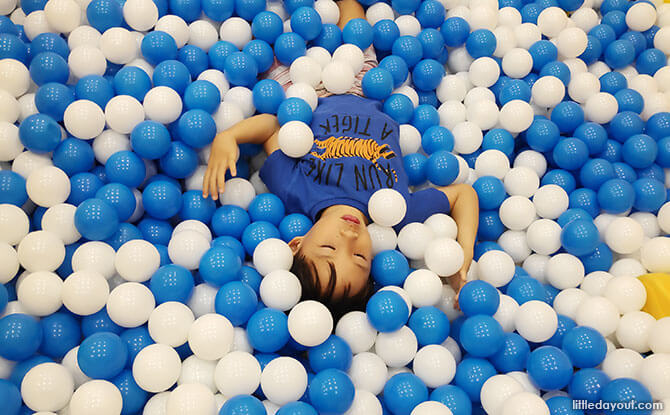 While the cassia seed pit captured my child's attention, he also enjoyed sliding into the ball pit and rolling around. I can imagine a good ball fight going on here between parent and child. After about an hour of playtime, we decided it was time to go. But one hour is never enough when it's plenty of fun. We hope to be back at Playland @ Dawson soon!
---
Book Out Playland @ Dawson!
For small parties or group playdates, you can also consider booking Playland's space. And don't forget your socks!
Playland@Dawson
Where: 57 Dawson Rd, Dawson Place, #02-06, Singapore 142057