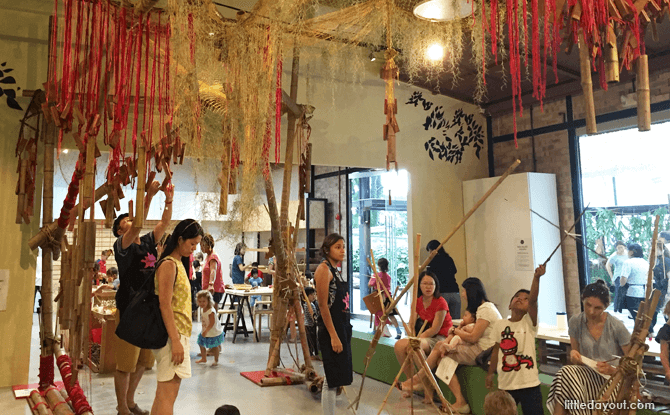 Since opening in September 2015, Playeum's Children's Centre for Creativity has been the new "it" place to go with young kids. It has a reputation of hands-on, open-ended play – where kids get to exercise their creativity, unfettered by rules or constraints.
The Centre's inaugural exhibition 'The Art of Speed' attracted more than 17,500 children and adults over its six-and-a-half-month duration.
Now, Playeum's sophomore effort promises the same engaging experience that parents and children have come to expect from the Children's Centre for Creativity.
From 16 April 2016, 'Hideaways – Creating With Nature' will open its doors for kids to interact and engage with nature through hands-on activities and interactive artist installations.
---
-- Story continues below --
Conceived by Creative Director Jeremy Chu and other artists, 'Hideaways – Creating With Nature' consists of art installations where kids are prompted to engage and interact with the natural world.  Programmes and workshops will be held over the six-month period to complement the exhibition.
Creature Cave
By Bartholomew Ting 
From the outside, this cardboard "cave" looks mundane and brown. But inside, it is a different story altogether. Illuminated by a fluorescent glow, inside the cave, toddlers and infants play with animal sound pads and tactile materials that activate their senses.
The Dark Space
By Richard Kearns 
When one sense is diminished, another is heightened. Inside The Dark Space, sensors activate the sounds of nature when children pass by. Luminescent cutouts provide an alternative perspective of nocturnal wildlife. The Dark Space will also be the venue for a changing array of hands-on activities over the course of the exhibition's duration.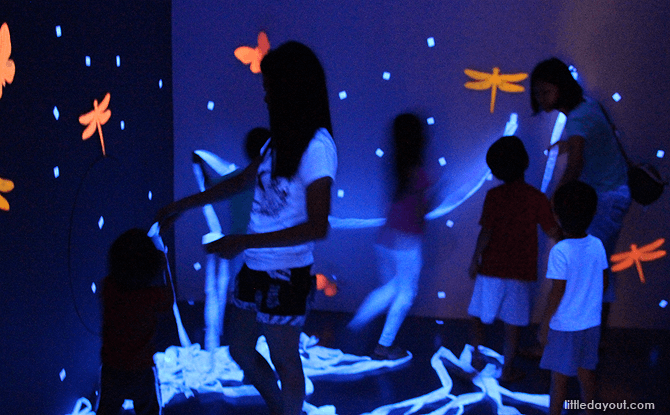 Knock, Knock! Who lives there?
By Isabelle Desjeux 
Become a bug investigator and for a day. Put observation skills to good use by recording what is seen. Using special screens, projectors and magnifying glasses, kids can get a close-up view of squiggly creepy crawlies at the Spider Hotel, the Sensory Bug Hotel and more. They can even send off a postcard to their favourite insects residing in their natural habitats.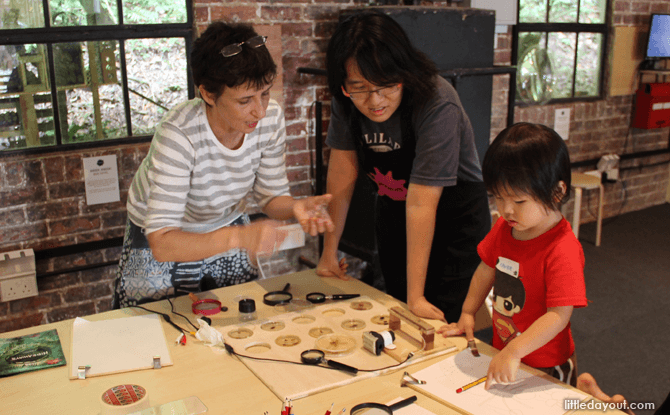 Welcome to My World
By The People's Atelier (formerly ShadowGap Suite) 
Gain a new perspective of the natural work at this interactive art installation. Kids are challenged to see the world through the eyes of an insect and construct shelters out of natural materials. Just sit back and watch them engineer their own abodes from the resources available.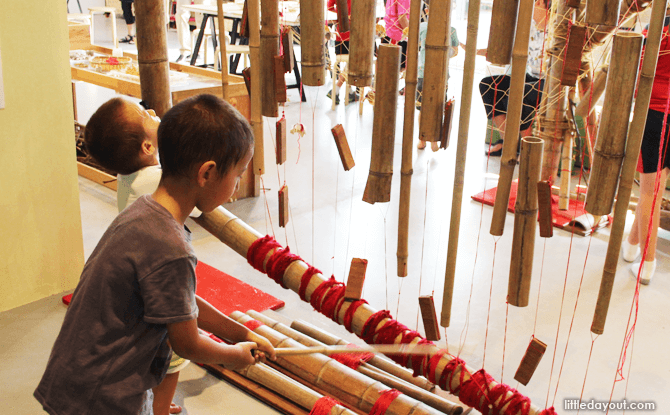 Make-believe Hideaway
By Madhvi Subrahmanian 
Every child loves imagining a secret space of their own. At Make-believe Hideaway, kids use their imagination (and a lump of clay) to fashion their own miniature secret hideaway. These mini works of art can then be added on to a collective hive of art that goes on display.
Sounds of Earth – Nature's Ensemble
By Shogun Creatives
With access to materials such cardboard, flowers, coconut shells and even 'buah keluak' nuts, kids get to build their own musical instruments from scratch. Not limited by convention, their unique, one-of-a-kind instruments will be added on to the musical ensemble at the outdoor Tunnel of Sound.
Jeremy Chu, the exhibition's Creative Director shared that the theme 'Hideaways – Creating with Nature' was chosen to raise the children's awareness of the natural world. It aims to prompt them to think about how natural materials are utilised and what can be done to care for the environment.
Commenting further on the exhibition's open-ended approach to play, Anna Salaman, Playeum's Executive Director said, "The very nature of this process is to enable children to take ownership of the experience, and therefore the team at Playeum is constantly observing children and adapting the programme in response to the children's experiences. We also involve and consult with, regularly, our Children's Advisory Network, consisting of up to 15 children aged between three and 12. This ensures that the programmes are child-centred and also ensures their sustainability."
Catch a sneak peek of the second exhibition 'Hideaways – Creating with Nature' here:

'Hideaways – Creating With Nature' at Playeum's Children's Centre for Creativity will be held from 16 April to 30 October 2016.
'Hideaways – Creating With Nature'
Children's Centre for Creativity
Blk 47, Gillman Barracks, Singapore 109444
Admission prices: $20 per child/parent pair, additional adults $10
Opening Times : Tuesday to Sunday, 10 am to  6 pm
Website: www.playeum.com
Little Day Out is going to Playeum on Monday, 20 June 2016!
As a Little Day Out reader, you get to join us for an exclusive day out at Playeum's Children's Centre for Creativity at 20% off the usual admission fee.
Click here to get your tickets now!