Head out to your next adventure by using the Internet to your best advantage. Here are some of the most useful and best travel sites we love.
Before you head off to your next holiday, use these to help you land the best-priced deals, the rarest of lodging choices, the most off-the-beaten-track experiences. You can even track the rise and fall of travel prices (yes, like the stock market).
Best Travel Sites
Skyscanner is one of the best when it comes to having an intuitive interface and simple steps to finding great deals on travel anywhere in the world.
We love the 'flexible' search option, where you can use a slider to change your arrival and destination dates to get the lowest prices possible.
---
-- Story continues below --
The easy-to-read charts allow you to make quick decisions based on the lowest fares, according to dates and flight times.
Besides the desktop and mobile website, Skyscanner has a nifty app, too.
Credit: Airbnb
One of the trailblazers of the sharing economy, Airbnb was virtually unknown in 2008.
Today, the site has 1.5 million listings in 34,000 cities in 190 countries, 19 offices around the world, and most recently valued at US$20.1 billion valuation, according to media reports.
And it made it to the number one spot on Forbes' list of best travel sites in the world in March 2016.
Travellers can rent short or long stays at virtual strangers' homes (some of these are purely rental properties; the owners don't live there).
But part of the allure of Airbnb are the endless magical possibilities – stay at a castle, a cottage, a villa, a home with breathtaking views, a shared living space, or whatever suits your fancy.
The "safety" of your short-stay rental is based on fellow reviewers who have stayed at the properties before, critiquing or praising about anything from the cleanliness of the space to the friendliness of the host.
Do note that there are some penalties if you decide to change the date or terms of your stay after booking it, depending on the policy of the host you booked with. Also, be careful of rental properties which have zero or very few reviews – while they may very well turn out to be great stays, they may also turn out to be scams.
Offering competitive hotel rates, Agoda is one of the cheaper hotel booking sites around.
With its "book first, pay later" system, it takes away some of the stress of booking accommodation in advance.
The sorting feature isn't very refined, however, and you might have to trawl through many search results before finding what you're looking for.
It has useful indications, like how many rooms are left for each deal, for example. Mousing over certain room details will allow information of the room deal to pop up e.g. 73sqm room, no smoking, bar fridge, twin beds.
Credit: Hotels.com
One of the cheapest hotel booking sites around, Hotels.com has a simple homepage with easy search functions.
It also curates the best deals in with categories like Last Minute Deals, Global Hotel Sale, and even local staycations in Singapore – all on the front page.
This is a good site with high usability, variety of accommodations and secret deals like half-off hotels for short windows of time.
You can search for a holiday by theme and can search deals and trips lodging other than just hotels.
With a robust mobile app, it makes hunting down best travel deals so much easier on the go.
This useful site consolidates the search for everything related to travel – flights, hotel rooms, and rental cars.
What we really like – Kayak's pricing trends and predictive algorithms on prices going up or down. It will help with your decision-making as to whether you want to quickly buy now, or wait till prices drop further.
Subscribe to Kayak's travel alerts, which send you an email when deals pop up for your destinatino of choice.
As the name suggests, this site focuses on destinations in Asia, offering the most competitive prices around the region.
Asiatravel also consolidates travel related services and attractions under one roof: Flights, hotels, tours, attractions, travel packages, car rentals.
In fact, locals can also find well-priced ticket packages to even Singapore attractions like theme parks, for example.
While we find the interface rather busy and cluttered, hey, for competitive prices we are willing to go the distance.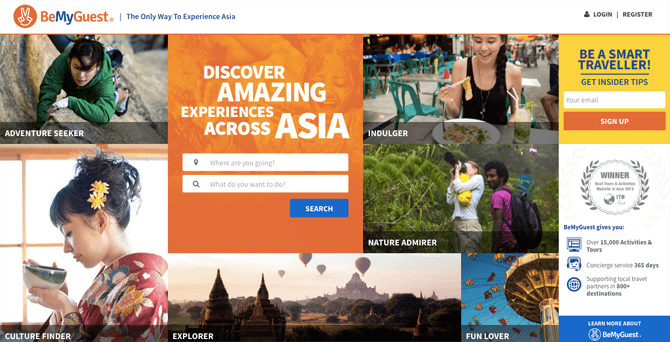 Fly the Singapore flag and book with BeMyGuest.
It's the first Singapore start-up to join innovation and entrepreneurship magazine Fast Company's Top 50 Most Innovative Companies list in the travel category this year. This means BeMyGuest is rubbing shoulders in the same category with the big boys like Airbnb and Uber.
Started in 2012, BeMyGuest is an online booking platform that connects travellers visiting Asian countries to 13,000 experiences in more than 700 cities in the region.
And it's not just mainstream travel experiences – you can book activities like driving a Maserati sports car, cooking classes, batik painting, and more.
If you need a "pointer" website (the likes of Skyscanner and Zuji), you'll like Travelzoo. The travel site searches out the best deals and points you to different websites to book them.
One of the highlights of Travelzoo are its Top 20 Deals, offering competitive prices on flights and travel packages. Think flights, holidays, cruises, shows and more.
We like the front page of the site, with its Tumblr-like feed of curated top holiday deals – big on zesty images and pretty eye-catching.

Credit: TripAdvisor
It's the worst-kept secret, of course. We can't leave out TripAdvisor from our list.
It's the Holy Grail of authentic reviews of hotels, lodging, attractions, and other travel-related services. Indicating which locations are best for value, family-friendly, business-savvy, romance or luxury, TripAdvisor gives clear signposts so you know what you're looking for.
It isn't the travel deals that we look out for on TripAdvisor. Rather, we use it to cross-reference any and every accommodation or travel plan with the reviews of the people who have been there and done that.
Thank you, Internet.