Fancy playing a round of golf through the house from the animated movie Up? Or joining the Incredibles in a battle scene with an alien monster? Pick up a putter and join in the fun at Pixar Putt, the Pixar mini golf course which opens at Marina Bay Sands' Waterfront Promenade from 26 August 2022.
Pixar Putt consists of interactive mini golf putting holes which are inspired by the different stories from Pixar's popular animated movies. These include Toy Story, Monsters Inc., Finding Nemo, Inside Out and more.
There are a total of 18 holes at the open-air Pixar mini golf course.
---
The Pixar Mini Golf Experience at Marina Bay Sands
The experience is suitable for players of all ages and Pixar Putt Singapore will feature new putting holes based on the latest Pixar movies.
---
-- Story continues below --
Golf clubs and golf balls are provided. Players even get their own cards and golf pencils to keep score.
The course is divided into two sections, Holes 1 to 9 and Holes 10 to 18. Each hole is themed after famous Pixar movies. Hole 1, known as Doors Galore, invites a trip down Monsters Inc memory lane.
The second half of the course features holes themed gems like Coco, Brave, Inside Out, Soul and Wall-E. Hole 18 is Paradise Falls based on the movie Up.
Other films that feature in this first section of the course include The Incredibles, Cars, Toy Story and the recent hit Turning Red.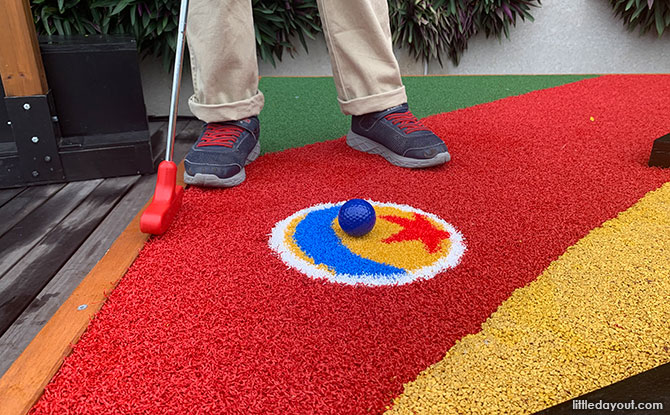 Start by placing the ball on the Pixar ball and get ready to tee-off.
One of our favourite holes was Hole 6, Benson's Revenge, based on Toy Story 4.
Hole 17, Watch Your Step, based off the movie Soul, was another nice one too. It had an innovative "tee-off" mechanism.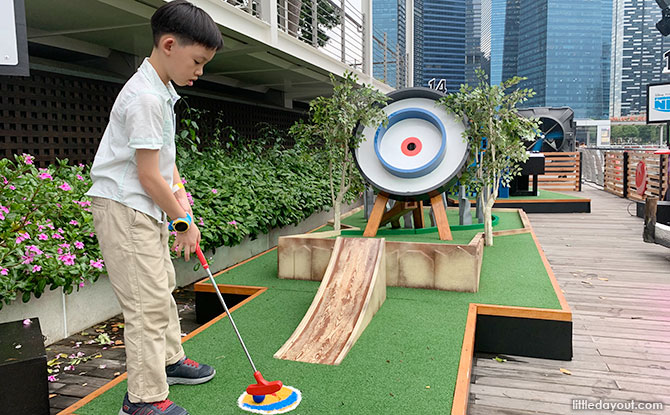 The one with the most challenge was Hole 13, On Target, based on Brave. It was hard to launch the ball and have it land on the target board.
The final hole is Hole 18, Paradise Falls, based on Up. Once the ball has been putted into Hole 18, your round of Pixar mini golf is over. So, be sure to complete all the other holes first.
Pixar Putt is a fun experience for families, especially if you have kids who love Pixar animated movies. For adults who have grown up with Pixar movies, the mini-golf game is a chance to re-live old memories in a novel way.
---
Getting Tickets to Pixar Putt
"Pixar Putt has been played by scores of mini golfers since we launched in 2019 and we are thrilled to be bringing it to Singapore for the first time this August," says Brendon Bainbridge, Managing Director TEG Asia.
Tickets to Pixar Putt are available from Ticketek Singapore or at the onsite Pixar Putt ticket booth. Onsite ticket purchases are subject to availability as there is limited capacity on the course.
Tickets are required for all children over the age of 3. Children under 3 can join a family group free of charge. However, the Pixar-themed mini golf course has not been designed for those under 3 and the children will not be provided with their own putter.
Pixar Putt at Marina Bay Sands is open from Mondays to Fridays, 1 pm to 10 pm, and Saturdays and Sundays from 10 am to 10 pm.
A ticket for 18 holes is $28 + $2 booking fee from Monday to Thursday, and $38 + $2 booking for Fridays to Sundays. Get your Pixar Putt tickets here.