This Parent Review is for Soul, a 2020 animated movie released by Disney/Pixar. It is intended to help parents decided if they wish to bring their children to watch the movie and the themes that the movie deals with. Soul is about a middle-aged band teacher named Joe Gardner (voiced by Jamie Foxx) who is looking for purpose in life. He almost dies and gets transported to the "Great Before", an afterlife. The movie deals with existential themes such as the meaning of life, as well as other themes such as empathy, compassion and persistence.
Soul is Pixar's first animated movie with an African-American protagonist. In addition to Jamie Foxx, it also features the voice talents of Angela Bassett, Tina Fey, Daveed Diggs, Richard Ayoade, Graham Norton and Phylicia Rashad.
---
Storyline of Disney/Pixar's Soul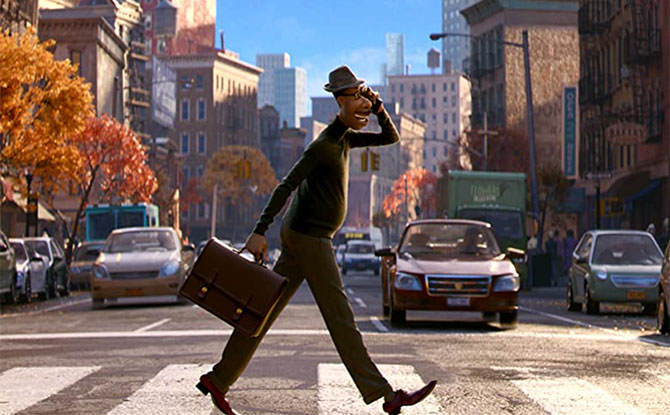 Joe Gardner is a pianist who has been trying to make it big as a professional musician. He is offered a steady "day job" as a band teacher in school. As he is pondering over the job offer, he gets offered a gig with a famous saxophone player. Could this be his big break?
Unfortunately, he falls into an open manhole! Joe awakens to find that his soul is on the bay to the Great Beyond. However, he is not yet ready to move on yet – especially since he has just landed his dream opportunity.
He finds his way to a place where unborn souls are held until they are assigned a human body. These souls are also assigned instructors to help them to prepare for their lives on Earth. In a case of mistaken identity, Joe is thought to be a instructor. He gets assigned to help 22 (voice by Tina Fey) earn her way to Earth. The catch is that 22 is a rather sassy unborn soul and has been rather difficult to mentor. Joe needs to help her find her spark, all while trying to return to Earth to make his dream gig.
He eventually returns to Earth, along with 22. However, 22 has ended up in Joe's body while Joe ends up in a cat. This sets of a series of events which eventually leads Joe to learning to appreciate the life he has been given.
---
Parents Perspective: Review of Soul
Visually, Soul is a beautifully animated movie. Pixar paid plenty of attention to details in the world on screen. The soundtrack is great. The jazz music was written and supervised by Jon Baptiste of The Late Show with Stephen Colbert.
Parents should know that Soul deals with rather serious themes which will not appeal to young kids. It deals with heavy topics of life and death and may be a bit complicated and complex for young kids to grasp. It can also be a tad scary at parts. It also deals with themes such as relentlessly pursuing ones' dreams and ambitions, something adults may appreciate more than kids.
Some of the follow up conversations that parents can have with kids after viewing Soul include talking about finding purpose in life.
We recommended Soul for those who are 8+.