With Christmas around the corner, beat the crowds by shopping ahead of time. Even better, avoid the thronging masses completely by shopping online!
Little Day Out has curated a gift guide for kids and babies according to their personality and interests, which makes it a breeze to select the perfect gift.
In our big list of gift ideas for little foodies, creative ones, playful tykes, imaginative bookworms – and even a section for infants – your brain-wracking task of finding a gift stops right here!
FOR THE FOODIE
Melissa and Doug Felt Food: Taco and Burrito Set
$15.10
Little foodies will love making their own "meal" with this Melissa and Doug Felt Food set. The 33 pieces of sturdy polyester felt food includes two 10" tortillas, meat, beans, vegetables and condiments. Imaginative role playing allows children to be creative, develop the motor skills of assembling a taco or a burrito, as well as pick up the social skills of eating with others. Ask some friends over and have a Mexican feast!
Skip Hop Forget-Me-Not Lunch Kit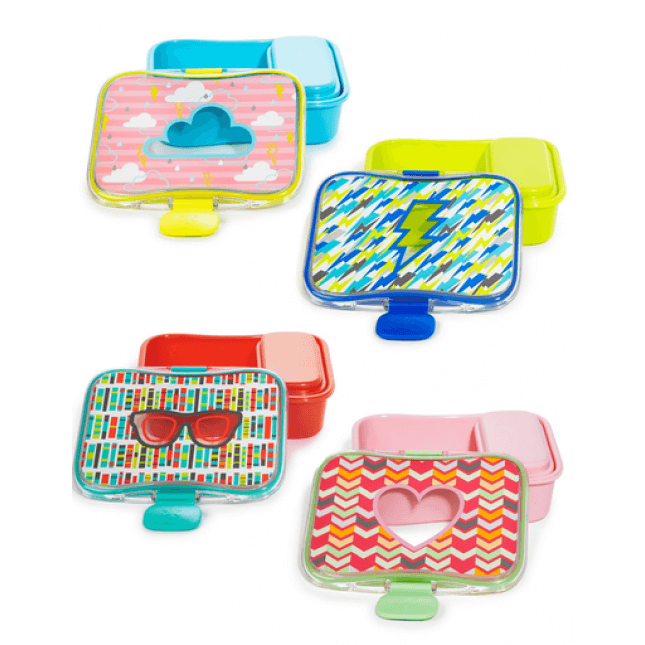 The brightly-coloured leakproof lunchbox series by Skip Hop make mealtimes fun. Toddlers can open and close the clip-snap lids themselves, and store snacks in the included small container. BPA-free, PVC-free & Phthalate-free.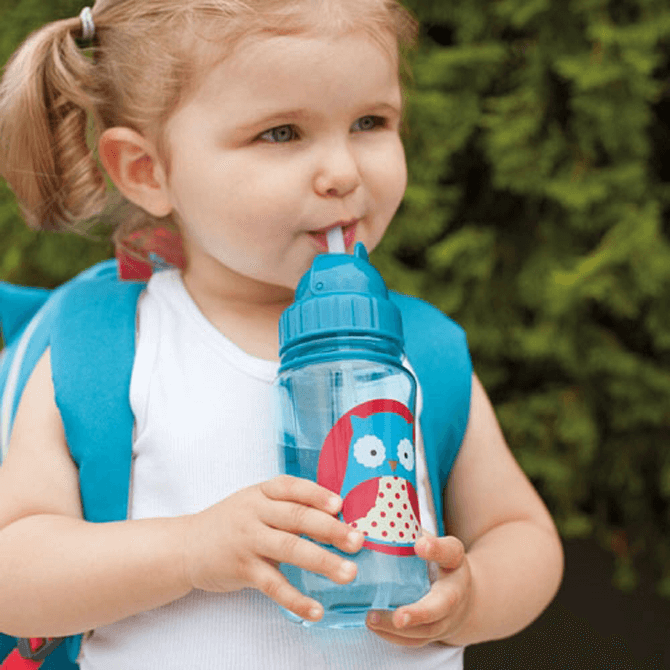 Transition easily to a "big-kid cup" with these adorable Zoo Straw Bottles with a flip-top lid. The handy velcro grab-strap attaches to anything, and the bottlecomes with an extra straw. BPA-free, PVC-free & Phthalate-free.
Thomas the Train Training Chopsticks
$15.25
These Edison Training Chopsticks make picking up the skill fun and easy, with rings that little fingers can slip into and connectors to keep the chopsticks sturdy. Comes in a variety of cartoon character designs from Agape Babies.
FOR THE CREATIVE
The Magical Journey
$19.90
The Magical Journey by Modern Art Decor is a transportation series which includes: an airplane, spaceship, bus and hot-air balloon. At the end of construction the toys can be hung as mobiles, placed on shelves as decoration or even played with. From Hipvan.
Hape Jungle Buddies Paint and Play
$12.50
Create different colour patterns and explore creatively with the non-toxic Hape Jungle Buddies  set of 12 paint colours, a wooden base, a brush, wooden craft pieces, and stickers. Encourages fine motor skills, planning and creativity. For children 4 years and above. Free shipping for purchases above US$125 from Amazon.com, terms and conditions apply.
Krooom Fold My Car Set – Fire Truck
$13.40
The tiger is rushing to the scene of the fire with this KRoooM toy fire engine, with its rotating ladder and unique construction. Made from durable, thick, waterproof board, the Fold My Car series is also eco-friendly, 100% recyclable and made from at least 60% Post consumer paper. There are 48 pieces to assemble with this Fire Truck. From Agape Babies.
PlanToys Plan Pre-School Tambourine
$16.60
Shake it up with with this non-toxic wooden tambourine by PlanToys with half openwork stretched across the top. Plan Preschool toys are suitable for infants, toddlers and preschoolers. Put on some Christmas music and let the tot make some noise! Free shipping for purchases above US$125 fromAmazon.com, terms and conditions apply.
FOR THE PLAYFUL
Automoblox Mini C9P Sportscar
$19.90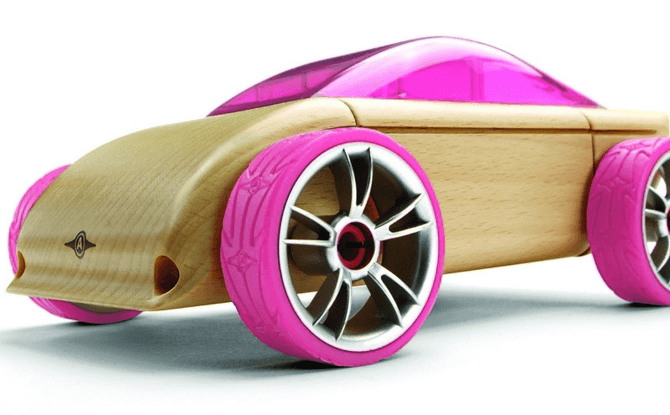 This stylish, quality Mini C9p Sportscar by Automoblox is a classic wooden toy with a modern, edgy design. These ultra-cool toy cars will give the child lots of fun assembling and playing. Comes in various colours.
Blocks Constructor Digital Watch
$13.90
For kids who love Lego or building bricks, this Blocks Constructor Watch by Shhors will make wonderful wrist candy and easy work of telling the time. From Zalora Marketplace.
Tellkiddo Paper Bag storage
$17.50
These adorable and (surprisingly) durable storage bag series by Swedish brand Tellkiddo will brighten up any child's room or your living room. Store toys, laundry, treasures, books and other knick knacks in these designer storage sacks. On sale for a limited time only from nana and bird.
Scrunch Bucket
$13.40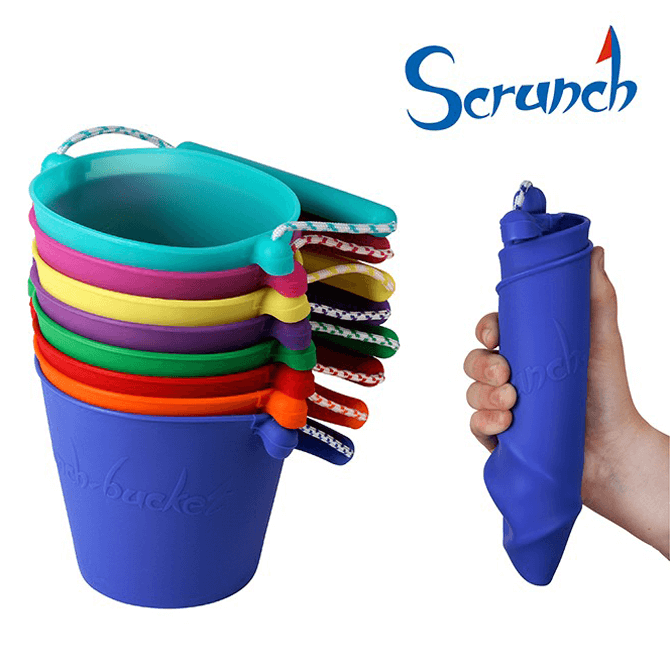 The multi-purpose collapsible Scrunch Bucket is a dream for space-saving needs! Fold it, roll it, scrunch it, pop it back into shape, and take it with you on holidays, or simply squeeze it in your beach bag. Great for sandcastles too! From Agape Babies.
FOR THE BOOKWORM
by Oliver Jeffers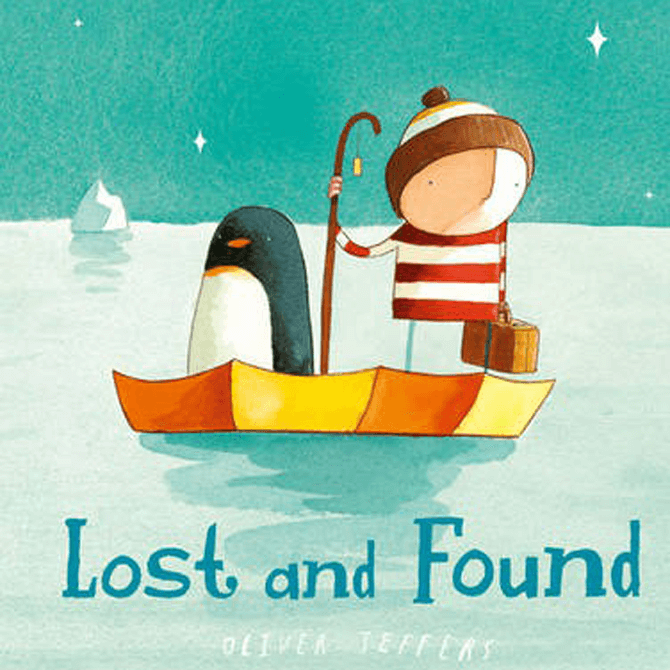 Set sail in a fantastical world by the award-winning, bestselling picture book creator Oliver Jeffers. Lost and Found tells the story of a boy who found a penguin at his door. Thinking that the penguin must be lost, the boy tries to return him to the South Pole. But when they get there, the boy discovers that maybe home wasn't what the penguin was looking for after all.
by Herve Tullet
Press Here breaks down the imaginary wall between the reader and the page. Push the yellow button on the book cover, and your adventure begins – a magical journey of colour, imagination, and virtual interactivity. The book by Herve Tullet was on New York Times' bestseller list for three years.
The Adventures of Beekle: The Unimaginary Friend
by Dan Santat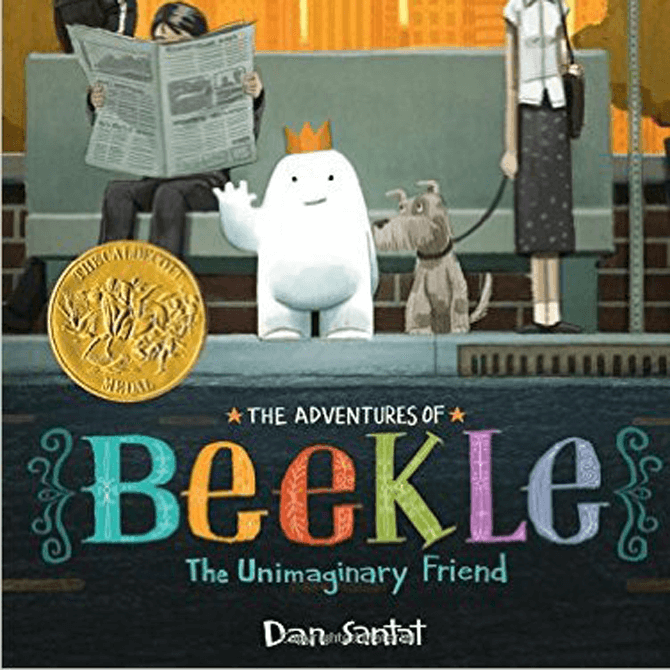 This magical story begins in a place where an imaginary friend is born. He waits his turn to be chosen by a real child, but when he is overlooked time and again, he sets off on an incredible journey where he meets his perfect match – and is given his name Beekle. The award-winning book by bestselling author and illustrator Dan Santat is a tale of friendship and courage, told through breathtaking art. Free shipping for purchases above US$125 from Amazon.com, terms and conditions apply.
Goh Bee Lock and the Three Boars
by KF Seetoh
$16.90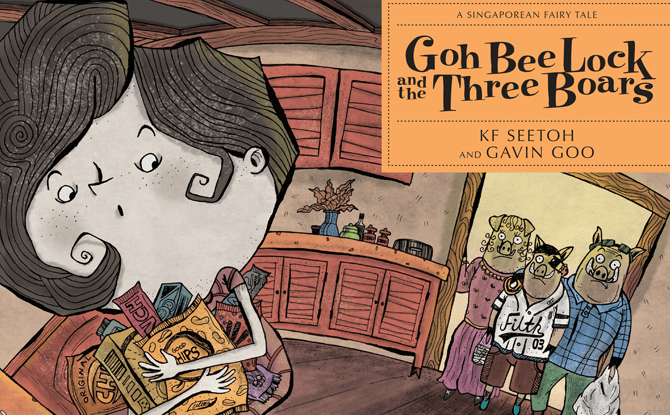 Western fairy tales are retold in a punny (funny puns, geddit?) Singaporean way in this series by Epigram. Written by KF Seetoh of Makansutra fame and illustrated by Gavin Goo, Goh Bee Lock and the Three Boars is a story of a playful girl named Bee Lock who stumbles upon three boars in a forest. Yup, this is Goldilocks and the Three Bears with a local twist. Available at Epigram Books.
FOR THE TINIES
Manhattan Toy Skwish Classic Rattle and Teether Grasping Activity Toy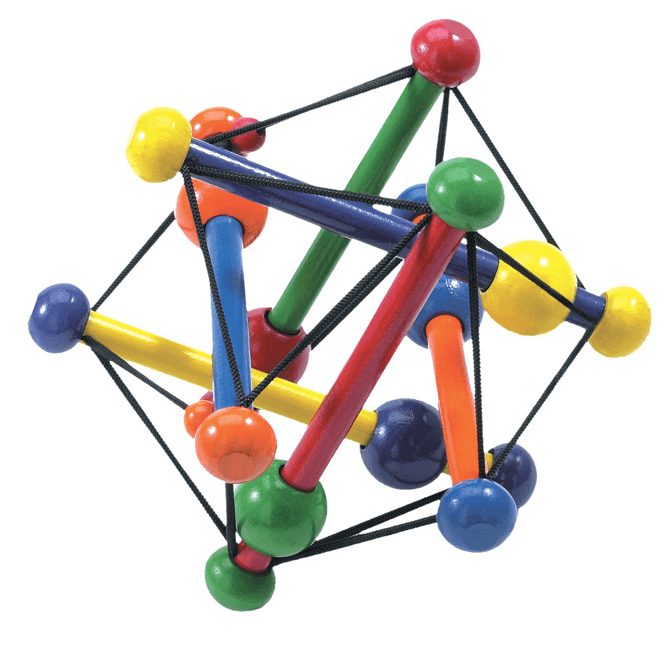 Skwish from Manhattan Toy is a an intriguing blend of ingenious design and developmental function. The geometrical shape and interconnecting wooden dowels of Skwish has fascinated babies and parents alike for over 30 years. It is a perfect clutching toy for developing gross motor skills. Free shipping for purchases above US$125 from Amazon.com, terms and conditions apply.
Baby Xigua Socks by Socks Avenue
$5.90
Absolutely adorable and very affordable, these vibrant Baby Xigua Socks will perk up the ankles of any baby 0-6 months old. Watermelon for our tropical weather! Locally designed, a portion of the proceeds from every pair sold goes to a local charity. Fun, fun, fun. From Naiise.com.
Melissa and Doug Shape Sorting Cube
This classic wooden Shape Sorting Cube by quality toymakers Melissa and Doug is a good first toy for a developing baby. Durable, non-toxic, and brightly-coloured, the shapes and their corresponding holes encourage logic, problem-solving skills and creative play.
Personalised Handmade Wood Rattle
$17.30
Engrave the name of the precious little one on this personalised wooden rattle. You can customise this and choose the colours too in this handcrafted one-of-a-kind gift by Hill Country Woodcraft. The wooden rings create calm and soothing sounds during play. From 3+ months. Available by the seller on Etsy.
This story contains affiliate links. This means we earn a small fee if you purchase something through a link from our website. There is no additional cost to you. This helps to support Little Day Out and keeps us going.
*Prices correct at time of publication and do not include shipping fees