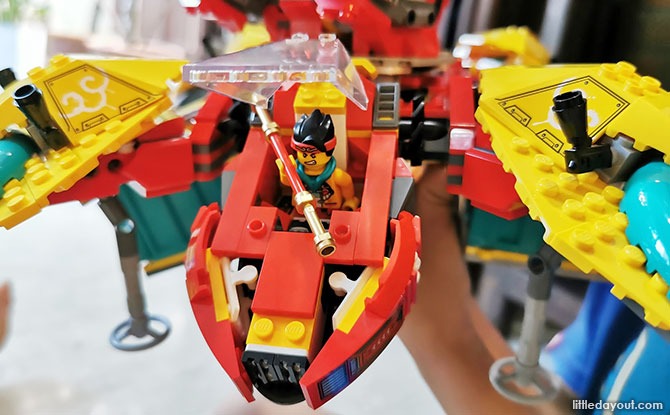 Are you a fan of Monkey King and LEGO's Monkie Kid? LEGO recently launched new sets accompanying the beginning of season 2 Monkie Kid. If you have watched Monkie Kid or planning to watch this series inspired by the legendary Monkey King, you would enamoured by their futuristic fleet of transport especially the Drone-copter.
We unboxed our set to much anticipation from the boys and it is probably their favourite set to date.
---
Drone-copter? Say What?
The wow factor of the drone-copter will definitely leave mouths gaping. The power of a drone and a helicopter culminates in a drone-copter, a vehicle owner by the character Sandy.
In the mini-movie, the trusty vehicle brought Monkie Kid, his friends as well as enemy-turned-teammate Red Son to the Celestial Realm to find a cure to Spider Queen's venom.
---
-- Story continues below --
The Build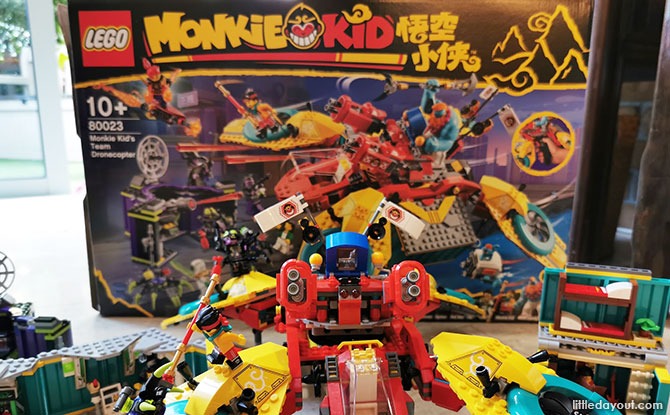 The master builder's mission is to complete the drone-copter and its containers. Given the number of pieces (1462) and the components, builders can work as a team to assemble this. There are two instruction booklets and an option to load it digitally.
Eight minifigs and 2 figures are included in the set, including Monkie Kid, Mei, Sandy, Mo the cat, Spider Queen, Red Son and Mr Tang. Each minifig even has its own accessories, I loved how Sandy's pet cat was included and even Mr Tang's Journey to the West book and an arcade machine!
Be surprised by what the cargo containers hold – there are 3 cargo containers, not-too-shabby abodes of Mr Tang and Mei and also a venomous weapon of Spider Queen's. These containers open up differently and can be attached to the Dronecopter.
A boat/submarine manoeuvred by Monkie Kid can also be detached.
Children could find assembling the turbine propellers or wings a little more challenging. Given how irresistible the set is even for adults, parents will be happy to help.
---
LEGO Monkie Kid Drone-Copter Review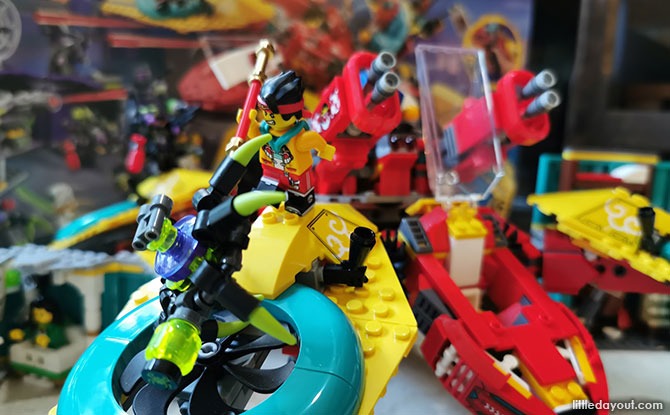 Builders can certainly re-enact the scenes in Monkie Kid with ease given how there are two villains, Spider Queen's springloaded shooter and Sandy's machine gun. Children can decide which side they want to be on – Spider Queen's team with an ultra cool satellite dish ready to zap some venom into unsuspecting victims or Monkie Kid's team of do-gooders.
I would include playing with caution especially with the massive Dronecopter. It could be more portable but because of its size, it is hard to move it around. It could hold the cargo containers well, but they would likely be separated for more play time.
---
Info for Parents and Suitable Ages
While this LEGO set is intended for ages 10 and above, my 7 year old could help assemble it together with his 10 year old brother. They enjoyed putting it together and completed the task within a day. I liked how a classic folklore is brought to life again, adapted to technology thus upping the cool factor. No longer would I get a clueless frown when I mention Monkey King, this set makes for some quality intergenerational bonding!
If you are interested in drones, check out this story about drone flying in Singapore.