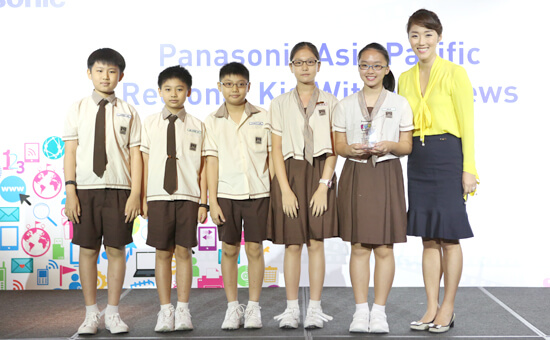 Aspiring journalist and filmmakers, some as young as 10 years old, took up the camera and made videos based on the themes of "environment" and "communication" in the Panasonic Regional Asia Pacific Kid Witness News (KWN) Contest 2013.
Contest winners were announced on 25 February 2014 in Singapore with a team from Thailand's Monfort College School taking top honours for their video entitled "Value of Immensely" on how a rural pig farming village went about introducing environmentally-friendly practices. The team, comprising students Worrawat Watakit, Natee Arayawutthikul, Kunawat Kunanai, Pasin Kraisutarung, and Kasideth Kaewpradit, beat other KWN participants from around the region, including Singapore, Indonesia, Malaysia, New Zealand and Vietnam, for the overall prize.
A Singapore team from Fuhua Primary School won the Best Young Achievers Award for their video "Forget Me Not". The touching five-minute video highlights the issue of dementia through a story of a successful father who goes all out for his career but ends up neglecting his son and aged mother. It was produced by five Fuhua Primary School students, Lew Shi Qi, Ng Kai Qi Julia, Lur Pei Hao, Stanley, Lim Jia Han, Jarred and Lim Hong Wei, under the guidance of their teacher Mr Helmindra Kamal.
 The Fuhua Primary School team with guest speaker at the award ceremony, Suzanne Jung.
Other winners this year included Vietnam for "Creative Concept", Malaysia for "Best Editing", Indonesia for "Best Music" and New Zealand for "Best Sound".
Sharing on Panasonic Asia Pacific's involvement in the Kid Witness News programme, Mr Joe Tsuchiya, Director of the Brand Management Group said, "We are glad that we are able to provide the participants with the necessary equipment and training, such that they are able to bring their ideas to life. Not only do they gain more skills and knowledge, they also gain more awareness about the world around them, both in their society and beyond geographical boundaries."
Winning videos for the Panasonic Kid Witness News Asia Pacific can be viewed on the contest's YouTube channel.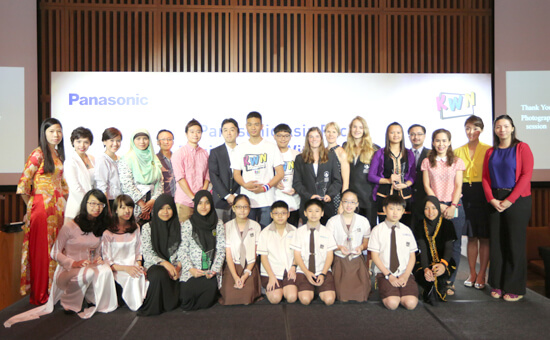 Winners of the Panasonic Regional Asia Pacific Kid Witness News (KWN) Contest 2013.