Odaiba is a popular entertainment area with modern offices and shopping centres. However, tucked away in a corner of Odaiba, a short distance from these modern shopping centres is the Odaiba onsen, Oedo-Onsen Monogatari. This is an onsen-themed park which features an Edo-themed amusement area.
Oedo-Onsen Monogatari is a short walk from the Telecom Center station on the Yurikamome line. Enter through a traditional-looking wooden building façade to enter the Odaiba onsen.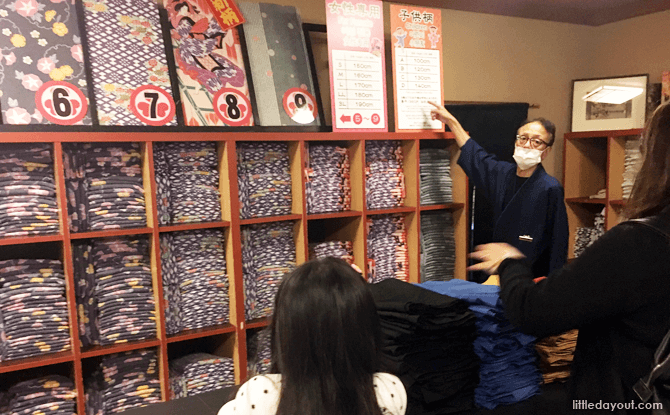 Once inside, after paying the entry fee, you can get to select a yukata, a casual robe, from a selection of designs. Thereafter, head over to the changing room to swop into the yukata. There are lockers available in the changing rooms.
Stepping out from the changing rooms, you will enter into what looks like an Edo-period town. With everyone dressed up in yukatas, it definitely feels like you have stepped back in time.
---
-- Story continues below --
Edo Entertainment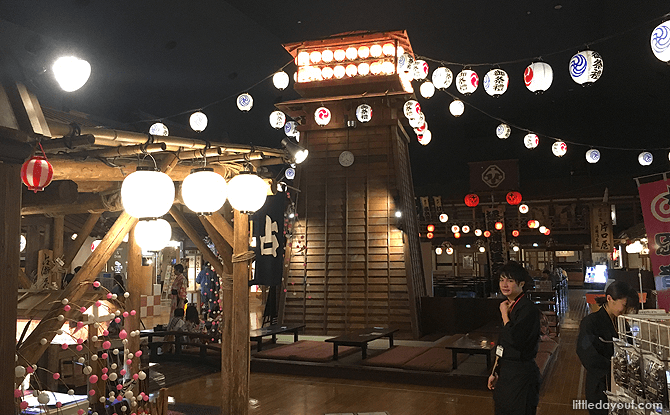 At this indoor area, there are multiple stalls selling food.
For entertainment, there are amusement kiosks where kids can try playing Edo-period games such as Yo-yo Tsuri. In this water fishing game, kids can try to win a prize by scooping out a ball for a pool.
Other games include shuriken-throwing. There are also sweets and souvenir shops.
Take note that all the above are extras that need to be paid for.
You can "pay" for your purchases within Oedo-Onsen Monogatari using a chip tag that you will receive when you first check-in. Chalk up your purchases using the tag and make the final payment when you leave the Odaiba onsen.
Onsen and Footbath
Those who wish to enjoy the spa experience can head to the onsen area. There are separate areas for men and women and feature basic baths, cold water baths, baths with bubbles and outdoor baths. To enjoy the onsen, you will need to strip down completely.
For families, there is an outdoor footbath area (where you can keep your yukata on) that both sexes can enjoy together. Shallow pools with warm water provide relief to tired feet. There is also a fish therapy area where little fish eat the dead skin off feet (additional charges apply).
Oedo-Onsen Monogatari also has a tatami mat area for visitors to take a rest and a reclining-chair equipped relaxation room.
This Odaiba onsen provides an interesting cultural experience, especially with the Edo-era town area. Do take note that people with tattoos are not allowed into Oedo-Onsen Mongatari. Neither are prams.
Get tickets here.
Odaiba Onsen, Oedo-Onsen Monogatari
Address: Japan, 〒135-0064 Tokyo, Koto, Aomi, 2 Chome−6−3
This feature includes affiliate links.