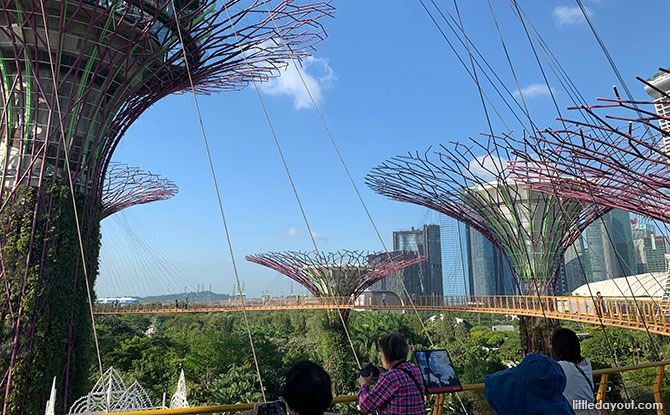 One of the most recognisable icons of Singapore is the Supertrees at Gardens by the Bay. One of the best ways to experience them is by taking a walk along the OCBC Skyway at the Supertree Grove.
The OCBC Skyway is a 128 metre-long aerial walkway, suspended 22 metres above ground. It provides a connection between two Supertrees and offers magnificent views of the Marina Bay area.
It is a ticketed attraction at Gardens by the Bay and one of the most amazing suspension bridges in Singapore.
---
Visiting the OCBC Skyway at Gardens by the Bay
---
-- Story continues below --
Before heading over to the OCBC Skyway, be sure to purchase an entry ticket first.
After showing your ticket at the entrance to the OCBC Skyway, take an elevator up from the base of the Supertree to the suspended walkway.
The lift to the OCBC Skyway will take you up the equivalent of three storeys or the height of a forest canopy.
---
OCBC Skyway: Elevated Walk Amongst The Supertrees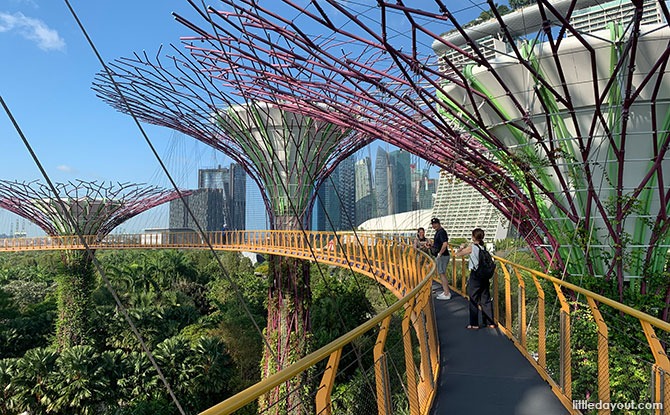 The arcing walkway will provide you with a wonderous perspective of the Gardens. You can get an upclose look at the majestic Supertrees and the beautiful flora that covers their façade.
These vertical gardens serve many functions such as harnessing solar energy, acting as air intakes and collecting rainwater.
The two largest Supertrees also help to hold up the OCBC Skyway.
The other draw for visitors to the Skyway is the panoramic view that it provides of Gardens by the Bay. The only attraction which is higher than the Skyway is the Supertree Observatory.
Take note that as a suspended walkway, you will be able to occasionally feel the OCBC Skyway move under your feet.
OCBC Skyway Timing
The OCBC Skyway is open throughout the day and into the night, from 9 am to 8 pm. This makes it a mesmerising spot to be able to take in the twinkling lights of Garden Rhapsody, the light show at the Supertree Grove.
Find out more about the OCBC Skyway, including the latest costs and admission rates, at the Gardens by the Bay website.