In Singapore where it's a famed "tuition nation", it is unusual to hear of children not being sent for tuition classes. Weekends are usually full of academic lessons to help with the boosting of grades or improvement of scores. Karen, from Mum's Calling, shared in her social media posts that she does not send her children for tuition and we find out her rationale behind the decision.  
Karen is a Stay Home Mum to three children ages 4, 9 and 11. While the "no tuition" mindset sounds incredulous, she shares with us insights into having a positive culture of learning as well as the pursuit of non-academic interests.  
---
Interview with Karen from Mum's Calling 
What is your parenting philosophy like? 
We are extremely strict when it comes to rules and discipline. Discipline helps kids behave and make good choices. But on the other hand, we are also open to flexibility and negotiations, depending on how situations evolve. It's like learning how to parent in an ever-changing world.  
 When it comes to milestones, I am patient with the kids developing at their own space and pace as long as they are not extremely overdue in them. If they are weaker in certain areas, we'll just create more opportunities to work in that area. We believe in going through challenges together.  
---
We saw your post about not sending your children for tuition. Could you tell us more about this perspective?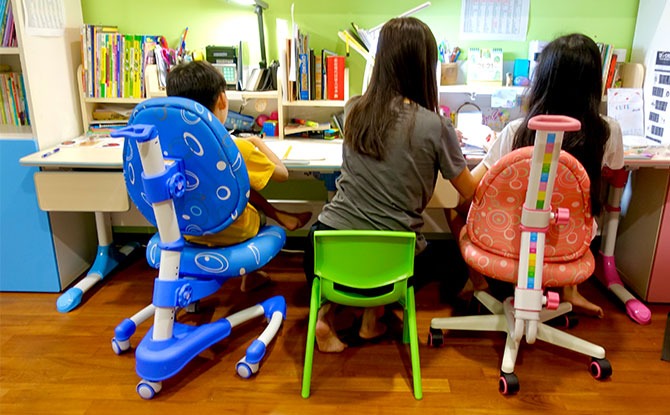 The older kids got busier as they grow along the years. They get more assigned work from school, spend more time on CCAs and train more intensively in their sports. Gradually, their home and free hours got lesser. I felt that it was important to protect their free time, to allow them to read leisurely, play and do the things they enjoy doing out of their schedule. I felt that it was important not to pile on any academic enrichment.  
An overscheduled child can get overtired easily. It's crucial to take care of both their physical and mental health.  
Instead, My husband and I are very involved in their academics, we partner each other to coach the kids in the subjects we are strong in. I have the privilege of being home to coach the kids anytime they need me, and this has worked for our family so far.  
---
As you say you rely heavily on assessment books, how do you choose a good assessment book? 
I choose topical assessment books for daily use. They are good for reinforcing concepts in bite sizes at home after each topic is taught in school. Buy assessment books according to your child's ability too, if your child is of mixed ability, getting the challenging and higher-order questions book may be too discouraging. The last thing we want is to kill the interest and hunger for learning. You can include tougher questions at a gradual pace.  
Seek out books with detailed and well-explained answer schemes. It can help older and independent kids with checking and understanding. If you plan on getting higher order question books, seek out those with notes and examples are given to help them tackle the questions. Lastly, consider looking at books out of major bookstores. Some tuition centres publish their own reference and workbooks which can be equally good and targeted.  
---
What do you see as priorities in a child's education? 
The learning and teaching journey.  
What was learnt, what was inspired and if the skills imparted will give them confidence in their future roles? People skills are also a priority. While knowledge is king, character is priceless. 
---
Could you define what success means to you?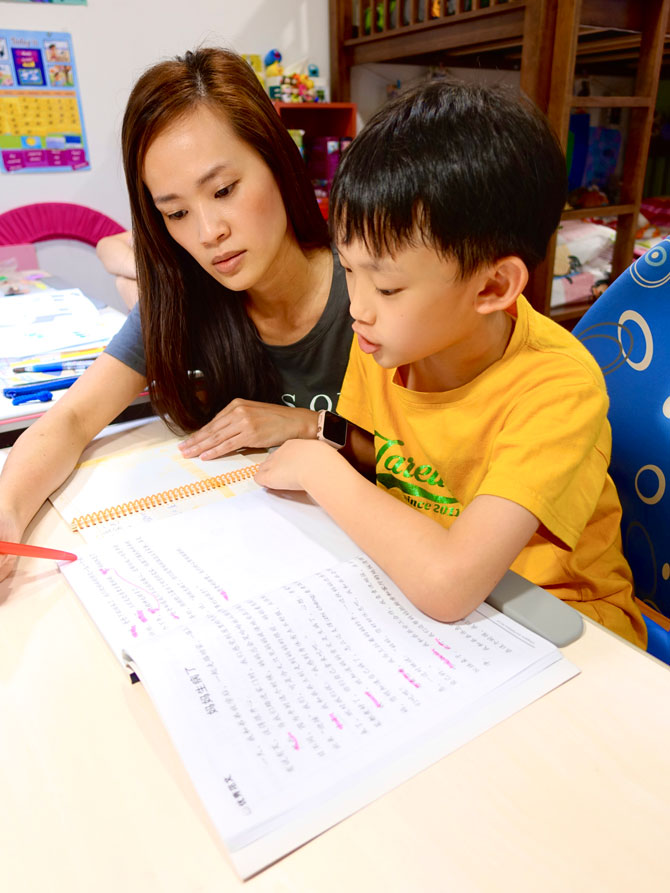 Setting and achieving personal goals with perseverance.  

Not comparing goals with others.  

Putting in one's best effort, not to the level of burning out, and having the right values and attitude in the process.  
---
Any tips for anxious parents in Singapore? 
Academic enrichment should be embarked on as a need, and not as a trend. Every family has different dynamics, what works for one may not work for another.  
Begin a good work routine once your child starts primary school. Consistency is key. Being anxious in our child's development can cause anxiety in him/her. Instead, we can choose to be anxious to praise, and averse to find fault.  
Search for positives and recognise little achievements throughout their academic journey. Compliments are their incentives to strive better and higher.  
We must also believe in late bloomers. Like flowers, they bloom at a different pace.  
Learning together as a family 
---
We appreciate Karen's advice in helping each child to blossom at their own pace. She has also emphasized the family's effort to coach the child so it's a journey taken together. Let's worry less and put less emphasis on grades, nor resort to hyper scheduling a child that could bring more harm than benefits.  
To follow Karen on her parenting journey, visit her blog, Instagram page and Facebook page.