New Ubin returns to its roots with a canteen-format outlet at Space @ Tampines! Firmly grounded in local tze char culture, it has been putting a fresh spin on familiar dishes. We were invited to visit it new location, New Ubin Village at Tampines, and here is what we found.
New Location – New Ubin Tampines
When you think of a village, you think of a space that is away from all the hustle and bustle of the city. True to its name, the New Ubin Village's "ulu" location adds on to the kampong ambience.
Tucked away at Tampines Industrial Crescent, across the road from IKEA Tampines, New Ubin Village's food is the reward at the end of a treasure hunt for "the lighted-crab that marks the spot".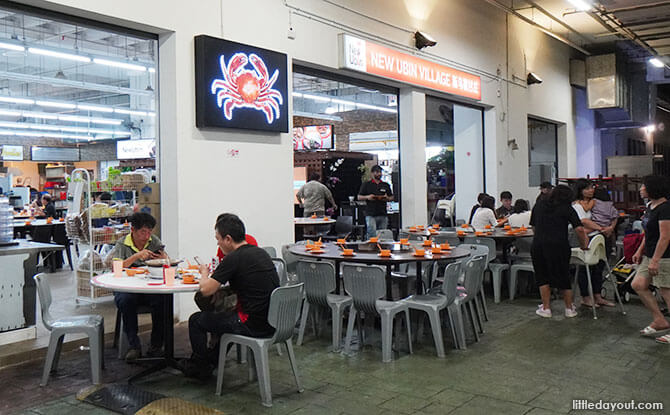 On our visit, we sampled a variety of dishes, some of which were brand new additions to the New Ubin menu.
Foie Gras Satay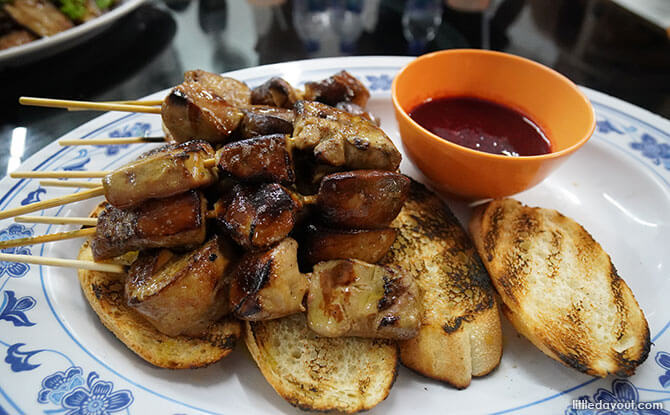 New Ubin's foie gras satay is undeniably innovative. The house-made raspberry sauce covers up any unwanted after tastes, leaving you to focus on savouring the buttery char-grilled dish. Pair it with a toasty baguette for that extra bite.
Smoked Pork Collar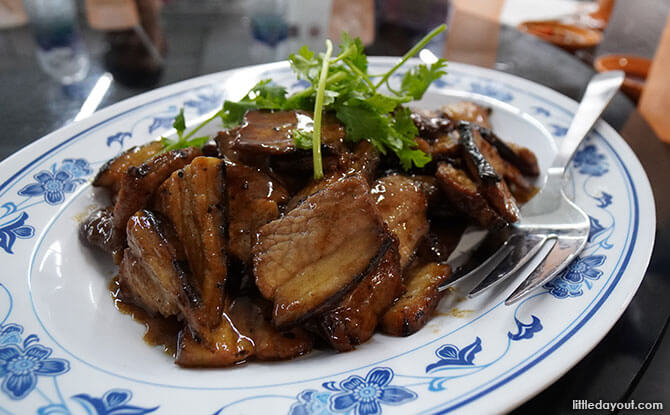 If you're looking for another rich savoury protein, consider the caramelised house-smoked pork collar slices. The nicely charred pork had a sweet aftertaste which came through clearly.
Ubin Nasi Lemak
The signature Ubin Nasi Lemak might just be one of the best nasi lemaks we have ever tasted.
As with all Nasi Lemak dishes, the coconut rice sets a solid base for the dish. There's no hope of cutting carbs here – we would happily eat this fragrant, fluffy rice cooked in coconut milk any day.
The delicious rice comes served with Ayam Bakar, or chargrilled chicken, which was almost similar to the texture of foie gras but with a slightly firmer bite. Spices add to the flavour and if you eat every ingredient that came with it in one bite – from the sambal joo hee (sambal cuttlefish) to the omelette to the anchovies and sliced cucumbers – it's an actual explosion of textures and flavours in your mouth.
Green Dragon Vegetables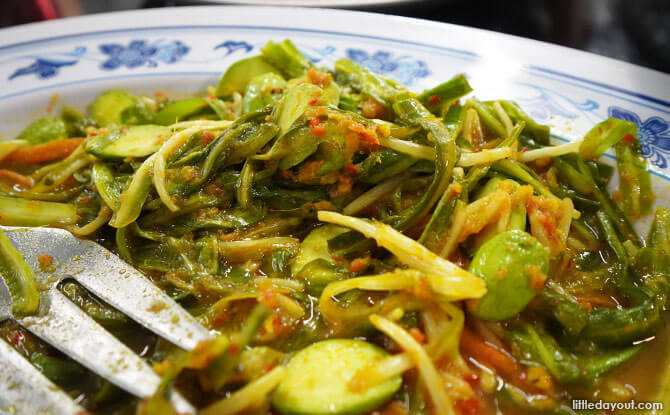 For those who want a kick of spice with their greens, there is the stir-fried royale chives with New Ubin's signature sambal chinchalok & petai sauce. The crunchy texture was pretty enjoyable even though we found the sambal was a little strong for our taste buds. It paired well with a bowl of rice.
Claypot Tequila Chicken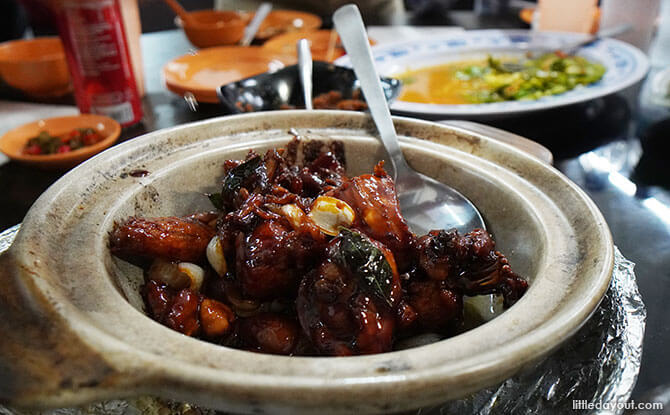 This dish was made with chicken in a sweet and savoury glaze with a generous splash of tequila. The taste of alcohol was evident in this dish and the sauce was similar to that of a typical drunken prawn dish.
Claypot Brinjal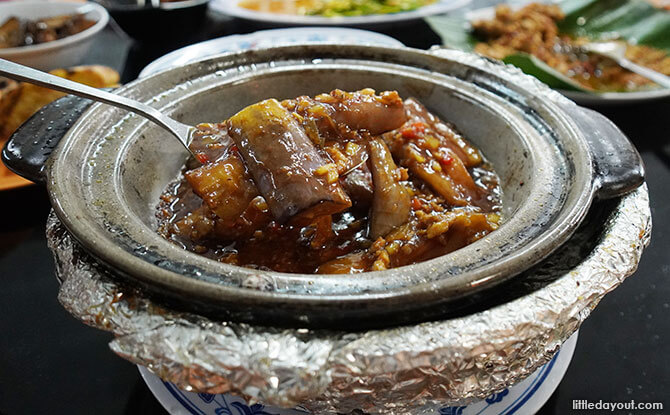 After having all the previous rich and savoury dishes, the claypot brinjal with minced pork and salted fish was much-welcomed. The brinjal was tender yet flavourful, and the slightly sour sauce had hints of lemongrass. We'd be happy to order this dish again!
Charcoal Fish Head Steamboat
For long-time fans of New Ubin, you might recognise this Sin Ming and Hillview speciality! With red snapper fish head, enoki mushrooms, tofu, beancurd, yam and seaweed, the Charcoal Fish Head Steamboat soup was a little on the tangy side but tasted like something made with love in your grandma's kitchen.
Chilli Crab Sauce With Youtiao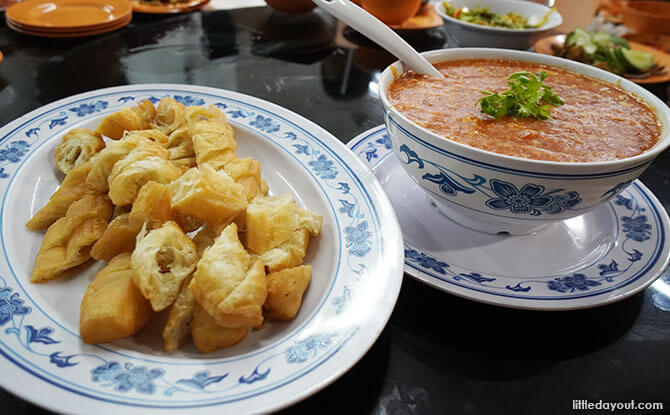 Love chilli crab sauce? New Ubin puts yet another twist on a familiar staple by serving it with youtiao or fried dough stick instead of the typical golden mantou. Truth be told, we would still choose our mantou to go with this chilli crab sauce, which was on the sweet side. But, with a relatively affordable price point, you can try the chilli crab sauce and youtiao pairing for yourself and let us know what you think!
Garlic Baked Crab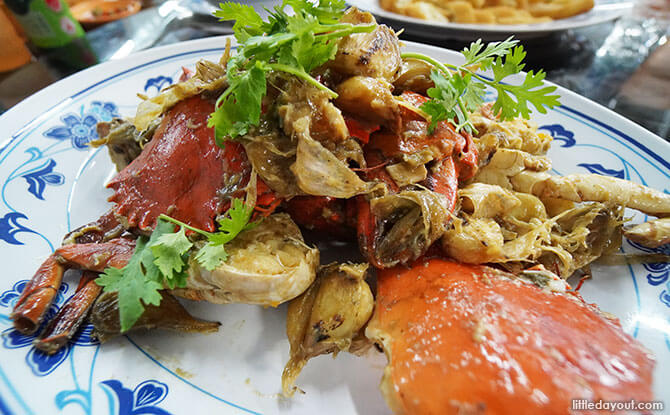 This is one of the dishes that we were most excited for, and we're glad to say that it didn't disappoint. The crab meat was well infused with hints of garlic and not too dry. We also enjoyed eating the tender garlic cloves which were perfectly baked and even had a hint of sweetness at the end.
Fresh Kaya On Toasted Baguette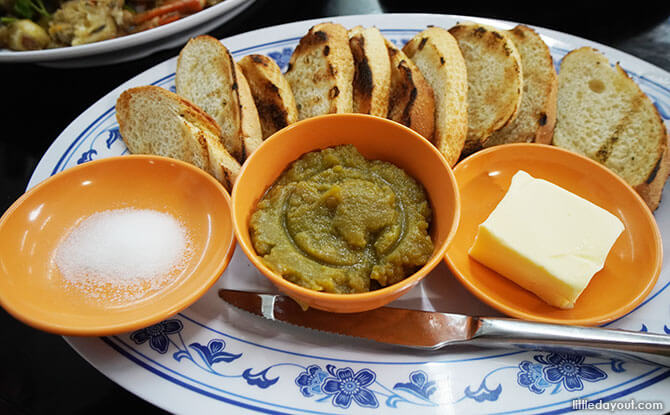 Every sumptuous feast isn't complete until dessert is served. We had the fresh kaya on toasted baguettes. It came in a "DIY style" so you can choose the ratio of each ingredient to your preference.
With its innovative yet 'Truly Singaporean' dishes, it's no wonder that New Ubin has grown to be the brand that it is today. We're sure that Easties are happy to welcome New Ubin to the neighbourhood!
New Ubin Tampines
Where: 18 Tampines Industrial Crescent, #01-16 Singapore 528605.
Opening hours: 11 am to 2 pm and 5.30 pm to 10 pm daily.