From 10 March 2018, young visitors to National Gallery Singapore can explore two new exhibits at Keppel Centre for Art Education – Wandering in Black and White at the Art Playscape and Who's by the River.
Wandering in Black and White at Art Playscape
At the Art Playscape space is the Wandering in Black and White exhibit. This refreshed exhibit, the second installation to occupy the Art Playscape at Keppel Centre for Art Education, presents an urban cityscape with local architectural sights such as HDB void decks and MRT linkways.
The work is created in collaboration with Singapore artist Tang Ling Nah, who is known for her large-scale charcoal drawings of Singapore's urban spaces.
As young visitors wander around Wandering in Black and White, they will be presented with different optical illusionary perspectives that play with their sense of depth and space. There are also little nooks-and-crannies for them to explore and discover.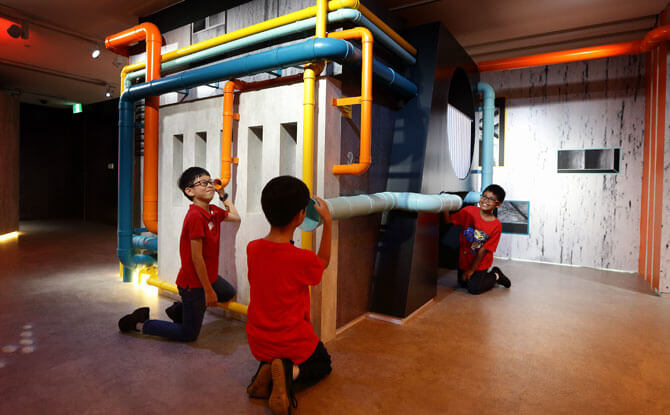 Other interactive play elements at the exhibit include 3D printed charcoal blocks for children to exercise their creativity and talk tubes for them to experiment with sound.
Wandering in Black and White replaces Sandra Lee's The Enchanted Tree House.
Who's by the River at City Hall Foyer
The nearby City Hall Foyer has also received a new interactive installation. Who's by the River is an exhibit that draws inspiration from Singapore pioneer artist Liu Kang's masterwork Life by the River.
At this interactive exhibit, young visitors can create characters and watch as they move around interact with each other in the virtual village. The interactive nature of Who's by the River is intended to encourage children to be creative and design their own story, drawing upon Liu Kang's work as inspiration.
New Exhibits at Keppel Centre for Art Education: Stimulating the Imagination
Sharing about the two new immersive exhibits, Ms Ye Shufang, Deputy Director, Education at National Gallery Singapore said, "Art can stimulate one's imagination and creativity while enhancing learning. Both art exhibits are designed to provide a multi-sensory learning experience for our young visitors through kinaesthetic and imaginative play. Children develop a sense of curiosity and narrative thinking as they make connections between their daily lives, emotions and stories in art. By providing creative spaces and exhibits for children to discover and enjoy art, we hope to cultivate in children, a love for art at a young age."
Admission to Keppel Centre for Art Education is free.
Images courtesy of National Gallery Singapore.