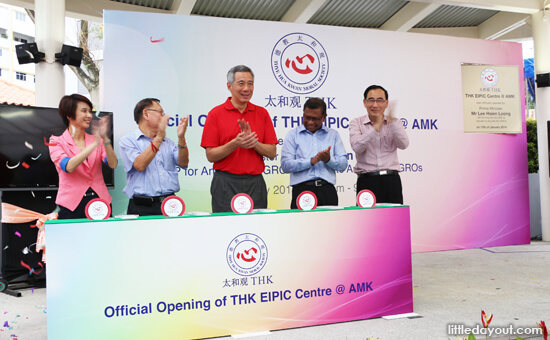 Thye Hua Kwan (THK) Moral Charities' latest EIPIC (Early Intervention Programme for Infants and Children) Centre at Ang Mo Kio was officially opened by Prime Minister Lee Hsien Loong on 17 January 2014.
This EIPIC Centre is the fourth to be operated by Thye Hua Kwan Moral Charities and provides early intervention services for children with disabilities between 0 and 7 years old. These include children with Autism, Global Development Delay, Physical, Speech and other impairments. THK EIPIC Centres can also be found at Woodlands, Choa Chu Kang and Tampines.
At the THK EIPIC Centres, children receive classroom-style special education and support services to improve their adaptive function and school readiness. Activities include work time, playtime and snack time, under the supervision of a teacher trained in early childhood/disability education.
The THK EIPIC Centre at Ang Mo Kio is located at Blk 313 Ang Mo Kio Ave 3 and has the capacity to serve 150 children.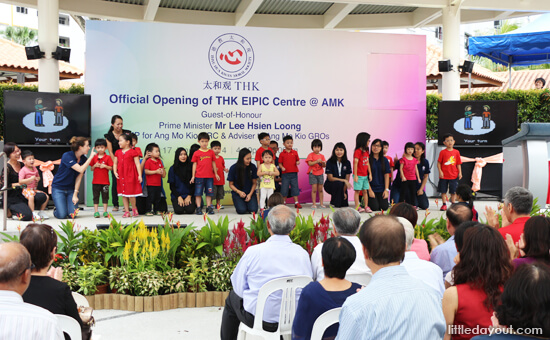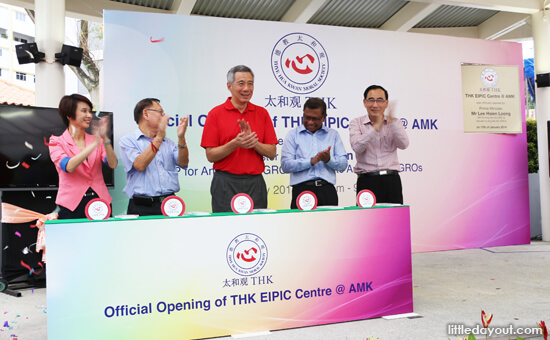 Temasek Cares – EIPIC Bursary
Also unveiled was the Temasek Cares EIPIC Bursary. This will help parents with children attending EIPIC Centres defray the cost of transportation to and from these centres.
As children with special needs typically incur higher transportation costs due to the special transportation arrangements required, this can place a heavy financial burden on their families. Under the Temasek Cares EIPIC Bursary, successful applicants will receive up to $100 a month to offset transportation costs.
One bursary beneficiary is three-year old Toh Zhi Peng who has Global Development Delay. His mother, Mdm Li Zhaoxia, a cleaner, struggled to send him and his sister to school on time on her a bicycle as she could not afford the school bus fees. This resulted in him often missing or arriving late for his early intervention programme at the THK EIPIC Centre at Ang Mo Kio. With the EIPIC bursary, Zhi Peng now takes the school bus and attends school regularly.
Mdm Li said, "I am grateful for THK's support and the bursary. I now have a peace of mind that Zhi Peng is commuting safely on the school bus instead of riding as a pillion passenger with me. With him being able to attend EIPIC regularly, we have seen considerable improvements in his motor and social skills."
Ms Tina Hung, National Council of Social Services' Deputy Chief Executive Officer and Group Director for Service Planning and Development added, "The early years are critical to the development of different faculties, more so for children with special needs. It is, therefore, crucial that these children continue with the therapy and educational support. With this bursary, we hope parents of children with special needs would have one thing less to worry about and could divert their limited resources to other uses."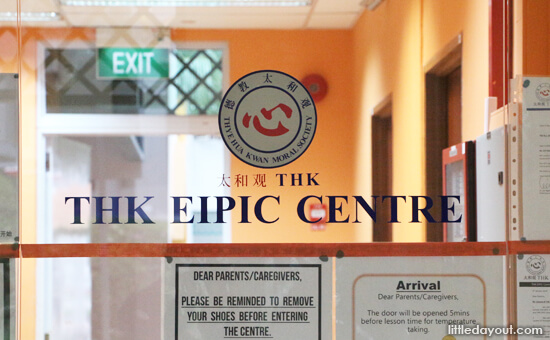 Care & Share Fund
PM Lee also announced that the Government would be contributing up to $250 million to the Care & Share Fund, matching donations raised by Voluntary Welfare Organisations (VWOs) on a one-to-one basis.
The Care & Share Movement, launched last October, encourages Singaporeans to volunteer and contribute to worthwhile causes. It also aims to strength the capabilities of VWOs.
The $500 million fund ($250 million to be raised by the VWOs and $250 million from the Government) will aid VWOs in launching new programmes to help the needy, build infrastructure to serve more beneficiaries and develop their staff's capabilities.
The first campaign under the Care & Share Movement featured interactive billboards at MRT stations where the public could donate to charity through their EZ-link cards.