This year, the National Day Parade is being taken to the people and that includes the NDP 2020 fly past where the State Flag will be flown on two routes – one eastwards and one to the west – to reach as many people as possible.
The NDP 2020 fly past of the State Flag is part of the morning's parade segment on 9 August 2020. At 10.30 am, the "All-Clear" signal will sound on the Public Warning System and there will be concurrent flag-raising ceremonies across the island.
---
NDP2020 Fly Past East Route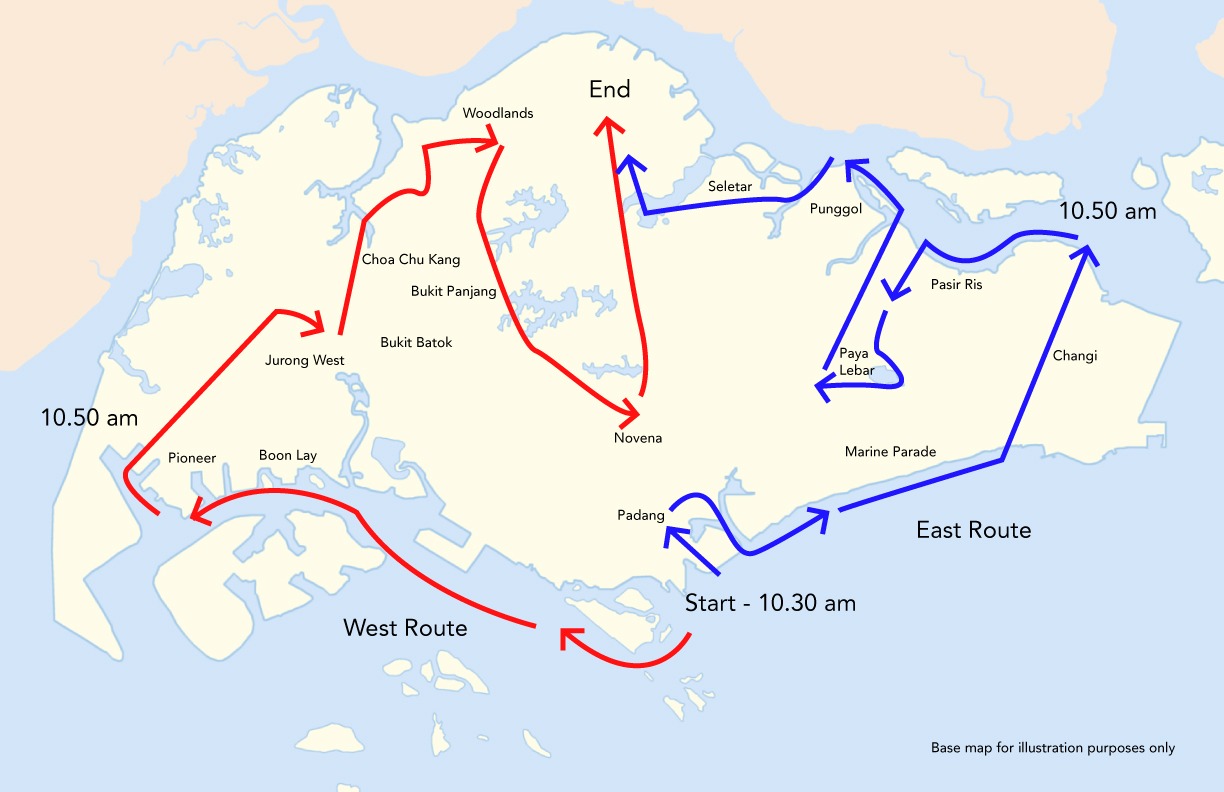 At this time, the NDP 2020 fly past will see one of the State Flags, slung underneath a Republic of Singapore Air Force (RSAF) Chinook helicopter, making its way over the Padang as part of the Fly Our Flag segment of the parade.
After over-flying the Padang, it will turn eastwards for a fly-past route that will take it over the eastern parts of Singapore.
The route of the fly past will see the State Flag make its way along the eastern coast of Singapore, past Marine Parade, Bedok South and Changi Airport before turning back towards Pasir Ris, Bedok Reservoir, Paya Lebar Airbase, Punggol and Yio Chu Kang.
---
NDP2020 Fly Past West Route
Separately, the western fly past will also commence at 10.30 am. It will also make its way around Sentosa, and along the coast, past West Coast and Jurong West.
It will then soar past Choa Chu Kang and Bukit Panjang before making its way around the Central Catchment Area and turn northwards back to Sembawang.
---
Flying the Flag for National Day 2020
This year's fly past will last for around 55 minutes – a fitting flight time for Singapore's 55th birthday.
Both Chinooks with the State Flags will eventually return to Sembawang Air Base at around 11.20 to 11.25 am.
Escorting the twin-bladed Chinooks will be a pair of AH-64 Apache helicopters.
Keep a look out in the skies above Singapore for the State Flags flying past in the morning of 9 August 2020.
---
NDP Contest
In addition, RSAF is holding a contest in conjunction with the NDP2020 Fly Pasts. Take a picture of yourself watching and waving at the NDP 2020 Fly Past and send it via direct message to the RSAF Facebook page for a chance to win RSAF LEGO Kits. Contest closes at 11.59 pm on 10 August 2020.