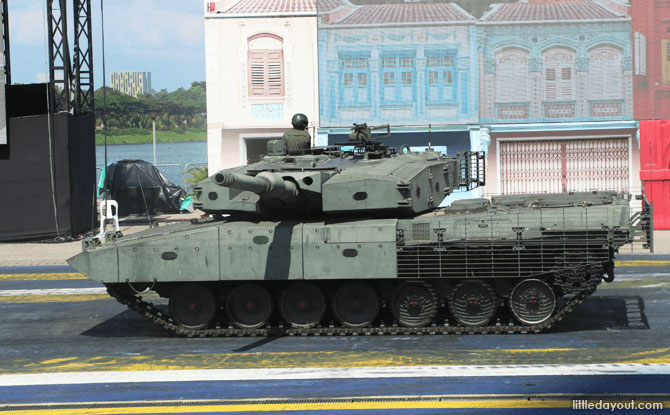 The NDP 2020 Mobile Column is one of the highlights of this year's National Day celebrations. This crowd favourite will take place between 10 am to 1 pm with the convoys of vehicles making their way through the island. It is part of the Strength of Our Nation segment of the day-long celebrations on Sunday, 9 August 2020.
For National Day 2020, the mobile columns will moving along five separate routes which will take it across the island and through the heartlands. It will feature key assets from both the Singapore Armed Forces and Home Team, such as the Leopard 2SG Main Battle Tank, the Hunter Armoured Fighting Vehicle and the Navy's Harpoon Anti-ship Missle.
This year, the route has also been planned to take it past key community places such as hospitals like Sengkang General Hospital and Ng Teng Fong General Hospital. It will cover a total of around 200 km.
Here is an overview of the five mobile column routes for 2020. You can also find out what assets will be on display at each route here.
---
-- Story continues below --
Overview of the NDP 2020 Mobile Column Routes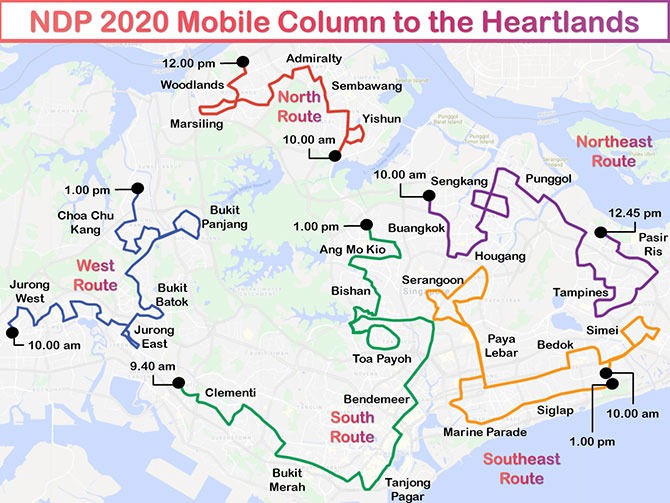 ---
Western Route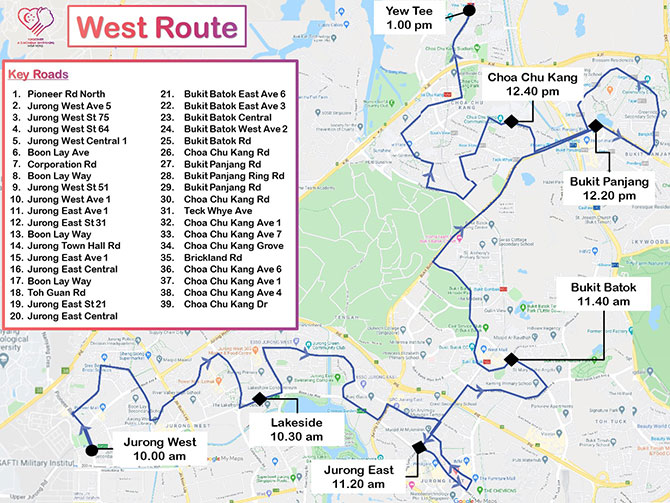 The mobile column's western route will start off from Jurong West. It will make its way to Jurong East before heading northward to Bukit Batok. From Bukit Batok, it will move on to Bukit Panjang before ending off at Choa Chu Kang.
Here are the approximate timings of the West route checkpoints that the mobile column will be passing through:
Jurong West (10.15am)
Lakeside (10.30am)
Jurong East (11.20am)
Bukit Batok (11.40am)
Bukit Panjang (12.20pm)
Choa Chu Kang (12.40pm)
Yew Tee (1.00pm)
Key roads along the route are:
Jurong West Ave 5
Boon Lay Ave
Jurong West Ave 1
Jurong East Ave 1
Boon Lay Way
Bukit Batok East Ave 6
Bukit Batok West Ave 2
Bukit Batok Road
Bukit Panjang Ring Road
Teck Whye Ave
Choa Chu Kang Ave 4
Choa Chu Kang Drive
---
Southern Route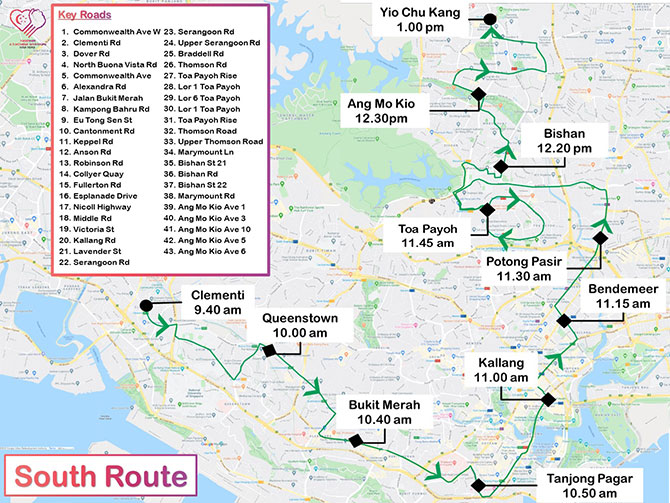 The southern route is one of the longest for this year's mobile column. The vehicles will roll out from Clementi, making their way towards Queenstown and Bukit Merah. From there, it is on to Tanjong Pagar and up to Kallang. The mobile column will then make its way past Bendemeer and Potong Pasir, rumbling on northwards to Bishan and Ang Mo Kio before reaching its destination at Yio Chu Kang.
Here are the approximate timings:
Clementi (9.40am)
Queenstown (10.00am)
Bukit Merah (10.40am)
Tanjong Pagar (10.50am)
Kallang (11.00am)
Bendemeer (11.15am)
Potong Pasir (11.30am)
Toa Payoh (11.45am)
Bishan (12.20pm)
Ang Mo Kio (12.30pm)
Yio Chu Kang (1.00pm)
And the key roads along the route:
Commonwealth Ave West
Dover Road
Commonwealth Ave
Jalan Bukit Merah
Robinson Road
Victoria Street
Lavender Street
Serangoon Road
Braddell Road
Lorong 1 and 6 Toa Payoh
Bishan Road
Ang Mo Kio Ave 3
Ang Mo Kio Ave 10
Ang Mo Kio Ave 6
---
Northern Route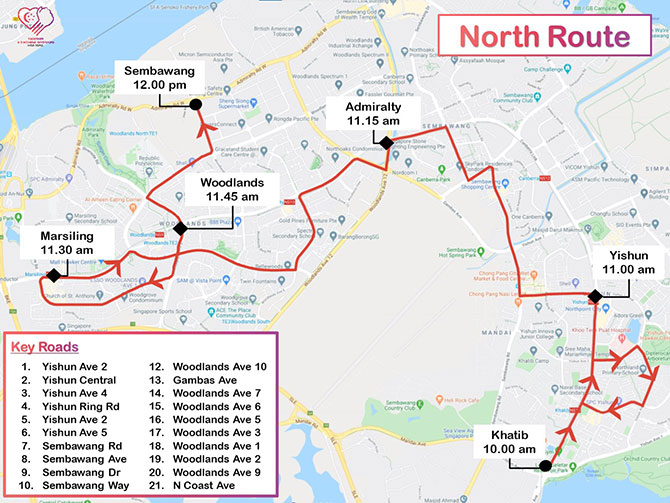 In the north of Singapore, the mobile column 2020 will start from Khatib and roll past Yishun before heading to checkpoints at Admiralty and Marsiling before turning back towards Woodlands and Sembawang.
Here are the approximate timings:
Khatib (10.00am)
Yishun (11.00am)
Admiralty (11.15am)
Marsiling (11.30am)
Woodlands (11.45am)
Sembawang (12.00pm)
And key roads along the North mobile column route:
Yishun Ave 2
Yishun Ave 3
Sembawang Road
Woodlands Ave 7
Woodlands Ave 5
Woodlands Ave 3
Woodlands Ave 2
Woodlands Ave 9
Admiralty Rd West
---
South-eastern Route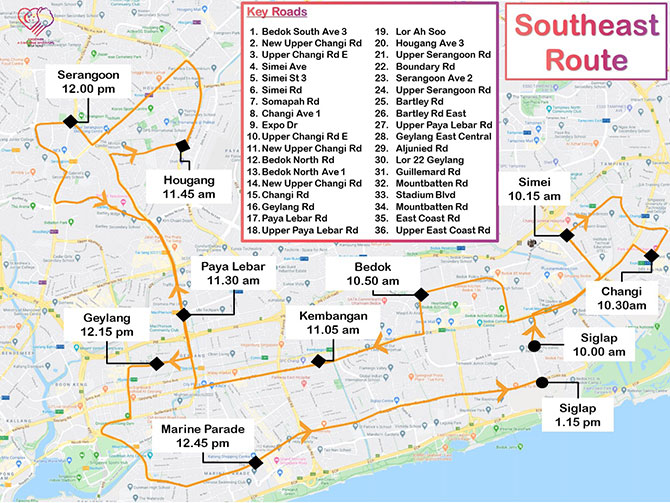 The south-eastern route is one of two mobile columns that will cover the eastside of Singapore. It will commence at Changi before to Simei and then proceed westwards to Bedok, Kembangan, Paya Lebar, Hougang, Serangoon, Geylang, Marine Parade and Siglap.
Here are the approximate timings for the Southeast Route:
Siglap (10am)
Simei (10.15am)
Changi (10.30 am)
Bedok (10.50am)
Kembangan (11.05am)
Paya Lebar (11.30am)
Hougang (11.45am)
Serangoon (12.00pm)
Geylang (12.15pm)
Marine Parade (12.45pm)
Siglap (1.00pm)
And key roads:
Simei Ave
Simei Road
Upper Changi Road East
Bedok North Road
Changi Road
Paya Lebar Road
Hougang Ave 3
Upper Serangoon Road
Serangoon Ave 2
Bartley Road
Geylang East Central
Mountbatten Road
East Coast Road
Upper East Coast Road
---
North-eastern Route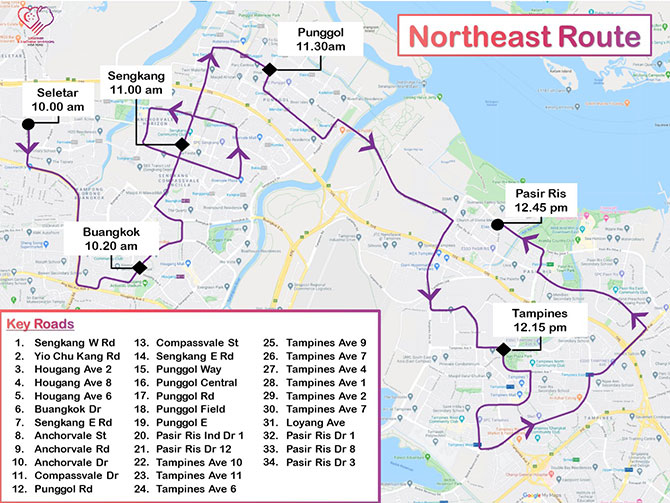 For the northeastern parts of Singapore, the mobile column start at Seletar and proceed along to Buangkok, Sengkang, Punggol and Tampines before ending at Pasir Ris.
Here are the approximate timings:
Seletar (10.00am)
Buangkok (10.20am)
Sengkang (11.00am)
Punggol (11.30am)
Tampines (12.15pm)
Pasir Ris (12.45pm)
And key roads:
Sengkang West Road
Yio Chu Kang Road
Hougang Ave 8
Sengkang East Road
Punggol Central
Punggol Field
Tampines Ave 10
Tampines Ave 4
Tampines Ave 2
Pasir Ris Drive 1
Pasir Ris Drive 3
If you are planning to head over to watch the vehicles along the NDP 2020 mobile column routes, bring along the Singapore flag which came with the NDP SG Together fun pack and use it to wave along the mobile column and cheer the healthcare workers who are riding with them!