"Mumpreneur: (noun) a multi-tasking mother who can balance both the stresses of running a home-based business as an entrepreneur, and the time-consuming duties of motherhood at the same time."
Source: Mums@Work
Little Day Out had the privilege of meeting up with five mothers juggling four different businesses, household chores and 10 children between them, through Mums@Work – a social enterprise for mothers seeking work-life balance in Singapore.
Below are short snippets of how they were each inspired to start their respective businesses. Click below to read the in-depth sharing of their personal journeys as a mumpreneur and find out what drove them to pursue their passions, and turn their dreams into realities.
Kit, Michelle and Little By Little
Little By Little is founded in 2011 by two mothers with the sole intention of designing baby and toddler organic apparel that is simple in style, big on quality yet small in environmental impact.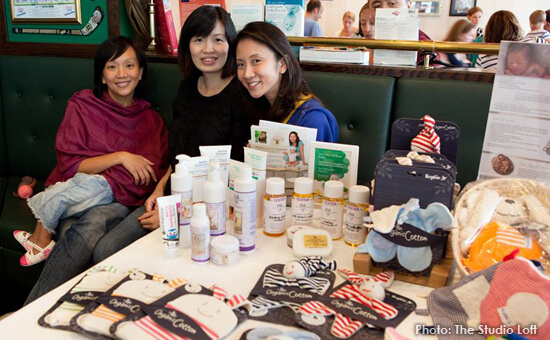 Little By Little's Michelle (centre) and Kit (right) with their collaborator Woon from Vines and Roots (left). Kit has two boys, six and three years old, and Michelle also has two boys, three years old and three months old.
Kit: My 'obsession' in all things kids started when I had my first boy, Josh. I knew that if I ever started a business, it would have to have something to do with kids.
Michelle: A baby and toddler apparel business caught my interest as I was about to take up the new role as a mother. I was then exploring an opportunity for a career change, one that would allow me to spend more time with my son, Lucas, who is now 3 years old. Besides, Kit's business concept was fantastic and I felt excited to be part of something great and make a dream come true.
Read more…
Lisa and Twisty Balloons
Twisty Balloons provides professional balloon twisting services to jazz up the party with colourful balloon sculptures and keep guests entertained.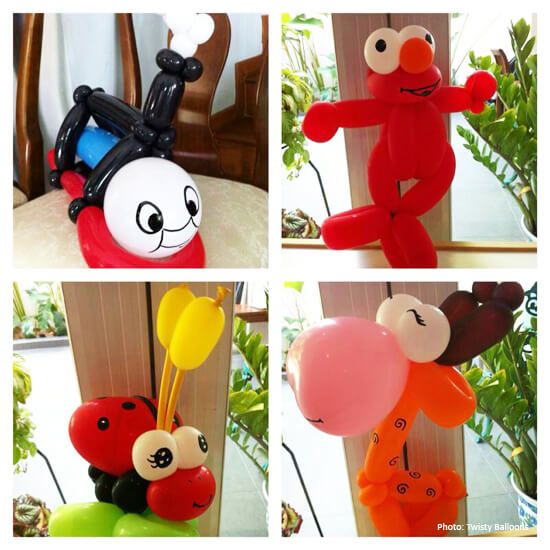 Lisa has two boys, Clarence and Anson.

Lisa: As a stay-at-home-mum, I was looking for ways to create an income and yet keep my schedule flexible. Previously, while organising my company's dinner and dance, we hired a caricaturist and I realised that it was a neat little job that met my criteria. I tried finding someone who could teach me to draw but was unable to and finally decided to try being a colourful balloon twister instead!
Read more…
Pamela and My First Games
My First Games imports interesting, educational and strategic board games from USA, UK and Taiwan as it believes that playing board games encourages personal interaction – which is a great way for you to spend time with your kids.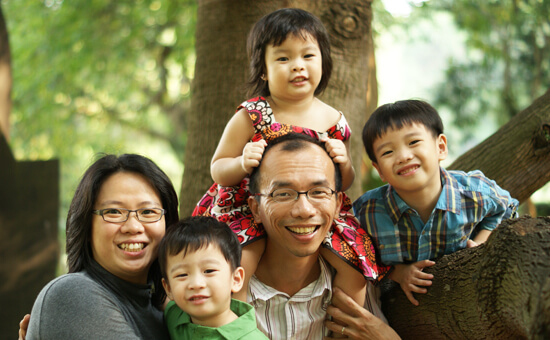 Pamela with her husband and their three children, Isaac who is 6 years old and a pair of 3-and-a-half year old twins, Asher and Shawna.

Pamela: When I got pregnant with my first child, I knew that I would soon not have any time at all to play board games. I had a dream of my kids playing board games with us when they were older and so I thought to myself "Start them young!". As a result, when I was pregnant, I started to surf online and bought games from US websites for my son.
Read more… 
KathyAnn and Damien Little
Damien Little is a modern range of clothing, greatly inspired by traditional Chinese fabrics and prints, created for toddler boys aged two to five years old.
Kathy with her son, Damien.
KathyAnn: I enjoy dressing my son up. One day, while I was shopping at a reputable kid's apparel store, I asked the sales assistant where I could find the boys' selection. She pointed to one wall space and I had to look around the entire shop to find it. ¾ of the shop was filled with girl's apparels! Seeing that there was such a limited variety of apparel for boys and with my son as my model and muse, I thus decided to foray into the boy's apparel market.
Read more…