There are many reasons why mountains are funny and it is not unsurprising that there are so many mountain jokes that one can have a laugh over. For one, they are often very tall and towering, which can make them seem comical. While, they can be quite treacherous to climb, which can also lead to some amusing situations. Also, the scenery that surrounds mountains is often breathtaking, making it easy to see the humor in Nature.
---
Silly Mountain Jokes to Tickle Your Funny Bone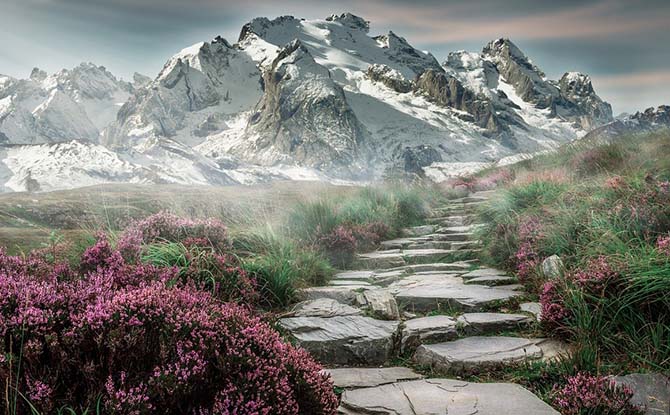 1. What happens when you reach the summit of a mountain?
It's all downhill from there.
2. How do mountains hear so well?
It's all thanks to mountaineers.
---
-- Story continues below --
3. Why didn't the man want to climb the mountain?
Because he couldn't see the point.
4. Why can't you play hide and seek with mountains?
Because they always peak.
5. What is a mountain's favourite metal band?
Range against the machine.
6. Can I tell you a joke about the biggest mountain in the world?
I'm worried you won't be able to get over it.
7. What is the most dangerous mountain in the world?
Kill-a-man-jaro.
8. Why did the doctor recommend a walk in the mountains for the man who was under stress?
It Alps to clear the head.
9. Why are pirates afraid of mountain roads?
'Scurvy.
10. What do you call a mountain goat?
A hillbilly.
11. What do you call a world-famous rock group with 4 guys who don't sing?
Mount Rushmore.
12. How do you dry a mountain range?
With a cliff hanger.
---
Best Mountain Jokes
Mountains tower over everything else on the landscape, including other mountains. This height is the focus point of many hilarious mountain jokes. Additionally, their great height makes them susceptible to various weather conditions, which can also lead to some mountain puns.
13. Why did the mountain decide not to light a campfire?
It didn't want to burn its ridges.
14. What happened to the man who was caught walking naked in the South American mountains?
He was arrested for Andes-cent exposure.
15. Why did the teacher take her class up a mountain?
To get higher grades.
16. What happened to the man who tried catching mountain fog?
He mist.
17. What did the angry parent mountain shout at the teenage mountain?
Don't you dare give me that altitude!
18. Why did the mountain go to see the doctor?
It was feeling hill.
19. Why do vain people like going to mountain plateaus?
Because they offer the highest kind of flattery.
20. Why did the shepherd send his flock down the mountain during a competition?
For a lamb slide victory.
21. Why was the girl mountain feeling upset with her boyfriend?
She felt taken for granite.
22. What is the most tired mountain in the world?
N-Everest.
23. Which is the world's coldest mountain?
The Andes, because it is in Chile.
24. What do you call a novel about a mountain that commits atrocities?
'Climb and Punishment'.
25. Why are mountains always invited to parties?
Because they're hill areas.
26. What did the mountain wear as head gear?
A peak cap.
27. What's the funniest mountain range in the world?
The Himhilarious.
---
More Mountain Jokes and Puns
Feeling inspired by these mountain jokes? The scenery that surrounds mountains is often breathtakingly beautiful and can also be inspiring. This is especially true in places like the Alps or the Rockies. The vastness of the landscape and the grandeur of the mountains themselves can be quite overwhelming, making it easy to see the humor in Nature.
28. What's the smartest mountain in the world?
Mount Cl-Everest.
29. Why did the mountaineer decide to stop climbing?
Because he was just not inclined to.
30. How do you find out about the weather at the top of a mountain?
You climate.
If you found this funny, check out a whole galaxy of planet jokes and puns.