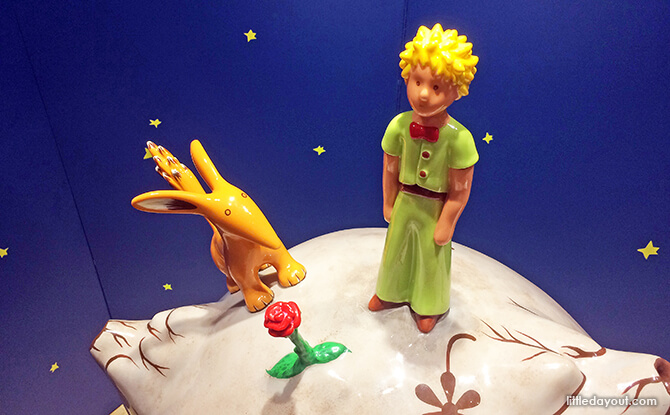 Written by Antoine de Saint-Exupéry in 1943, The Little Prince is one of the most widely-translated books in the world. On the surface, it is a children's book describing the encounter between a pilot who has crashed his plane in the Sahara with a little boy from another planet called The Little Prince. Dig a little deeper and you will find much more.
The original manuscript was vividly illustrated by Antoine, a pilot who had indeed crashed in the desert in 1935 while on a flight from Paris to Saigon. The story unfolds with The Little Prince longing for his Rose that he left behind on his home planet and how he develops a relationship with characters such as a fox.
As a literary work, The Little Prince is sui generis. It straddles the categories of children's fiction and philosophical thesis. It is as much at home on a child's bookcase as it is on a university library shelf. Wherever it may be found, it is a beautiful, multi-layered story about childhood innocence that has stood the test of time.
This endearing story now comes off the page as part of the Voilah! 2015, the French Festival. In this year's festival, visitors can explore two exhibitions that showcase different perspectives of Saint-Exupery's iconic book.
On the second floor of Alliance Française is The Little Prince in The Dark. This free exhibition features 13 plain white sculptures based on The Little Prince that visitors can touch and feel with their hands. Under the exhibition's UV lighting, the sculptures glow luminescence and audio excerpts of the story play out from speakers above the sculptures, complementing the tactile experience.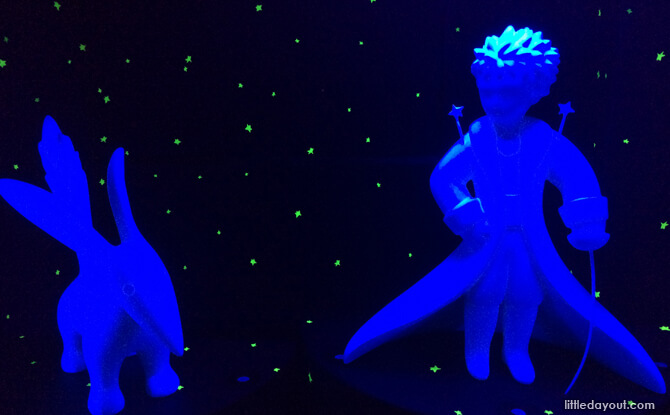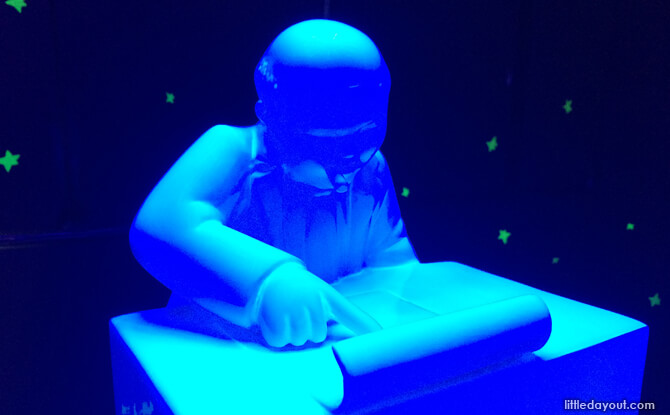 Developed in collaboration with the Singapore Association of the Visually Handicapped (SAVH), reliefs based on the drawings from The Little Prince and its text in Braille are also displayed.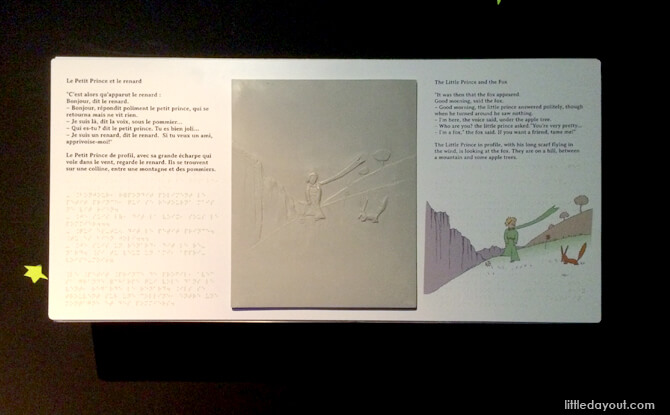 Over at The Fullerton Hotel is The Little Prince Art Collection. This sister exhibition has the same sculptures as those presented at Alliance Française but in full and splendid colour.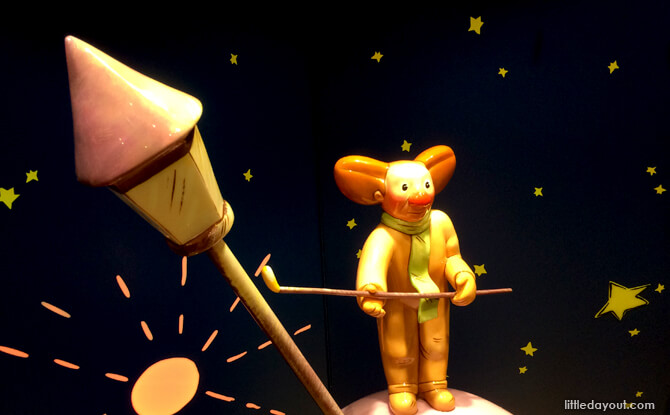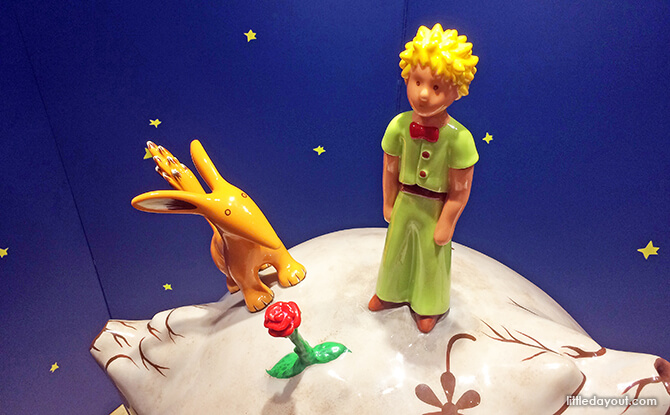 A photo contest is currently going on till 24 May where visitors who post a fun photo of the sculptures from The Little Prince exhibition at Fullerton Hotel with the hashtag #TheLittlePrinceAtFullerton and#@thefullertonheritage stand to win The Little Prince collectables.
There is also an accompanying exhibition, Airmail Exhibition: Saint-Exupery And Latecoere, which explores the author's career as a pilot for the Latecoere airmail company at the Fullerton Heritage Gallery.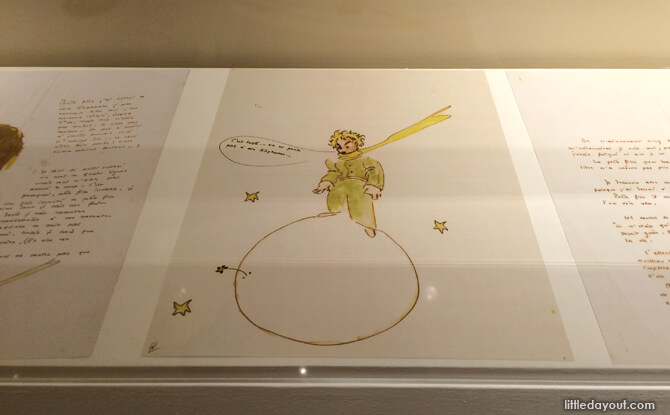 Admission to both exhibitions at the Fullerton Hotel are free.
Finally, we leave you with six of our favourite quotes that capture the charm and wisdom of The Little Prince.
---
"It is only with the heart that one can see rightly; what is essential is invisible to the eye."
"All grown-ups were once children… but only few of them remember it."
"Grown-ups love figures… When you tell them you've made a new friend they never ask you any questions about essential matters. They never say to you "What does his voice sound like? What games does he love best? Does he collect butterflies?""
"But if you tame me, then we shall need each other. To me, you will be unique in all the world. To you, I shall be unique in all the world."
"People have stars, but they aren't the same. For travellers, the stars are guides. For other people, they're nothing but tiny lights."
"I showed the grown-ups my masterpiece, and I asked them if my drawing scared them. They answered why be scared of a hat? My drawing was not a picture of a hat. It was a picture of a boa constrictor digesting an elephant."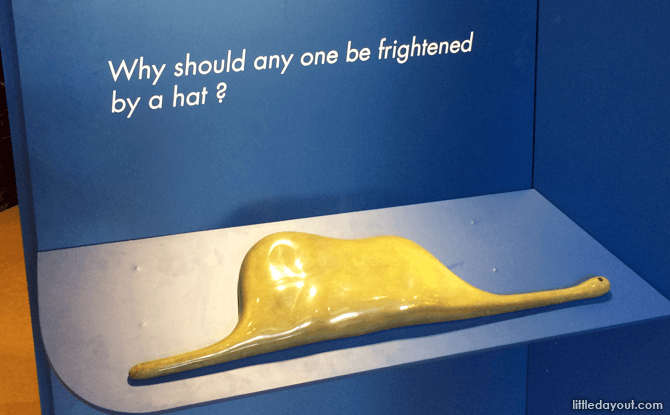 ---
The Little Prince In The Dark
Now till 20 June 2015
Alliance Francaise, 1 Sarkies Road, Singapore 258130
Mondays to Fridays: 11 am to 7 pm; Saturdays: 11 am to  5 pm; Closed on Sundays
Free admission
The Little Prince Art Collection and Airmail Exhibition: Saint-Exupery And Latecoere
Now till 31 May 2015
Fullerton Hotel, 1 Fullerton Square, Singapore 049178
Daily: 9 am to 10 pm
Free admission