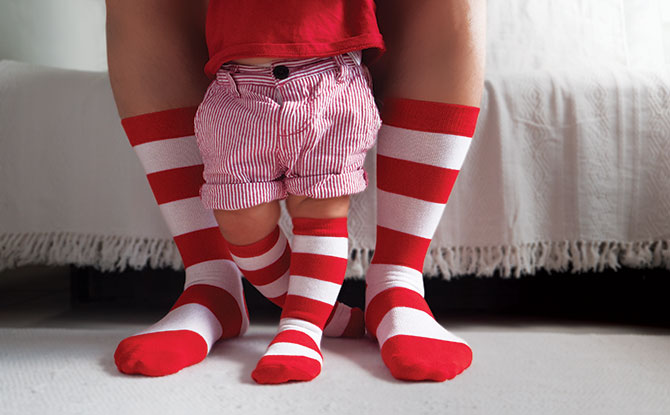 In month of November 2018, McDonald's restaurants in Singapore will be celebrating McHappy Day, the company's annual fundraising event to help sick children and families through the Ronald McDonald House Charities® (RMHC®) Singapore.
McHappy Day 2018 in Singapore – Stripey Socks For a Good Cause
This year, McDonald's is bringing back the popular red and white "stripey socks" at all restaurants islandwide. The red and white "stripey socks" are available in both Adult and Kids sizes. They cost S$10 a pair, while stocks last, and and nett proceeds will go to RMHC® Singapore.
In addition, each purchase of the "stripey socks" comes with a complimentary Strawberry Sundae gift card from McDonald's, valid for redemption till 31 December 2018. The red and white stripey socks can be purchased from the Self-Ordering Kiosks and front counters.
---
-- Story continues below --
For the first time, McDonald's customers will be able to make an e-donation from the Self-Ordering Kiosk at most McDonald's restaurants in Singapore. The donation can be made by either rounding up their bill to the nearest dollar or in denominations of $2, $5 or $10.
Ronald McDonald House Charities® Singapore
Established in 1989, RMHC® Singapore has helped over 900 needy and sick children with their medical, surgical and rehabilitative treatment costs. The Charity's core programmes support the belief that keeping families close is critically important when a child is seriously ill.
The first Ronald McDonald House™ at the National University Hospital (NUH) opened in 2013, and has since been providing families with a "home-away-from-home" with stay-in facilities so they can be close to their hospitalised child, all at no cost.
RMHC® also opened the first Ronald McDonald Family Room™ at NUH in January 2016, and a second Family Room™ at the Institute of Mental Health (IMH) earlier in 2018, where families can take a break from the ward and recharge themselves in a comfortable home-like environment.
"The Ronald McDonald House™ and Family Rooms™ help families stay in close proximity to their hospitalised children, not only providing them emotional and physical comfort but also allowing them to envelop their children with the love and support they need for quicker recovery," said Daniel Ang, Executive Director, RMHC® Singapore.