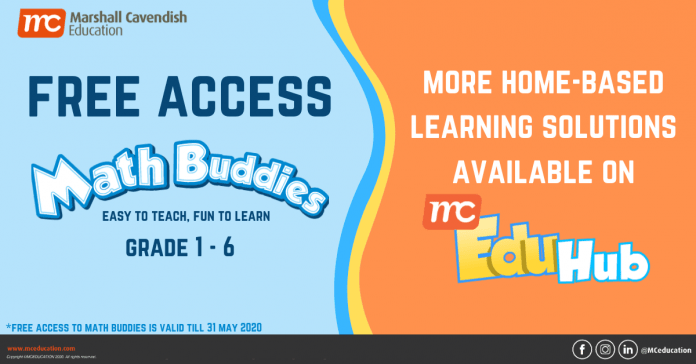 Marshall Cavendish Education, one the key publishers of Maths textbooks in Singapore, will be offering free access to Math Buddies – a home-based learning app – till 31 May 2020. This move supports all primary school students in Singapore during this Circuit Breaker time of Home-based Learning.
The Math Buddies app follows the syllabus based on the Singapore Maths curriculum and uses interactive videos and visuals in each lesson. It has received praise for its easy to use interface and for being a good supplementary portal for primary school Mathematics in Singapore.
Math Buddies follows a two-step approach to teaching. Through Learn and Guided Practices, lessons are structured to optimise the facilitation of self-directed learning at the child's own pace.
The Concrete-Pictorial-Abstract approach builds conceptual understanding. Guided Practices are broken down in different stages for easy understanding and to build up confidence in the child.
Answers are also given for self-evaluation and learning. This programme is useful for both independent or group learning.
Those who wish to access the Math Buddies learning app free of charge can do so before the end of May at this site.