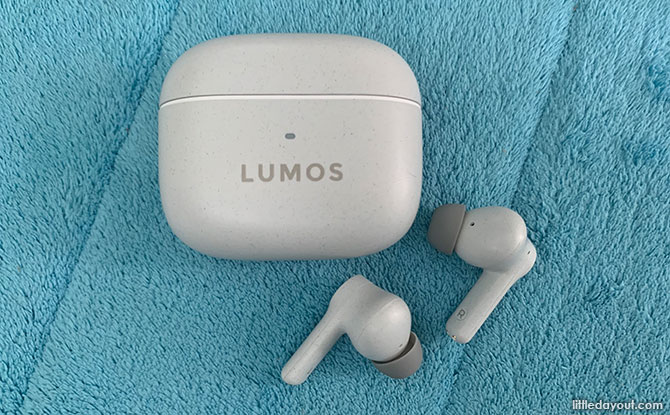 A set of active noise cancelling wireless earbuds with great quality sound for $179? That's what you get with the LUMOS TEMPO Wireless Earbuds. The Singapore brand best known for its projectors now has wireless earbuds on its product line.
We received a pair of these grey earbuds and gave them a try.
---
LUMOS TEMPO Review
Sound Quality
The sound quality of the wireless earbuds impressed us the most. When listening to the music, the highs were crisp and clearly. The lows were well defined and distinct, not overpowering. Testing this out this with Spotify and the earbuds gave the music a well-balanced sound quality that was enjoyable to listen to. LUMOS has branded this as Trinty360 sound and we must say it's pretty good.
---
-- Story continues below --
Active Noise Cancellation
The LUMOS TEMPO wireless earbuds come with active noise cancellation or ANC. In fact, there are three modes –  ANC on, ANC off and Ambient mode. To toggle between three modes, double tap on the right earbud.
As with most ANCs, it works better with low frequencies. This makes it good for cancelling out background sounds like street noise or the low rumbling of an engine like you'd find on an airplane. According to LUMOS, their ANC feature reduces an average of 42 dB of noise compared to the industry standard of 32 dB.
The Ambient or Transparency mode works in reverse of the ANC mode. It gives the ambient sound a slight boost so that the user is more aware of the surroundings. This is good for when exercising or in a busy area where you want to be more conscious of what's going on around you.
---
6-Mic Calling
Most ANC wireless earbuds have two microphones on each earbud. One picks up the user's voice and the other picks up the ambient noise to perform the noise cancellation. The LUMOS TEMPO has three mics on each earbud. This extra third one is positioned on the inside of the earbud. This configuration is designed to deliver better voice quality over calls.
---
Long Battery Life
The LUMOS TEMPO is designed to have a long battery life of 30 hours. Fully charged, the earbuds themselves can last 7 hours and the case has another 23 hours which can be used to recharge the earbuds.
---
Sweat & Water Resistant
The wireless earbuds comes with two additional sets of rubber eartips to ensure a good fit. They are rated IPX5 – sweat and water-splash proof. This makes them suitable for exercising and outdoor activities.
The LUMOS TEMPO Active Noise Cancelling Earbuds offers features which would normally be expected in earbuds 1.5 to 2 times the price. It makes use of the latest Bluetooth 5.2 version for smoother audio and better compatibility with more devices. It is backed up by one year local warranty.
As a launch special, LUMOS is offering free delivery worth $10 with the purchase of earbuds. It is available for purchase from the LUMOS website here.