Address: 21 Choa Chu Kang Ave 4, Singapore 689812
Location: Basement 1
Key Features:
2 padded diaper changing mats
Hot and cold water dispenser
2 cushioned stools
2 breastfeeding rooms- armchair, table, cushioned stool and electrical point per room
Size: Large, accommodates more than 2 strollers
Update (October 2022): The mall currently has a policy that only nursing mothers are allowed into the Basement 1 nursery room. Men are not allowed in, even for diaper-changing.
---
-- Story continues below --
---
Review
Clean, spacious and brightly-lit, the nursing room at Lot One Shoppers' Mall is well-equipped with two padded diaper changing mats, a hot and cold water dispenser and two cushioned stools. The room also has a spot for parents to park their strollers neatly before using the facilities. In addition, there are two private breastfeeding rooms that are furnished with an armchair, table, cushioned stool and an electrical point per room- all the necessary facilities for nursing mothers to breastfeed or express conveniently. However, do note that the breastfeeding rooms are separated from the main nursing room by curtains that can be drawn only.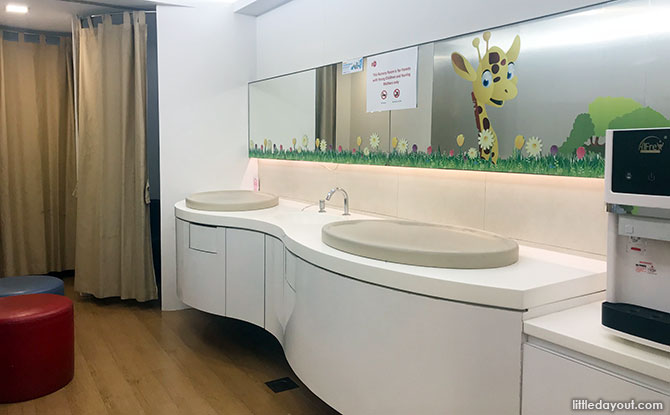 ---
Useful Information
Lot One Shoppers' Mall Nursing Room
Address: 21 Choa Chu Kang Ave 4, Singapore 689812