Address: 3 Temasek Blvd, Singapore 038983
Location: West Wing, Level 1 (near Adidas, near restrooms)
Key Features:
2 sinks
Hot and cold water dispenser
4 padded diaper changing station
2 breastfeeding rooms – cushioned armchair, small table and 2 electrical points
Hot, cold and room temperature water dispenser
Baby bottle steriliser
Size: Large, accommodates 2 strollers
---
Suntec City Nursing Room Review
The Suntec City nursing room is large, to say the least and definitely very impressive. Spacious enough to easily accommodate several families and strollers, the space is clean, pleasant and warmly-lit. Upon entering the nursing room, you're greeted by four padded diaper changing stations that come with an individual metal dustbin, making dirty diaper disposal very convenient. There is also a small padded bench that can be pulled out for you to load your diaper and shopping bags while you attend to your little one, a thoughtful feature that I have not seen in other diaper changing stations.
---
-- Story continues below --
Within the nursing room, there are two lockable breastfeeding rooms that are each furnished with a comfortable armchair, small coffee table and two electrical points (behind the armchair), allowing breastfeeding mummies to nurse in peace and privacy.
The nursing room also has a separate area equipped with the necessary facilities for parents to prepare formula milk- namely two sinks, a countertop and a water dispenser that provides hot, cold and room temperature water. There is also a uPang Baby Bottle Steriliser for parents to clean and sterilise bottles after feeding or before preparing baby formula. In addition, hand sanitiser and dry paper are also provided in the event of any messes or spillage. The Suntec City nursing room is definitely one of the most well-equipped nursing rooms in the country, so do check it out if you happen to be in the area.
---
Nursing Room Near Don Don Donki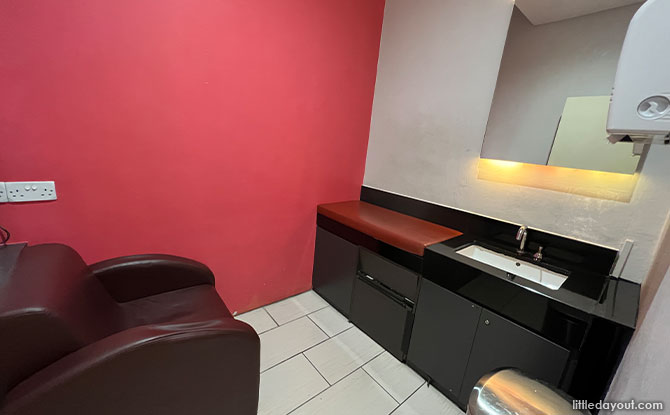 Suntec City is a rather large building and so if you happen to be nearer to the second floor of the West Wing of Suntec City near Don Don Donki, you can also find a small nursing room with simple amenities such as a chair, diaper changing station and a sink.
Location: West Wing, Level 2 (near Don Don Donki)
---
Useful Information
Suntec City Nursing Room
Address: 3 Temasek Blvd, Singapore 038983
Phone:
Email:
Website: