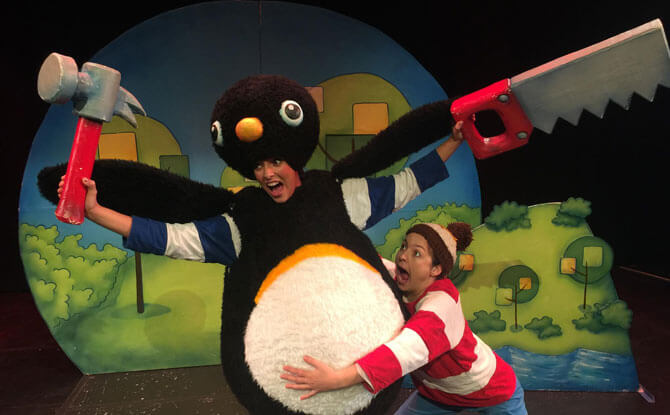 ---
GIVEAWAY: Stand a chance to win a pair of tickets to to LOST AND FOUND based on the international bestseller by Oliver Jeffers. Scroll to the bottom to take part in the contest now!
---
One day, a sad, lonely penguin arrives at a boy's doorstep. Is the penguin lost? In Lost and Found, the story by award-winning picture book creator Oliver Jeffers, the boy goes on a journey to take the penguin home to the South Pole in a row boat. But as Boy soon realises, maybe home isn't what the penguin was looking for after all…
Perfect for a younger audience, this tale of friendship lost and found takes to stage in Singapore from 28 to 30 September 2018. It will be brought to life by cast and crew from United Kingdom-based theatre company Little Blue Monster.
Filled with songs, music and puppetry, the funny, charming story of Lost and Found is ideal for ages three and above, and their grown-ups.
Something Fun for Everyone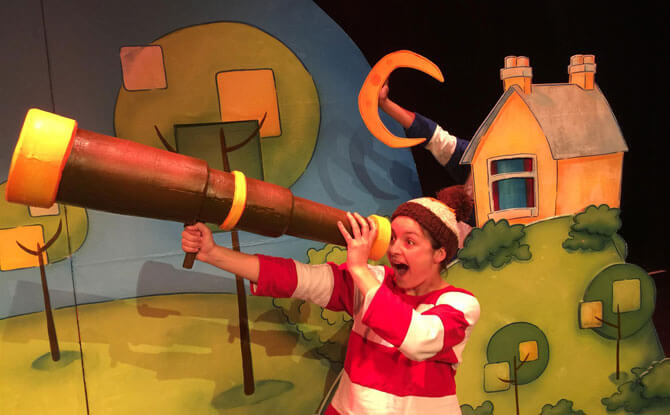 "There are some fantastic songs, and some great audience interaction which gets the whole audience on their feet," said artistic director Bill Davies. "So if the audiences are expecting a fourth wall drama, they will find our show very different."
---
-- Story continues below --
Expect the whole family to have lots of fun in this immersive and interactive show which took two years to make, from initial idea to first performance.
In nurturing children to become the theatre-goers of the future, theatre productions like Lost and Found also create a space for adult audiences to realise that they can enjoy different styles of theatre.
"There is nothing better than watching a whole family together enjoying our work, because that is what theatre is about – including everyone."
Children and parents will also be able to instantly recognise the characters on stage in this faithful adaptation, and love them as much as the book, said Mr Davies.
Penguin's Secrets
Will Penguin be a puppet? Or will he be a human actor? Mr Davies is not telling.
"You're asking us to give away our secrets!"
But what he will say is this – Penguin will be a puppet sometimes, and he will be played by "an actor in an amazing costume" at other times.
"The children happily accept that it is the same penguin which is wonderful, and shows that children have a greater grasp of theatrical concepts than people often give them credit for."
One of the most challenging aspects of this show for actor Simon Sanchez involves the puppets. He plays Boy and also plays a part in puppeteering Penguin. Mr Sanchez lets us in a little more on Penguin.
"I think the puppeteering of Penguin whilst keeping in character as Boy and making sure that both characters are consistently truthful and engaging was the greatest challenge," said Mr Sanchez.
"But I always find that the greatest challenges become the parts you become most proud of, and I proud of the way that the whole show comes together to delight the audience."
Emotional Depth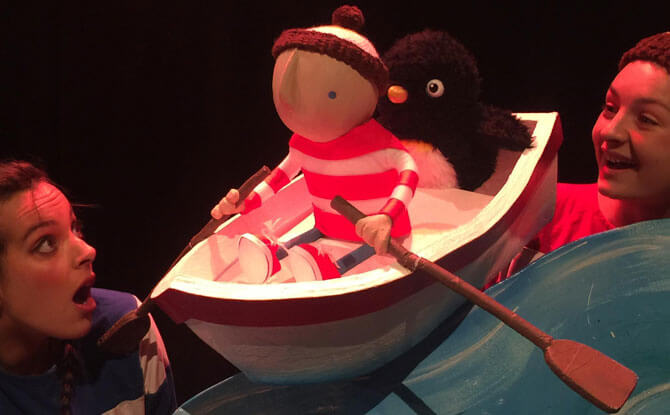 Mr Sanchez has two favourite scenes from the show – so be sure to look out for them.
The boat-cleaning scene is filled with fun and mayhem, as Boy and Penguin get their little rowing boat ready for the last leg of their adventure.
The other scene is the heartfelt emotion of Boy and Penguin being separated before the reunion, said Mr Sanchez.
Lost and Found has funny laugh-out-loud elements, but also some great moments of pathos.
"We don't shy away from the sadder moments of the story, like when the Boy sails away from Penguin, because life has sad moments in it," said Mr Davies.
But there is a happy ending, as we all know. Beyond entertainment and fun, Lost and Found also explores the depth of emotions.
"I have to be able to look at a children's story and be able to see how I can turn a 10-minute story book into a theatrical production that lasts for around 50 minutes," said Mr Davies.
"With Lost and Found, there is such an abundance of characters and the story is so heart-warming that it was really easy for me to see where the story was going to go."
With the fun, crazy capers of Boy and Penguin, the eventual parting and reunion of the two friends takes on a bittersweet quality. And the audience will go home thinking about this.
"Sometimes the thing you are looking for the most is right under your nose the whole time," said Mr Davies.
Little Day Out Readers Special!
Enjoy a 10% discount for Lost and Found tickets with special code LDOLF2018 when booking through SISTIC.  
Lost and Found
When: 28 to 30 September 2018
Where: SOTA Drama Theatre
Running time approximately 55 minutes with no interval.
Tickets available through SISTIC.
This feature is brought to you by Diva Productions.
---
Lost and Found
Ticket Giveaway
Little Day Out is giving away a pair of tickets to LOST AND FOUND based on the international bestseller by Oliver Jeffers.
Simply answer a question about Lost and Found and stand a chance to win:
Four Tickets
to
LOST AND FOUND Based On The International Bestseller By Oliver Jeffers
on
Saturday, 29 September 2018, 2 pm
at
SOTA Drama Theatre
Submit your answer by Sunday, 16 September 2018 to participate in this giveaway.
Double your chances of winning by liking and sharing this post on Facebook.
---
Congratulations to our winner, Susan Tan!
---