Our reader, Vanessa, joined us for two Little Night Outings and kindly shared with us the following interview with her son, Raphael. Read on to find out what he thought about their adventures in the still of the night!
---
Vanessa's Interview With Her Son, Raphael
For the first time in his short life (eight years), Raphael had the opportunity to participate in two Nature Night Walks over the last two weeks. He truly enjoyed them and is currently asking me for more. Therefore, I went on a mission to learn more about his new hobby.
In The "Jungle" At Night, Seriously?

Thank you Raphael for joining me today! I would like to know how you felt when you heard about the Little Night Outings: Nature Night Walks for the first time.
My first reaction was not good. When I heard about the night walks, I immediately thought of snakes and the risk of getting bitten. In one of my favourite books called "The Dangerous Book for Boys" (by Gonn and Hal Iggulden), they have a dedicated chapter on insects, spiders and snakes. If you think about it for a minute, these animals are much more active at night. So, I double-checked with dad if it was really okay to go. He reassured me and offered to lend me fully covered pants. I then agreed to go.
Could you describe how a Nature Night Walk works?
You receive instructions to gather at a meeting point. You have to come with a good torch as well as binoculars. Once everyone has gathered, the tour will begin. There is a guide and you follow him or her. They will tell you everything about nature while you walk for around two hours.
What makes this nature walk different from the other ones you have done before with your school or with your family?
Raphael: You go to different places and you see some animals that you will never see during the day. The fact that you have a guide and can ask him/her loads of questions is also very good.
One was in Bukit Batok Nature Park and the other one was at the Rail Corridor.
Many Interesting Creatures To Watch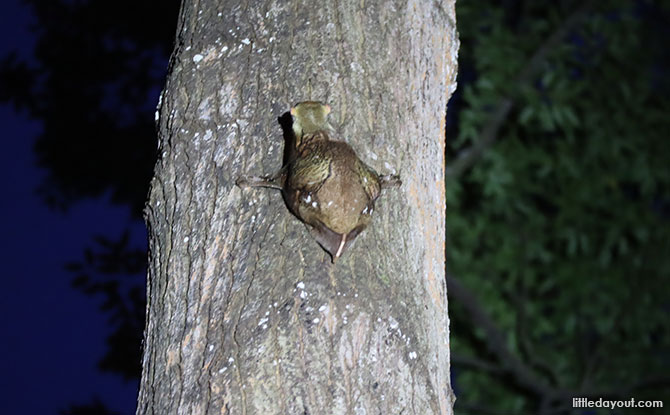 What are the animals you have observed during these two walks?
I have seen the colugo (flying lemurs) flying over my head. I have watched spiders (Singapore Tarantulas), scorpions under UV Light and warty Asian Toads. We also looked into the streams and observed ghost shrimps, freshwater crabs and walking catfishes. I have enjoyed watching the civets too. For the first time, I really paid attention to these animals and learnt a lot about their habitats and preferences.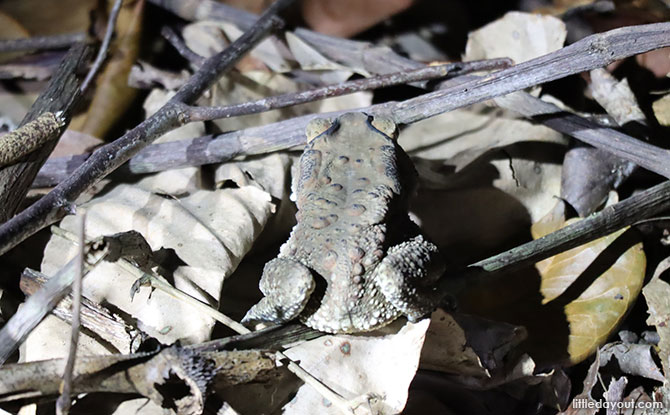 A Super Knowledgeable Guide
You told me that you really liked your guide. Is that right?
Her name was Gloria and she was fantastic. She is incredibly knowledgeable and made feel as if we were very far away from the city. She has taken us on a journey filled with wild animals and created a sense of adventure. I would love to walk with her again.
Thank you Raphael for sharing!
---
Go On Little Night Outings: Nature Night Walks
Little Day Out has added new dates and a new walk at Tampines Eco Green, besides the existing ones at Pasir Ris Mangroves, Bukit Batok Nature Park and Rail Corridor. Come with us on an adventure in the dark as we explore these spots around Singapore to spot nocturnal wildlife! The walks are conducted by a professional nature guide and suitable for ages 4 and above. For more details on what you can expect and what kind of creatures to spot, click here.
To sign up for the Little Night Outings, click here now!
<SIGN UP for the Little Night Outings HERE NOW!>
---
Love what we are offering but can't make it this time round? Keep your eyes peeled on this page or register your interest with us below for our next adventure!