Everyone loves a good story.
A good story can entertain or teach us something about ourselves. Since 1986, the Singapore Writers Festival has been presenting international stories to Singapore and Singaporean stories to the world. This is a literary festival for readers and takes place from 1 to 10 November this year.
Stories for Little Ones
Not just a gigantic gathering for grown-up bookworms, the Singapore Writers Festival, organised by the National Arts Council, also caters to little ones between the ages of 4 and 12 with their Little Lit! programme.
Events under Little Lit! take place over the weekends of 2 and 3 November, and 9 and 10 November 2013. These free events are centred around the Big Steps at the Singapore Management University, just across the street from the National Museum of Singapore.
In this year's line-up are storytelling sessions, a treasure hunt and interactive sessions. Sessions do have a recommended age range and many cater to children 6 years and older, with a few for younger children from 4 years and up.
Little Lit! Events
The Etherington Brothers, a high-energy, comic-creating duo from the UK, will show children how to create their own adventures in words and pictures. In The Sherlock Sam Treasure Hunt, conducted by AJ Low, tag along with Sherlock Sam, Singapore's greatest kid detective and his grumpy robot, Watson, in a thrilling hunt for hidden clues around the SWF Festival District at the Singapore Management University.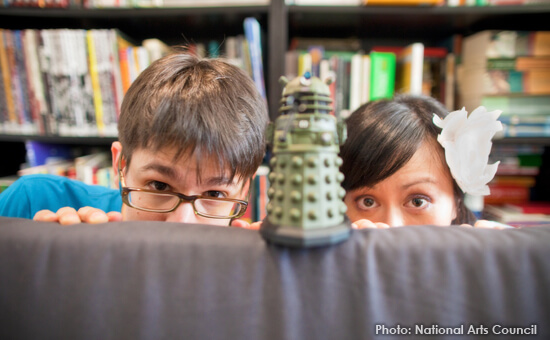 AJ Low – the Sherlock Sam Treasure Hunt.
Using simple props, Rosemarie Somaiah will spin an engaging story in Scissors, Paper & String Stories while Storytelling with Terri Windling, mythic fiction author, takes 10 to 14 year olds on a dark journey exploring fairy tales. The Grimstones draws audiences into a magical miniature world and The Mango Tree communicates the importance of preserving nature through acting, drawing and the imagination. There is even Ti Oh Oh, a presentation of dialect nursery rhymes from days of yore.
The Etherington Brothers.
Parents who wish to pick up techniques on expressive storytelling and using personal stories to engage their children can take part in highly participatory workshop, Bonding with Your Child through Storytelling, conducted by professional storyteller Roger Jenkins. This ticketed workshop ($45), for parents only, takes place on 10 November from 10 am to 1 pm.
Little Day Out's Little Lit! Guide
Specially for our Little Day Out readers, get our FREE Little Day Out Guide to the SWF Little Lit! Events.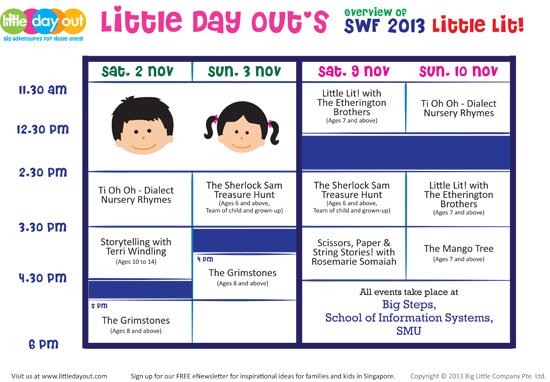 Visit the SWF website for more information on Little Lit! and the Singapore Writers Festival 2013 taking place from 1 to 10 November 2013.
Related Articles
| | |
| --- | --- |
| | Find out what efforts are being made in schools to promote reading among students |
| | Conversations on curiousity with Dr Jack Horner, world-renowned paleontologist. |
More in Books & Storytelling.