"Every child is an artist," Pablo Picasso famously said. How true! Our next Little Day Outing is designed for little artists from two to five years old and their adults. It's going to be a fun family art jamming session at MindChamps PreSchool @ Concorde Hotel (Orchard)!
You'll have lots of opportunities to bond as you work on an art piece together as a family, without the pressure to produce artwork of a certain style or standard.
Kids love the sensorial nature of painting. Even if your little one hasn't quite learnt how to hold a paintbrush, he or she can make hand- or foot-prints on the canvas, or simply splatter paint or produce artistic swipes of colour!
An Expression Of Love
The theme for our art jamming session is 'Love'. Beyond creating an art piece based on this theme, you'll have the opportunity to show your love practically: Your painting will be put up for sale online, with the proceeds going to a children's charity.
---
-- Story continues below --
We hope this will not only be a blessing to children in need, but also a lesson on compassion for our little participants. One's never too young to make a difference in the life of others. Involving the little ones in this charity art jamming is a fun way to encourage empathy and inculcate in them a love for others.
A Picture of Fun
Besides painting in the comfortable environment of the 9,500 sq ft MindChamps PreSchool @ Concorde Hotel (Orchard), the programme for the day includes a fun NeuroMoovesTM session, where MindChamps teachers will get the little ones engaged in exciting cross-lateral movements that enhance gross motor skills, musical intelligence, coordination and balance.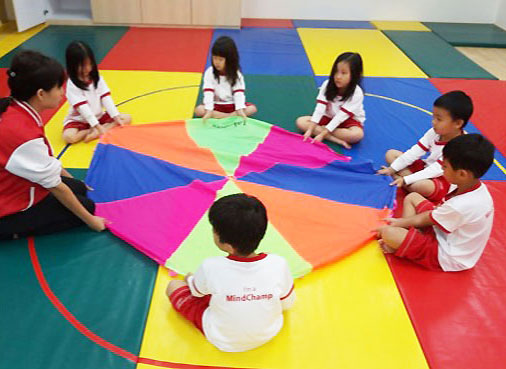 Children are also welcome to watch the fascinating sea creatures swimming in the school's beautiful 3-metre long aquarium, and even spend some time at the brand new colourful outdoor playground.
Parents will also have a chance to find out more about the school through a short introduction by its principal, Miss Laura.
The Art of Giving
As you bless others through your creativity, we would also like to show our appreciation by presenting each family with a $10 Overjoyed Art Store voucher. It's our small gesture to encourage more family bonding through artistic explorations in your own time at home.
Come, join us at our fun-filled Little Day Outing and help paint a better future for others!
Date: 25 May 2019, Saturday
Time: 10 am to 12 pm
Venue: MindChamps PreSchool @ Concorde Hotel (Orchard)
Price: $15 for a family ticket (for up to 3 people); $5 for an additional child or adult ticket
Click here to purchase your tickets.
This Little Day Outing is open to every family with kids of the recommended ages of 2 to 5. Your child does not need to be a MindChamps student to take part in this fun event. For more enquiries, feel free to call 9716 3449.
To learn more about how MindChamps Preschool can create a positive impact on your child and your family, contact MindChamps Preschool @ Concorde Hotel here. If you would like to find out more about MindChamps PreSchool @ Concorde Hotel (Orchard) or visit the school, please contact 6235 2358 or 9665 3840.
Little Day Outing: Family Art Jamming is organised in collaboration with MindChamps PreSchool @ Concorde Hotel (Orchard).